Explore the Rockies from Calgary to Vancouver aboard Rocky Mountaineer
Enjoy delicious meals aboard Rocky Mountaineer
Panoramic view of Vancouver
Ride a gondola for the sweeping views of the Rockies
See the azure waters of Lake Louise
Jasper National Park in Alberta, Canada
Maligne Lake in Jasper, Alberta, Canada
Journey Through the Clouds at Leisure
(11637)
Explore the Canadian Rockies by visiting the iconic resorts of Banff, Lake Louise and Jasper before travelling to the vibrant coastal community of Vancouver onboard the famed Rocky Mountaineer during this exciting, 10-day rail tour.
Canada / Rail
Highlights
Enjoy 2 days onboard Rocky Mountaineer as you journey from Jasper to Vancouver via Kamloops in style.
The Ultimate Glacier Experience - Ride the Ice Explorer to the middle of the Athabasca Glacier and walk out over the Glacier Skywalk.
Enjoy a Panoramic Helicopter Tour over the remarkable landscape of the Rockies
Enjoy exciting tours through the incredible National Parks of Jasper(UNESCO World Heritage Site), Banff and Yoho.
Add on 1 x Free Hotel Night, 1 x Free Private Airport Transfer and 1 x Free Dinner!
Gear up for an epic adventure and experience the grandeur of Canadian Rockies during this exhilarating, 10-day rail tour aboard Rocky Mountaineer from Calgary to Vancouver. Begin your journey in Calgary, Alberta's largest city.
From Calgary, travel to Banff, a popular resort town located within the Banff National Park. You will be taken on a Panoramic Helicopter Tour over the remarkable landscape of the Rockies and will also experience the famous Banff Gondola. Explore Banffs' highlights including the Surprise Corner, the gorgeous Bow Falls and Cave & the Hoodoos.
From Banff, you will travel along the Bow Valley parkway, cross the Continental Divide until you reach the renowned Lake Louise. It's here you will enjoy the ultimate Glacier Experience at the scenic Icefields Parkway. Enjoy a ride on the Ice Explorer to experience the stunning Athabasca Glacier and walk out over the Glacier Skywalk.
You will then visit the largest national park in the Canadian Rockies - Jasper National Park which is also an UNESCO World Heritage site. Enjoy highlights of Maligne Canyon and Maligne Lake.
From Jasper, board the iconic Rocky Mountaineer and travel in style to Kamloops, a city located in south central British Columbia and on to Vancouver - one of the most diverse cities in Canada.
Included
2 days onboard Rocky Mountaineer in SilverLeaf Service
1 night in Calgary at Delta Calgary Downtown - 4*
2 nights in Banff at Moose Hotel & Suites - 4*
2 nights in Lake Louise at Fairmont Chateau Lake Louise - 5*
2 nights in Jasper at Lobstick Lodge - 3*
1 night in Kamloops
1 night in Vancouver at Opus Vancouver Hotel - 4*
Station transfers in Vancouver, Kamloops and Jasper
6 meals included - 3 breakfasts and 3 lunches
Calgary Tower
National Parks Pass in Banff, Lake Louise and Jasper
Panoramic Helicopter Tour
Banff Gondola
Jasper Breakfast Tour
Glacier Skywalk
Icefields Parkway tour including Ice Explorer
Vancouver Lookout
Calgary to Vancouver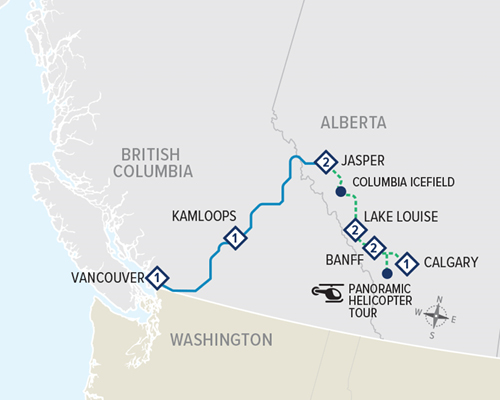 2021 Mountain Bound Promotion
This package is eligible to receive 3 free perks:
Free Night Option: Choose an extra night at the beginning or end of your journey in either Calgary or Vancouver
Free Transfer Option: Choose a free transfer at the start or end of your trip

Free Dinner Option: Choose a free dinner at your hotel in either Banff, Jasper, Calgary or Lake Louise
SilverLeaf Service
Onboard Rocky Mountaineer
Picture yourself onboard the world's leading luxury rail experience. From the moment you set foot onboard, experience hosts that will go above and beyond to make your journey as comfortable as it is unforgettable. The custom-designed glass-dome coaches provide you with panoramic views – or get a bit closer by stepping into the outdoor viewing area. See the sights by day, sleep in a hotel at night. With Rocky Mountaineer, you get the best of both worlds: maximum views, and maximum comfort.
SilverLeaf Service Inclusions:
Breakfast and lunch served in the comfort of your seat
Complimentary alcoholic and non-alcoholic beverages
Gourmet sweet and savoury snacks
Reclining, comfortable pre-assigned seating
Attended by two Hosts, plus one culinary team member
Luggage handling
Small outdoor viewing platform
Custom-designed single-level dome
Welcome to Calgary, the largest city in the western Canadian province of Alberta.
Calgary Tower:
Your admission to the Calgary Tower is included in your package: like feeling like you're suspended mid-air? Then you'll love the vantage point on top of the Calgary Tower, with stellar views from 525 feet above the city. With a 360 degree view, spot the rolling foothills that surround Calgary and meet the Rocky Mountains in the distance. A free multimedia tour is included with admission.
Explore the Calgary Tower on your own. Transportation to and from the Calgary Tower is not included.
Overnight stay in Calgary at Delta Calgary Downtown.
Depart Calgary this morning for a full-day tour concluding in Banff.
Journey to Kananaskis where you will enjoy the highlight of today, a 12-minute Panoramic Helicopter Tour over the remarkable landscape of the Rockies.
Continue to Banff for a sightseeing tour including Bow Falls, Surprise Corner and the Hoodoos. Banff Gondola included. Your tour ends on arrival in Banff late this afternoon.
Overnight stay in Banff at Moose Hotel & Suites.
Today you will have an entire day to spend exploring Banff National Park on your own.
Optional activities include soaking in the mineral pools at Upper Hot Springs, enjoying a nature walk on nearby mountain trails, visiting Banff's historic museums, cruising on Lake Minnewanka or playing a round of golf at The Fairmont Banff Springs.
Overnight in Banff at Moose Hotel & Suites.
Day 4
Banff → Lake Louise
A half-day tour takes you into Yoho National Park to view some of its natural wonders. Among the attractions are the Spiral Tunnels, Emerald Lake and a natural rock bridge spanning the Kicking Horse River.
Your final destination is Lake Louise, a jewel of the Rockies surrounded by glistening glaciers and towering snow-capped mountain peaks. The remainder of the afternoon is at your leisure to enjoy this magnificent location.
Please note: While arrival at The Fairmont Chateau Lake Louise will be approximately 1:00 p.m., scheduled check-in time is not until 4:00 p.m. In the event that your room is not ready, your luggage will be stored and you are free to enjoy the amenities of the hotel.
Overnight stay in Lake Louise at Fairmont Chateau Lake Louise.
Today you have a free day to take in the beauty of this stunning area.
You could choose to take part in local activities such as canoeing, hiking in the mountains or simply relaxing and taking in the magnificent views.
Overnight stay in Lake Louise at Fairmont Chateau Lake Louise.
Day 6
Lake Louise → Jasper
Today you will enjoy a sightseeing tour of Banff and Jasper National Parks via the Icefields Parkway.
Travelling through the heart of the Canadian Rockies, drive along the famous Icefields Parkway which has been voted one of the most spectacular drives in the world. You will see for yourself why this mountain road that boasts a unique landscape rich in history and natural beauty second to none is so famous.
Among the highlights are Bow Lake, the Columbia Icefield, Glacier Skywalk and Athabasca Falls. The Columbia Icefield is one of the largest accumulations of ice south of the Arctic Circle and one of the most accessible icefields in North America. Here you will ride on an Ice Explorer to the middle of the Athabasca Glacier to learn more about its geological features. Lunch is included at the Columbia Icefield Glacier Discovery Centre.
Arrive in Jasper late this afternoon.
Overnight stay in Jasper at Lobstick Lodge.
Jasper National Park is a UNESCO World Heritage Site and the Canadian Rockies' largest national park.
Today you will enjoy a scenic half-day tour of some of the park's natural attractions and rugged peaks, and perhaps catch a glimpse of the wildlife that calls this region home. Highlights include breakfast at Maligne Canyon teahouse and a stroll to view the canyon itself.
The remainder of the day is free for you to explore more of Jasper independently.
Overnight stay in Jasper at Lobstick Lodge
Day 8
Rocky Mountaineer: Jasper → Kamloops
Travel onboard the Rocky Mountaineer from Jasper in the Canadian Rockies to Kamloops, in the heart of the British Columbia Interior.
As you journey west and south you will be surrounded by the dramatic scenery of the Continental Divide and by the river valleys of the Monashee and Cariboo Mountains. Today's highlights include Mount Robson, Pyramid Falls, the climb over Yellowhead Pass, and the journey along the North Thompson River as you approach Kamloops.
Overnight in Kamloops*
*Upon check-in for your train departure you will receive a boarding pass which will indicate your Kamloops accommodation. Your accommodation in Kamloops will be of a moderate standard, but will include all the essential amenities to make your stay comfortable.
Alcoholic and non-alcoholic beverages included whilst onboard Rocky Mountaineer.
Day 9
Rocky Mountaineer: Kamloops → Vancouver
Your journey continues west towards the Pacific Ocean and the coastal city of Vancouver.
On today's journey you will again see dramatic changes in scenery, from the desert-like environment of the Interior, through winding river canyons and pristine forests, to the Coast and Cascade Mountains and the lush green fields of the Fraser Valley. Highlights include the steep slopes and rock sheds along the Thompson River and the rushing waters of Hell's Gate in the Fraser Canyon.
Your rail journey ends on arrival in Vancouver this evening.
Overnight in Vancouver at Opus Vancouver Hotel​.
Alcoholic and non-alcoholic beverages included whilst onboard Rocky Mountaineer.
Your journey ends upon checkout from your Vancouver hotel.
Additional information
Official language
French & English
Currency
Canadian Dollars
Journey Through the Clouds at Leisure
(11637)
9 nights
from
AUD4,666
per person, twin share
Hotel options
Delta Calgary Downtown
Calgary
Renowned for its genuine hospitality, the Delta Calgary Downtown is ideally located in downtown Calgary at the intersection of the city's business and cultural districts. Enjoy convenient access to all venues through the Calgary Skywalk system and public transportation, which makes exploring our city that much easier. When you return at the end of the day, expect the comforts of home.
Moose Hotel & Suites
Banff
The Moose Hotel & Suites offers mountain elegance in warm, rich and natural materials. Located a 1 minute walk from the heart of downtown Banff, the Moose Hotel & Suites features 174 air conditioned guests rooms, with a combination of One and Two Bedroom Suites and hotel rooms. Amenities include the Meadow Spa & Pools with 10 treatment rooms and private outdoor hot pool, a bright indoor swimming pool, exercise room on the 3rd floor and 2 spectacular rooftop hot pools with views of the Canadian Rockies. Dining is available at Pacini Italian Restaurant, featuring gourmet Italian food with authentic flavours and friendly service.
Fairmont Chateau Lake Louise
Lake Louise
Surrounded by soaring mountain peaks, the majestic Victoria Glacier and a glistening emerald lake, the iconic Fairmont Chateau Lake Louise hotel is located in Alberta's Banff National Park. Discover endless outdoor recreational activities including hiking, canoeing, horseback riding, fishing, mountain biking and river rafting.
Lobstick Lodge
Jasper
Lobstick Lodge welcomes you to the Canadian Rockies. Recently renovated and conveniently located in the town of Jasper, you will experience a serene atmosphere in a majestic mountain setting. We offer oversized accommodations in Jasper, expert service, and numerous activities right outside our door.
Opus Vancouver Hotel
Vancouver​
A stay at Opus Hotel Vancouver places you in the heart of Vancouver, a 5-minute drive from Rogers Arena and 8 minutes from Vancouver Waterfront. Opus Vancouver hotel rooms feature spa bathrooms with heated floors, all in vibrant colors, with contemporary furniture, iPads in all guestrooms and suites, Frette bathrobes and Herman Miller ergonomic chairs. A perfect urban retreat for business or pleasure.
Optional Extras
Upgrade to GoldLeaf Service aboard Rocky Mountaineer.
Features of GoldLeaf Service:
Bi-level dome with seating above and dining below
Full glass-dome windows with panoramic views
Gourmet à la carte meals in the lower-level dining room
Reclining, comfortable pre-assigned seating with ample leg room
Attended by three to four Hosts plus a full culinary team
Complimentary alcoholic and non-alcoholic beverages
Gourmet sweet and savoury snacks included
Large exclusive outdoor viewing platform
Engaging hosts with stories about historic sites, flora, fauna and wildlife
Luxurious hotel accomodations with premium room categories.
2021 Departures
April – 22,25,29
May - 2,6,9,13,16,20,23,27,30
June - 3,6,10,13,17,20,24,25,27
July - 1,4,8,11,15,18,22,25,29
August - 1,5,8,12,15,19,22,26,29
September - 2,5,12,16,19,23,26,30
Important notes
Please note that pricing is based on a "from price" which varies on each departure and is subject to change without notice. Please contact our friendly team for exact pricing, availability, and upgrade options.
We work with a selection of hotels in each location. All bookings are subject to availability, which means we may need to offer an alternative hotel of equivalent or better quality. Our team will confirm your specific hotels upon confirmation and payment of deposit.
2021 Mountain Bound Promotion
"Mountain Bound offer ("Offer") applies only to new 2021 bookings made by January 15, 2021 for qualifying Rocky Mountaineer itineraries booked in GoldLeaf or SilverLeaf Service for travel during the 2021 Rocky Mountaineer season on selected dates on Canadian routes only. Offer is per booking and applies to single, double, triple or quad occupancy bookings of 8 paid days/7 paid nights or more, must be requested at the time of booking and will not be automatically allocated or retroactively added. Free Perks are: (a) one additional hotel night in Vancouver, Calgary, or Victoria at the beginning or end of a package. Additional hotel night must match the accommodation grade and occupancy level of package booked; (b) one private standard airport transfer; and (c) one set-menu dinner at a selected package hotel (not available on rail days). Transfer and dinner are for number of persons on corresponding booking. All free perks are subject to availability and not all three perks may be available on all bookings depending on date selection. Offer cannot be combined with any other offer, has no cash value, is non-transferable and cannot be deferred to a later trip or used against the price of the purchased package or to upgrade rail service or accommodation. Offer is not applicable to group bookings or itineraries of less than 8 paid days/7 paid nights. Offer is capacity controlled and may be modified, withdrawn or amended without prior notice. Additional conditions apply. All figures advertised are in AUD and value of Offer is based on a double occupancy booking during peak season in GoldLeaf Service. Rocky Mountaineer reserves the right to amend hotels included in the package. Hotel properties are subject to availability based on inventory.
Excluded
Transportation from Vancouver airport
Transportation to Calgary airport
Meals, other than specified
Activities, other than specified
Gratuities for rail, hotel and transfer staff
Fuel surcharges
GST as applicable