Prestige Sleeper | Credit: VIA Rail
Best of Canada
VIA Rail
In partnership with
No other mode of transportation allows you to experience the country so intimately.
For a stress-free journey where you can leisurely watch the countryside slip by as you enjoy all of the comfort and ease that is afforded by spacious seats, there's nothing like it.
Imagine an adventure that begins the moment you board the train. Leave the city centre behind and glide past gentle prairie fields, rugged lake country and picturesque towns to the snowy peaks of the majestic Rockies. The Canadian® brings you the landscapes as you'd never see any other way—with ease, comfort and exceptional service. A feeling that remains long after the journey's end. Connecting people from city to city and coast to coast, VIA Rail continuously strive to offer a unique and memorable travel experience.
Explore Our VIA Rail Packages
Explore via rail's Destinations
The Great Western Way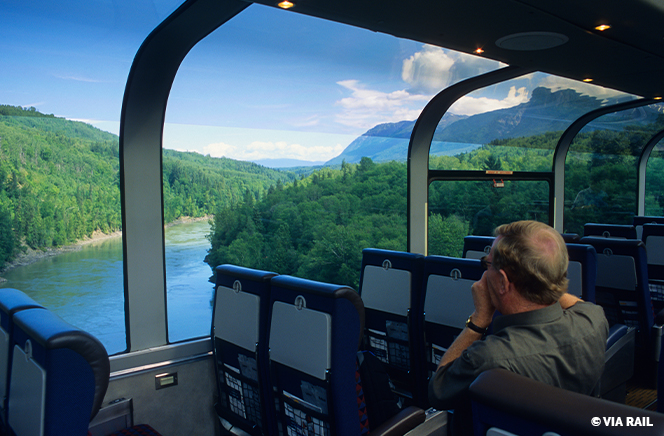 Embark on a classic Canadian experience fully soaked in the beauty of forests, prairies, lakes, and the iconic Rockies. Observe the breathtaking landscape on your way from Vancouver to Toronto and treasure the splendour of the West Coast from the comfort of the train.

The Adventure Routes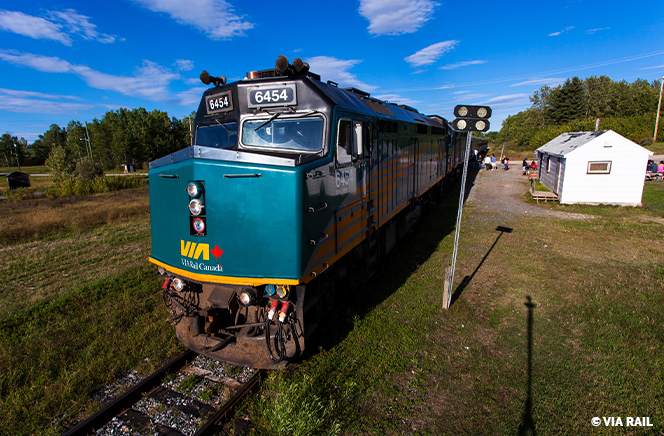 Experience the magnificence of the subarctic region, from the Northern Lights to bears and belugas of Churchill or admire the impressive panorama of Jasper and the Rockies. Travel to the spectacular Pacific Coast in British Columbia or discover Montreal's impressive outdoors punctuated with European flair.

The Maritime Way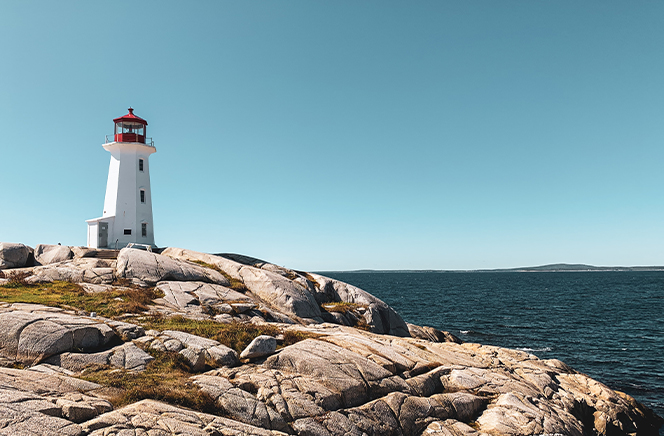 Unearth the uniqueness of eastern provinces with the Maritime Way. From the European-inspired city of Montreal, you'll cross the gorgeous Maritimes route to reach Halifax, the capital city of Nova Scotia filled with seaside attractions. Along the rugged Atlantic shoreline lies the postcard perfect village of Peggy's Cove which has been an wanderlust paradise for over 150 years.

Ontario & Quebec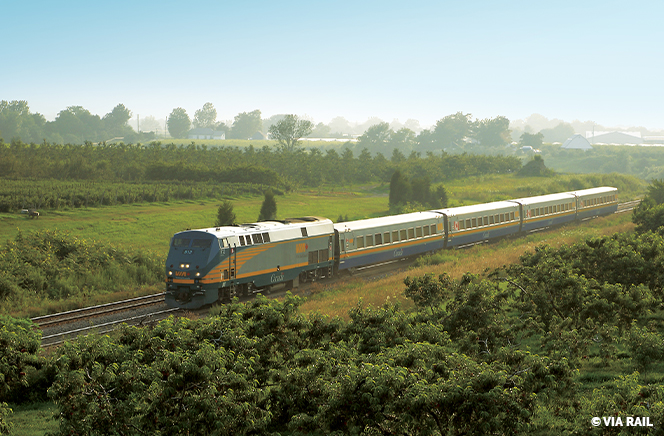 Historic sights and soaring skyscrapers combine to create the perfect Canadian experience along the tracks. VIA Rail links the cities of Toronto, Ottawa, and Montreal on the Québec-Windsor Corridor route to provide passengers a delightful and memorable urban adventure minus the hassle. Exciting offers available on request. Contact our team for more details.
Jasper National Park
Welcome to Entire Travel Group
Meet Our Destination Experts
FAQs
Who are Entire Travel Group?
Entire Travel Group is celebrating 50 years of passionately delivering unique and memorable travel experiences. We are an Australian, family owned, award winning business, with a friendly team ready to match your expectations to the perfect holiday package.
Entire Travel Group used to be known by the individual brands shown in the footer of the website. The company has not changed, but we have amalgamated under one brand - Entire Travel Group.
For more details please visit - About Us | Entire Travel Group
Is Entire Travel Group Australian owned and operated?
Entire Travel Group is proudly Australian family owned and operated and as it stands today represents 50 years of experience, progress, and evolution. We proudly support the community with our long-term commitment to many important charity organisations. We were awarded the best operator in our class at the most recent National Travel Industry Awards.
Is Entire Travel Group industry accredited?
Entire Travel Group is ATAS Accredited. ATAS, which stands for AFTA Travel Accreditation Scheme is administered by the Australian Federation of Travel Agents (AFTA). AFTA is the industry body for the Australian retail travel industry. We are also a registered member of the Council of Australian Tour Operators (CATO).
Does Entire Travel Group have industry awards?
Entire Travel Group was awarded "Best Specialty Wholesaler" at the 2019 National Travel Industry Awards (NTIA), which are held annually by the Australian Federation of Travel Agents (AFTA).
The awards recognise quality and excellence in the Australian travel industry. We were extremely honoured to receive this recognition and we will continue to deliver the best service and value to our customers.
Why travel with Entire Travel Group?
Of all the attributes Entire Travel Group offer - we have settled on "Experience" as the one quality we believe adds the most value to our customers. That's how our tagline "When Experience Matters" came to life and encapsulates our business in three words, as experience does matter!
We have been operating for many years and have the experience to determine what sightseeing, duration and accommodation style makes a great itinerary. Our technology is continually enhanced, giving our team the ability to provide a great customer service experience. Our relationship with our operators is extremely strong, which ensures we are confident of the travel experience and on ground support for our clients.
For more details please visit - About Us | Entire Travel Group
How does the Peace of Mind Booking Plan work?
Our Peace of Mind Booking Plan allows you to book with confidence in the new international travel environment. With low deposits, a cooling off period and a flexibility period where you can cancel and rebook later, we really do have you covered.
For more details please visit - Peace of Mind Booking Plan | Entire Travel Group
Is there a cooling-off period?
Look for packages with our Peace of Mind Booking Plan logo on the website.
We understand that occasionally plans may change, so we give you the confidence to proceed with a cooling off period.
You may cancel for any reason within 7 days, where you will receive a 100% refund of your $100 per person deposit.
For more details please visit - Peace of Mind Booking Plan | Entire Travel Group
What is Freedom of Choice?
At Entire Travel Group we understand that our customers have their own personal tastes and interests - so throughout our packages look for "Freedom of Choice" which gives you the ability to tailor your holiday from the various experiences offered on selected days. Like a sommelier matching wine to a meal, we have used our experience to carefully select and offer the right experiences in each location.
The Freedom of Choice options are included in the package price, and the price remains the same regardless of the choice you make on each day.
For more details please visit - Freedom of Choice | Entire Travel Group
Do Freedom of Choice options cost extra?
Our Freedom of Choice program offers flexibility, by allowing you to choose from different options on pre-selected days in the itinerary.
Our per person price includes one tour on each Freedom of Choice day in the itinerary.
The price of the package remains the same regardless of the choice you make on each day.
What is the Safe Travels program?
This specially designed program allows travellers to recognise governments and companies around the world who have adopted health and hygiene global standardised protocols, so consumers can experience "Safe Travels".
For more details please visit - Safe Travels Stamp | Entire Travel Group
Book Now offers you the ability to make a reservation on our website for Holiday Packages that include our Peace of Mind Booking Plan. But it's not just a static offer – you have complete flexibility from travel dates, passenger numbers, single supplements, room upgrades, optional extras, flexible booking terms and more.
Why do some packages not offer the ability to Book Now on the website?
If a package on our website does not include our Peace of Mind Booking Plan, it will not be available to Book Now.
Due to the boutique nature and limited capacity of some travel experiences offered, they have strict payment and cancellation policies. (e.g., a remote bear lodge in Canada with only a few cabins).
Although technically possible, we have decided that it is impractical for us to try and sell these type of travel services on-line. We believe it is important that such product is discussed, so that we can ensure these strict payment and cancellation policies are understood before we proceed with a booking.
For such product we may act as an agent only for the principal suppliers. Where we act as agent, your contract for the delivery of travel arrangements will be with the principal supplier and will be subject to their Booking Conditions.
We will advise you prior to confirming your booking if we are acting as agent and we will confirm the details of the principal supplier. Our responsibility to you where we sell travel arrangements as agent for the supplier is specified in the 'Responsibility' section of our Booking Conditions.
Should I take travel insurance?
Travel insurance is strongly recommended. During the Book Now process please confirm you require assistance, and our team will be in contact with you.
What should I do before travelling?
Before you travel it is your responsibility to ensure you have the appropriate documentation including visas. If you are travelling on a passport other than Australian or New Zealand, you will require a permit to re-enter Australia. It is your responsibility as the traveller and/or travel booker to meet all government entry requirements.
For more information please visit - Before you travel | Entire Travel Group
How does a Travel Agent make a booking?
Please visit the Entire Travel Group's Agent Portal. We are here to support our industry partners with a range of informative updates, marketing collateral for campaigns and a reward & recognition program.
How do I start a Booking?
On any page that has Book Now simply follow the booking process.
You must select the Travel Agent tick box and provide correct details.
To confirm a booking only the refundable deposit is required.
An agency credit card must be used for this initial payment.
How do I contact Entire Travel Group?
Can you book my international airfares?
On some Islands Holiday Packages (e.g. Fiji), it is practical to include flights, so where we have done this it is indicated by the plane icon.
However, on the majority of our Holiday Packages, we do not include international flights.
We found that many customers may prefer to:
Travel on a specific airline of their choice
Have the flexibility to book flights with Frequent Flyer points
Select flight dates that may be different to our Holiday Package start/end dates
Use a Travel Credit already held with the airline
Use their travel agent for this service
We are able to assist with flights on any Holiday Package, so please just notify us during the Book Now process or contact our team.
Subscribe now for your chance to win
a $500 Travel Voucher
Be the first to hear about our new Holiday Packages