Self-Drive Cruising & Holiday Packages
Self-drive canal boating is the ideal way to discover the charm and mystery of hidden regional provinces. Cruise through peaceful countryside, past tempting vineyards and historic villages where tiny medieval churches, ancient chateaux, quaint markets and small local restaurants will offer you an endless stream of new experiences and delights.
Featured Self-Drive Cruising Packages
About your Journey
Ease of navigation
No experience required. Prior to departure, a captain's handbook is provided and a demonstration is given at the base. Technical assistance during your cruise is available if required. Average cruising per day is 5-hours. We have considerable expertise in this unique type of holiday and are happy to share our personal cruising experience with you.
Locks
Most locks are automatic and operated by a lock keeper, some canals have manual locks. The time taken to go through a lock is 15- 20 min on average (but varies depending on season and traffic). Our team can advise which canal is best suited to your requirements.
Where to moor
Generally, you can moor anywhere you want along the public canals or riverways. There are some restricted and private areas, but in most cruising regions, finding free moorings is not a problem. You may however prefer to moor in a public or private marina which, for a fee, offer facilities such as electricity hook-ups, water refill, showers, snacks, etc. Moorings in marinas are subject to availability so we recommend you call the marina a few hours before your arrival.
Access to and from the base
Our experienced staff can advise you of the closest airport, train station or car depot.
Bikes
We recommend you confirm bikes in advance. You can explore the surrounding towns and villages or simply ride along the footpath in search of a baguette!
Prices
All prices shown are per boat for weekly rental (8-day 7-night). Actual prices vary according to region, boat type and time of year.
Things to consider
Choosing a region
When considering a self-drive canal boating holiday, we recommend starting by choosing the region in which you wish to cruise. It is a very personal choice – everyone will be attracted to different aspects of self-drive canal boating, so it is important to choose a region that suits your group best.
Choosing an itinerary
The next thing to consider is the type of itinerary. Would you like to see as much of the region as you can with a one way cruise (supplement applies, contact our team for more details), or would you prefer the convenience of returning to your starting point with a round trip?
Choosing your boat
Our boats come in a variety of layouts, so it's easy to find the perfect one for you. Couples, families, and even large groups of friends will feel at home. When you have made these decisions, you need to consider the type of boat you would like for your trip. Boats vary in size and standard, but all contain separate sleeping cabins, fully-equipped kitchens and bathrooms with linen and towels.
Suggested Regions and ROUTES
Most regions in France offer a great one-way cruise itinerary easilly achievable in 7 nights:
CANAL DU MIDI

The Canal du Midi is a UNESCO World Heritage site offering 240 kms of waterways connecting
the Atlantic Ocean and Mediterranean Sea. It is a work of art with aqueducts, bridges,91 locks
and a tunnel.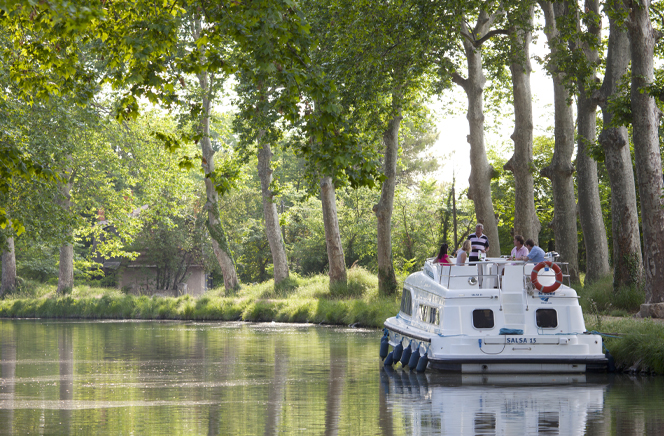 Homps to Port Cassafieres
Castelnaudary to Homps
Trebes to Narbonne
BURGUNDY REGION
Burgundy deserves its reputation for fine wines and gourmet cuisine. With lush vineyards, rolling hills
and quiet villages, this area offers a network of canals to explore, as well as the majestic Saône River,
the focal point of your Burgundy boat hire in France!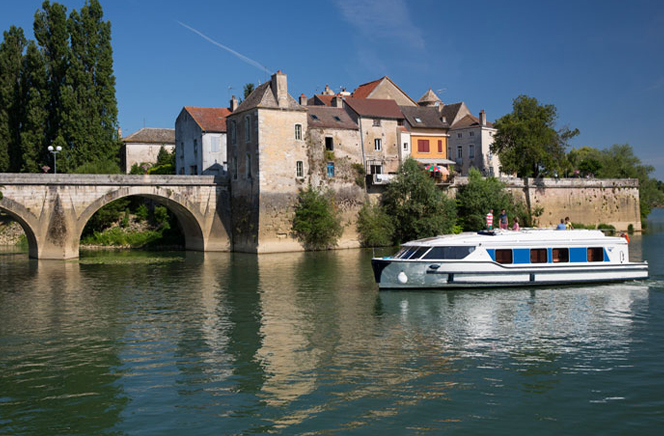 Canal du Nivernais – Migennes to Tannay
Canal a la Loire –Decize to Chatillon Sur Loire
River Saone – St Jean de Losne to Branges
AQUITAINE REGION
Magnificent architecture, historic villages, vine-ribboned countryside and more await along Canal de
Garonne in Aquitaine, an expansive region known for its foie gras, truffles, oysters and of course,
superb wines.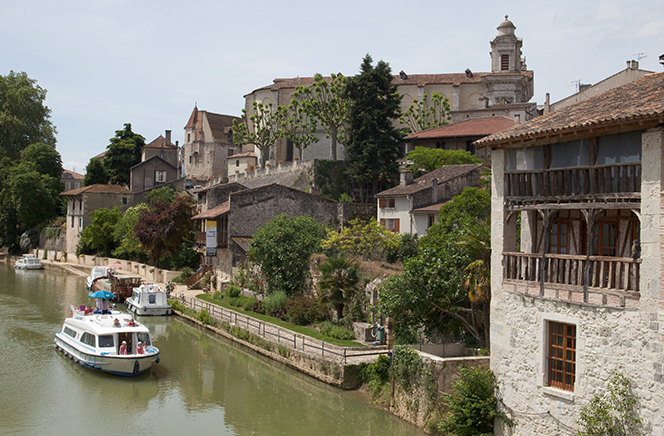 Castelsarrasin to Le Mas d'Agenais
ALSACE REGION
Embark on a rustic journey to Alsace and discover picturesque villages, soaring churches and
imposing castles tucked among gently rolling hills, ancient forests and miles of lush vineyards.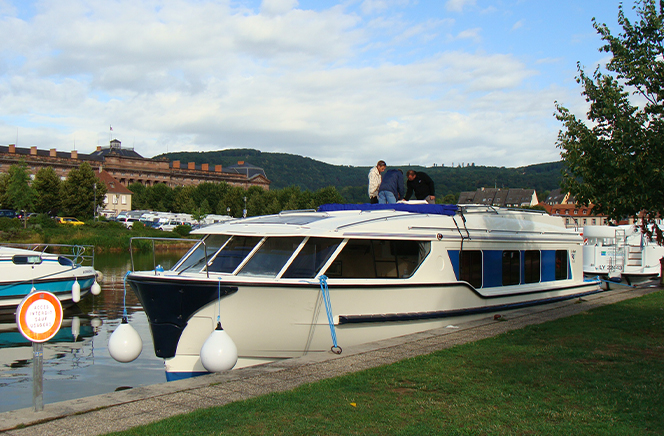 Hesse to Boofzheim, via Strasbourg
CAMARGUE REGION
Uncover the highlights of Camargue, visit some of the most gorgeous villages and enjoy a wine
tasting in the most famous cellars. This region is famous for its flamingos.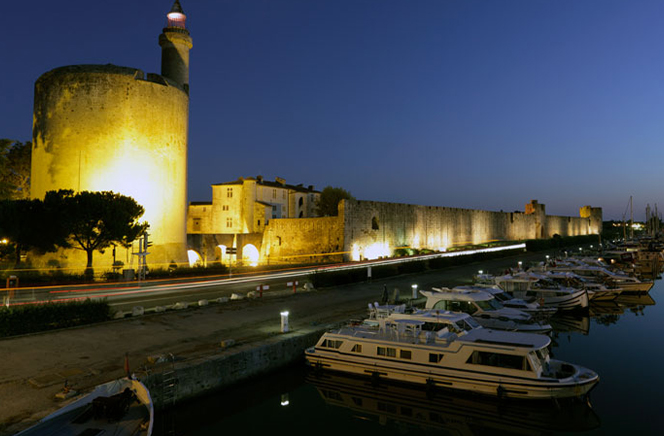 Port Cassafieres to St Gilles
BRITTANY REGION
Brittany is a Celtic land with many towering castles and a unique heritage. You can venture to
Nantes and Dinan for the museums, historic sites and fine restaurants. The Vilaine River and
Canal de Nantes à Brest are fine to explore by beginners to self-drive boating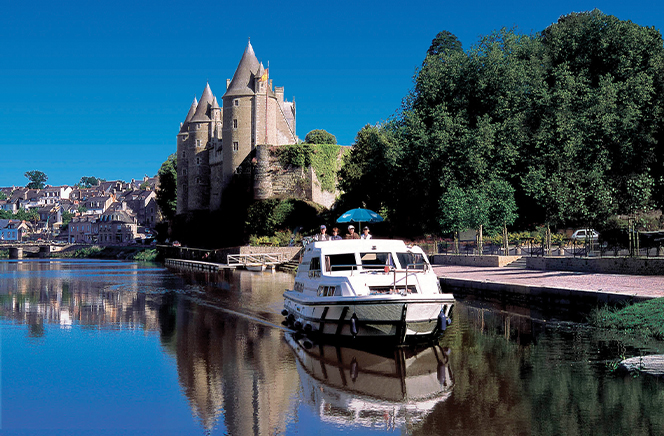 Read What We've Written
Aye Aye. Captain! The Basics of Canal Boating in France
Be your own captain and discover the wondrous heart of France aboard a self-drive boat. France is ribboned with great canals and navigable rivers that played a vital part in the rise and fall of cities and kingdoms, making any boating holiday an interesting and memorable experience highlighted by medieval towns, age-old ruins, hilltop villages and spectacular rural sights.
Boating in Aquitaine: What Awaits Along the Canal de Garonne
Magnificent architecture, historic villages, vine-ribboned countryside and more await in Aquitaine, an expansive region known for its foie gras, truffles, oysters and of course, superb wines. Aquitaine used to be a kingdom and a duchy in the Middle Ages and such powerful history is inevitably mirrored in the region's structures.
The Top Spots for Self-Drive Holiday in France
Explore the beauty of France's rivers and canals on board a self drive boat and you will discover many hidden treasures and traditions of regional France. Being the captain of your own boat is the perfect way to be independent, visiting the different regions of France at your own pace, all the while enjoying the company of the people you have chosen to share this experience with.
Subscribe now for your chance to win
a $500 Travel Voucher
Be the first to hear about our new Holiday Packages