Agent Portal
Welcome to Entire Travel Group's travel agent portal.
We are here to support our industry partners with the following benefits:
Training & product updates
Marketing collateral for our campaigns
Reward & recognition program for agents
Efficient BOOK NOW process for our pacakges
No username or password required for the agent portal.
Travel agents do not require a login to BOOK NOW on our website.
Travel agents are able to BOOK NOW on our website by entering your agent details during the booking process. Please read more information below and also refer to the detailted FAQ section beneath each package.
Entire Travel Group is proud to launch our brand-new Book Now capability, which is a purpose-built 24x7 platform offering our exclusive range of Holiday Packages.
What is Book Now?
Following extensive research, this platform has been carefully designed and built over 18 months to offer an exciting new service on our website.
The customer was front and centre of our approach, ensuring their preferences are fully supported throughout the Book Now process.
Now, we offer you the ability to Book Now a Holiday Package with our Peace of Mind Booking Plan. But it's not just a static offer – you have complete flexibility from travel dates, passenger numbers, single supplements, room upgrades, optional extras, flexible booking terms and more. This highlights the level of sophistication our platform offers.
It's also not a static itinerary, as many of our independent Holiday Packages include our unique Freedom of Choice options which can be selected as part of the Book Now process. This means that any one package can be quite different based on the selection of Freedom of Choice options for each booking.
We are confident our Book Now solution offers enormous benefits to our industry partners, where once complex itineraries across multiple locations and inclusions are now bundled and ready in one convenient Book Now experience.
No longer do you need to visit multiple websites and deal with a range of operators for transfers, hotels, tours, and experiences as we offer a one-stop-shop.
As the Holiday Packages are fully delivered by our hand-picked suppliers, this is without doubt the best solution for you and your client when travelling. In partnership, we can provide efficient support to our mutual clients as may be required.
Every Book Now package includes real-time rates for the date ranges available. No more "from price", no more quotes required, as what you see is what you get. You can download a detailed PDF and provide exact pricing to your client at any time.
You can Book Now 24x7 at a time convenient to you and/or your clients.

What's unique about these Holiday Packages?
They are not group tours with set departures - they are pre-designed, purpose built, independent holiday packages full of unique and memorable experiences.
Our holiday packages have been exclusively built for us in collaboration with our handpicked suppliers, who also offer full on-ground support for the clients.
We are offering unique travel experiences which cannot be found elsewhere.
Many packages include our "Freedom of Choice" options which allow you to tailor the holiday experience. Like a sommelier matching wine to a meal, we have used our experience to carefully select and offer the right experiences in each location.
They include our Peace of Mind Booking Plan.
A wide selection of our packages are compliant with the World Travel & Tourism Council (WTTC) Covid Safe Travels.

How do I start a Booking?
On any page that has Book Now simply follow the booking process.
You must select the Travel Agent tick box and provide correct details.
To confirm a booking only the refundable deposit is required.
An agency credit card must be used for this initial payment.

What happens after I make a booking?
Our team will contact our overseas suppliers and confirm all arrangements.
A Confirmation from our reservation system will be sent in the coming days.
The Booking Number on this confirmation supersedes the website reference.

What options do I have to pay the balances?
Coming soon on our website is a payments portal page with all available options.
For now please refer to the Invoice you receive following the Book Now process.
Entire Travel Group supports bank transfer, credit card, TravelPay B2B, PaymentGate.

What about Commissions?
Our team will send you an Invoice including full details, which applies your travel agent commission.
From this point you will pay us the net balance which secures your commission.

Feedback?
We welcome your feedback, so please send any thoughts on our Book Now solution via Contact us | Entire Travel Group

PRE-COMMITMENT FOR CUSTOM ITINERARIES
A $250 pre-commitment payment is required for custom itineraries. This is to cover our time for engaging our hand-picked suppliers around the world, and working with them to develop a custom itinerary and quotation. This amount goes toward the final cost of the holiday, however it will not be refunded should the booking not go ahead.
Following the impact of Covid-19, it is time for the travel industry to align itself with other service industries. There are many examples including automobile, electrical, plumbing, accounting, legal, IT and architecture where a fee for service is standard business practice. Quite simply, we can no longer provide advice and expertise without being remunerated for our time.
WHAT DOES THE PRE-COMMITMENT UNLOCK?
Entire Travel Group is celebrating 50 years of passionately delivering unique and memorable travel experiences. During this time, we have developed extensive product knowledge and expertise. We are proud of our supplier relationships overseas, where our partners have been hand-picked for their reliability, experience and track record. We are confident in our ability to deliver you an exciting itinerary, which will meet your needs and expectations. Importantly, we do offer an alternative to custom itineraries, which is our pre-designed, purpose built independent holiday packages found on our website. Available to Book Now, these packages include our Peace of Mind Booking Plan which offers low deposits, a cooling off period and flexible payment terms.
Please refer to the following table which outlines the features and benefits of each booking option.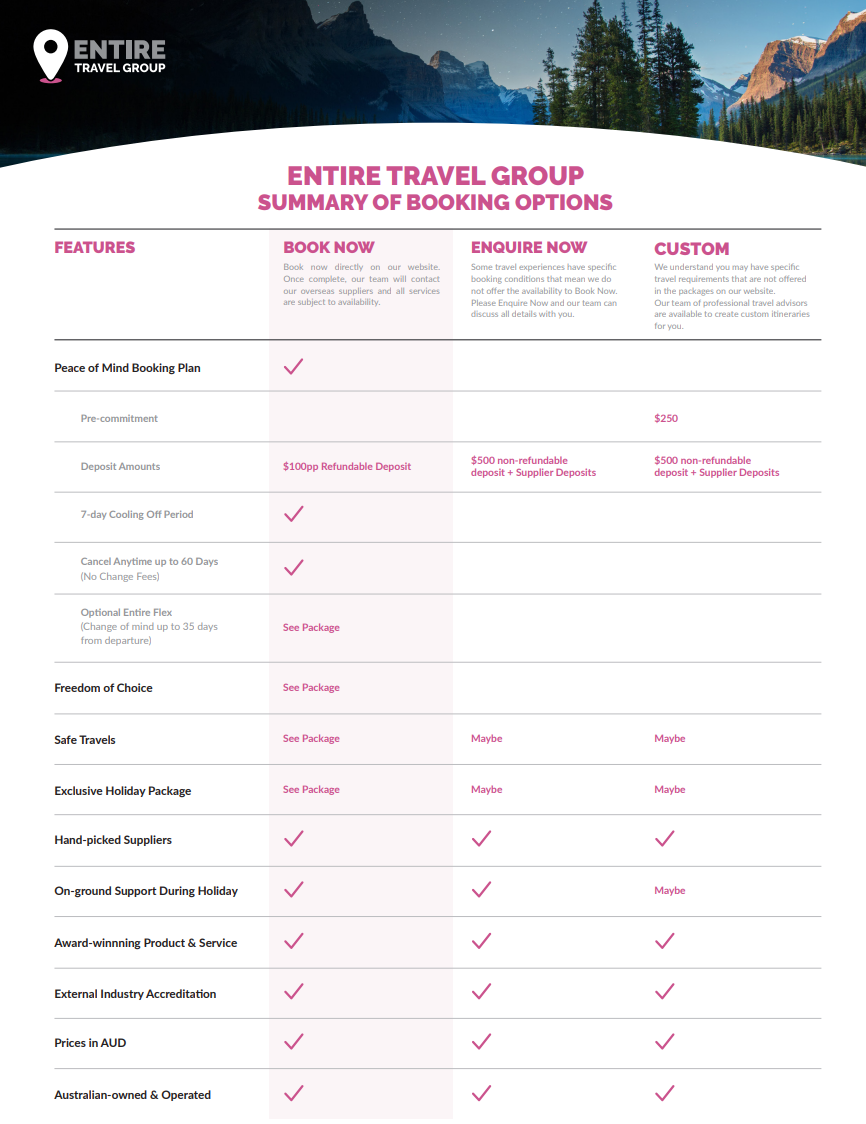 We are here to make your life easier! We understand you may not have time to create your own marketing collaterals so we have created an easy and user-friendly toolkit.
We have designed specific toolkits (including facebook tiles, flyer with CTA for you to personalise, videos or cinemagraphs) to make it effortless for you to sell and promote our product range.
Travel Agent Training and Updates.
Subscribe now to win a $500 Travel Voucher