Posted by on 14 Sep 2022
Seeing wild animals in their natural habitat brings forth a childlike sense of excitement. A majestic grizzly appears from the foliage along a rushing river. A bald eagle swoops in to cut the surface of the water with its talons. Or, while rocking on a boat in the ocean, you see and hear the tell-tale jet stream of water from a whale's blowhole. In BC, the presence of the wild is felt everywhere you go, and you don't always have to wander far before you spot your first bear, whale, or eagle.
Here are four different ways to experience BC's wildlife safely and responsibly—from the coastal waters of the Pacific Ocean to the valleys of BC's Canadian Rockies.
1. IMMERSIVE REMOTE WILDERNESS STAYS
GREAT BEAR RAINFOREST & BEYOND
A misty landscape of lush rainforest, expansive inlets, and dramatic fjords is foreign to many but, in British Columbia, this is the primary ecosystem on the central and northern coast. Tucked away in these unique coastal zones sit luxury wilderness lodges—secluded refuges for travellers looking to immerse themselves in the habitats of diverse wildlife, including whales, sea otters, moose, elk, and, of course, bears.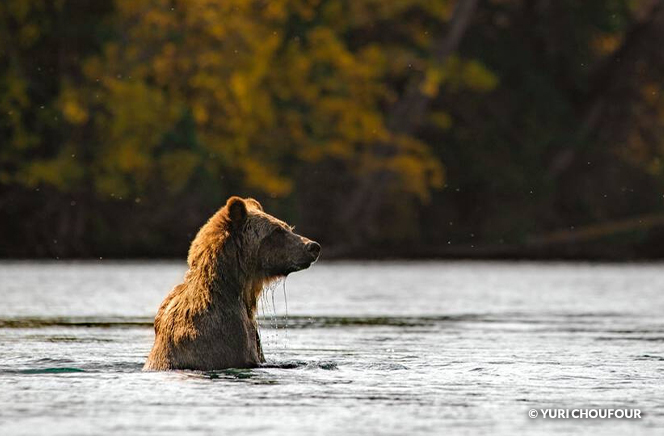 Knight Inlet Lodge, 240 km (150 mi) northwest of Vancouver Island, is situated in the last intact temperate rainforest in the world. Operating under an agreement with the five First Nations whose traditional territories surround the lodge, this wilderness sanctuary sustains a dense grizzly bear population. You can book two-night to six-night stays that include wildlife boat cruises, interpretive tracking tours, 4×4-accessed hiking, kayaking, and more.

In the Broughton Archipelago Marine Provincial Park, located in the traditional territories of the Mamalilikilla, Kwikwasut'inuxw Haxwa'mis, Da'naxda'xw Awaetlala, and 'Namgis First Nations, you can find Farewell Harbour Lodge. This remote wilderness retreat sits on 30 acres of waterfront and offers four- to six-day stays to see orcas, humpback, and grizzlies on immersive day trips, with the lodge as the perfect home base.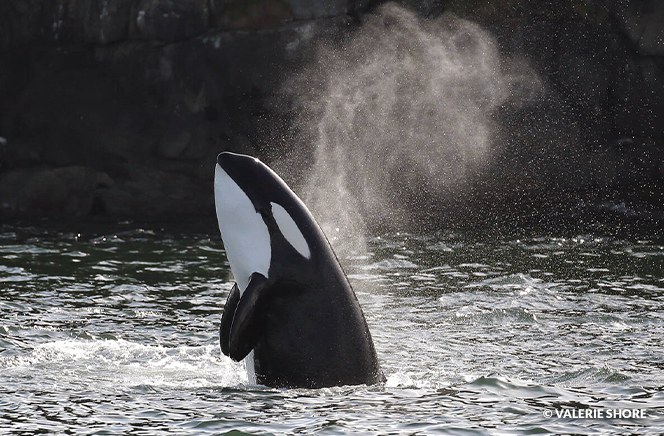 The Great Bear Lodge sits on the traditional territory of the Gwa'sala-'Nakwaxda'xw Nation and is accessed by air from Port Hardy, on Northern Vancouver Island. This eight-bedroom lodge offers twice-daily grizzly bear-viewing opportunities. Watch these incredible creatures feed on salmon from the viewing blinds in the nearby estuary, or while on board small boats that carefully navigate the river. Guests can often see wolves, black bears, river otters, eagles, and seals, too.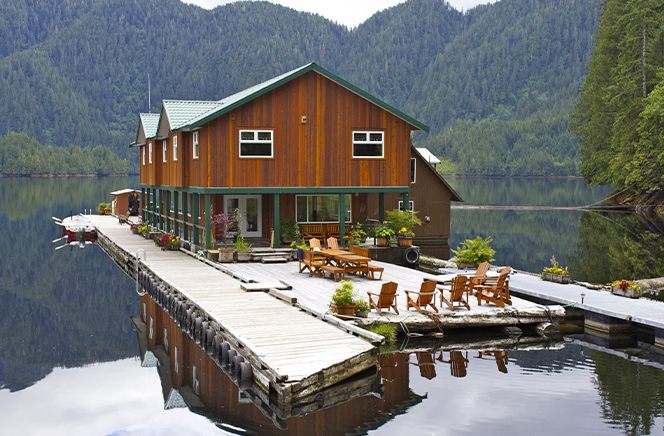 A 45-minute boat ride from the coastal town of Lund on BC's Sunshine Coast sits Klahoose Wilderness Resort. This newly opened, Indigenous-owned and -operated resort in Desolation Sound offers three- and four-day packages with all meals, boat access, grizzly-bear viewing, and whale watching led by Indigenous guides.
Farther inland, Nemiah Valley Lodge is nestled in the Chilcotin Mountains, a region that the Zeni Gwet'in and Tŝilhqot'in Nations call home. Here you can book three- and four-night stays with opportunities to see moose, fox, eagles, grizzly, and black bears. This area is also home to the last wild horse preserve in North America, stewarded by local Indigenous communities.
If you want to visit Northern BC, check out the Khutzeymateen Wilderness Lodge. Located on the northern edge of the Great Bear Rainforest, this lodge offers the quickest access to the Khutzeymateen Grizzly Sanctuary, home to one of the largest populations of coastal grizzly bears in the world.
2. DAY TRIPS FOR WILDLIFE SEEKERS
VANCOUVER ISLAND & COASTAL BC
The wildlife in BC is so abundant that sometimes a day trip is all you need to spot some of BC's most remarkable creatures.
Book a half-day trip with Prince of Whales, departing from Victoria or Vancouver, to see the apex predators of the Pacific Ocean. Spot orcas, humpback whales, and porpoise from one of BC's longest running whale-watching operators.
For bear-viewing trips from Vancouver Island's east coast, Homalco Wildlife & Cultural Tours operates from Campbell River. Book a Bute Inlet Tour and learn about the traditional territory of the Homalco First Nation, led by local Indigenous guides. This 8-9 hour trip includes chances to spot orcas, humpbacks, and other unique coastal marine life. Similarly, in Port McNeill, on Northern Vancouver Island, Sea Wolf Adventures offers trips with local Indigenous guides. See grizzly bears and whales on eight- to nine-hour trips, learn about the local Kwakwaka'wakw culture, and spot whales, otters, and grizzly bears from the boat. In Port Hardy, Sea Wolf Adventures has also teamed up Coastal Rainforest Safaris, and in Telegraph Cove, guests can go out with Tide Rip Tours.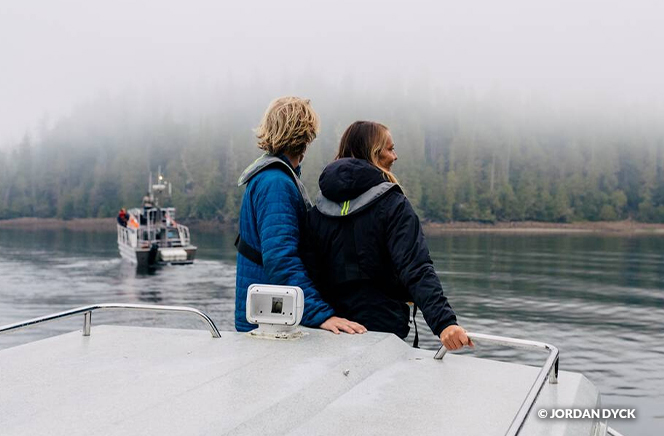 If you're travelling around Northern BC, head out on a whale- or grizzly-watching tour with Prince Rupert Adventure Tours. Here, the relatively calm waters of the inside passage and 72-person catamaran provide a smooth ride for comfortable wildlife viewing.
For a longer, more immersive experience, join an expedition with Maple Leaf Adventures, departing out of Victoria. These multi-day experiences combine wildlife viewing, zodiac tours, kayaking, and fishing experiences while cruising the coastal waters of Desolation Sound, the Gulf Islands, northwest Vancouver Island, the Inside Passage, or around Haida Gwaii via sailboat, tugboat, or catamaran.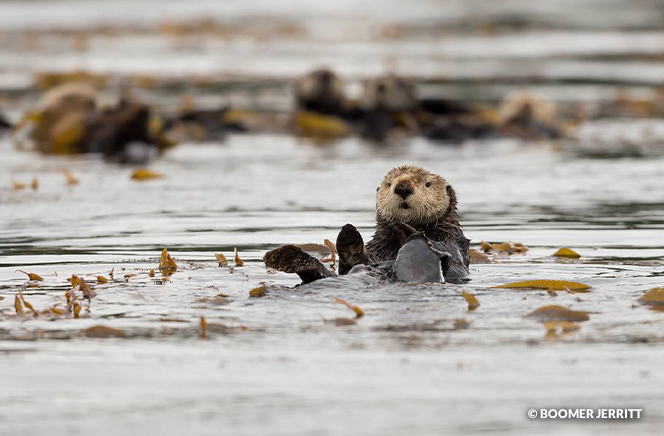 3. CITY-BASED WILDLIFE-VIEWING GETAWAYS
VANCOUVER, RICHMOND & WHISTLER
In Vancouver, Takaya Tours has combined canoeing and walking tours to learn about the history of the local Tsleil-Waututh First Nation. Hop on a 35-foot ocean-going canoe to paddle the waters of Indian Arm while Indigenous leaders discuss traditional methods for harvesting flora and fauna, pointing out ancient village sites, and sing songs. Seals are a common sighting in these calm, protected waters.
On Grouse Mountain, overlooking Vancouver, two resident grizzly bears, Grinder and Coola, call an on-mountain wilderness sanctuary home. Take the Skyride Gondola up 2,800 ft (850 m) to explore the refuge and learn from the leading-edge interpretive programs. Grouse Mountain is also home to Columbian black-tailed deer, coyote, and snowshoe hare.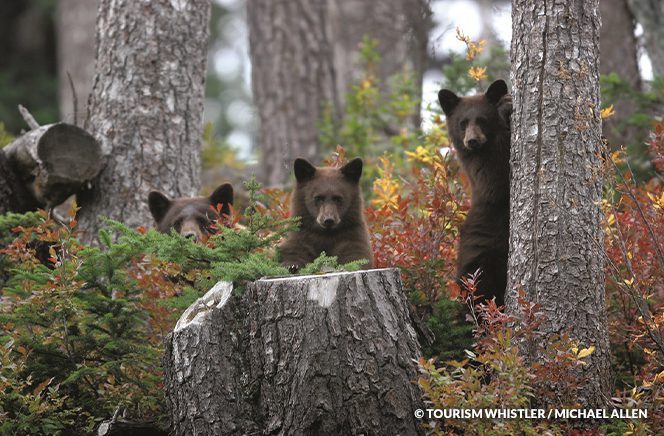 In Richmond, the George C. Reifel Migratory Bird Sanctuary is the place for birding enthusiasts. One of 92 federal Migratory Bird Sanctuaries in Canada, this area is home to nearly 300 species of birds. Wander the ponds, treed pathways, intertidal marshes, and waterway channels to spot hundreds of different birds. More birds can be spotted along the South Fraser BC Bird Trail, with ample chances to spot a variety of species in Surrey, Delta, and Richmond. For an in-depth experience, book a Birding 101 guided tour from local ornithologist Liron Gertsman for a deep dive into the avian world.
Just outside Vancouver is the Sea to Sky Highway, one of the most scenic routes in the world. This 90-minute journey from sea level to Whistler Village, surrounded by the new Átl'ka7tsem/Howe Sound UNESCO Biosphere Region and up to 3000-m peaks, has many stop-off points where you can see marine life, eagles, bears, and more along the way.
The four-season community of Whistler is famous for skiing in winter, though the resort town is a popular summer destination for outdoor adventure activities and endless wildlife viewing. Join a 4×4 bear-viewing tour with trained wildlife guides who can take you to the best places to spot and safely view the bears in their natural habitat. If you opt to take the Whistler Gondola into the alpine, or ride the world record-setting PEAK 2 PEAK Gondola between Whistler and Blackcomb mountains, be sure to look down for your chance to spot bears roaming the grassy areas under the lift lines.
4. WILDLIFE SPOTTING AMONGST BC'S HIGHEST PEAKS
KOOTENAY ROCKIES & THOMPSON OKANAGAN
The Canadian Rockies are home to an abundance of wildlife whose natural habitats are some of the most impressive mountain landscapes in the world.
If you're spending time in Vancouver but also want to see the wildlife of the Canadian Rockies, a Rocky Mountaineer rail tour is one way to do it. Choose from eight- to 12-day circle tours that head from Vancouver to Jasper and back again along Canada's famous rail lines. This luxurious experience includes onboard dining, interpretation of the landscape and wildlife, tours to National Parks, sky bridge and gondola access, and overnight stays in top-notch hotels. Bears, moose, caribou, deer, bighorn sheep, elk, wolves, and coyotes are often seen from cabin seats on the route from Vancouver to Jasper.
Sun Peaks Resort, 60 km (37 mi) from Kamloops, is the perfect place to spot wildlife, thanks to its more off-the-beaten-track location. Best seen in spring through fall, creatures are found on the mountains, lakes, and meadows surrounding the resort. Spot moose at McGillvary, Heffley, or Morrisey lakes while hiking, biking, or paddleboarding, or see black bears from the chairlift or in the meadows and fields surrounding the resort.
The small mountain town of Golden, in BC's Canadian Rockies, is a paradise for black and grizzly bears, elk, deer, moose, big-horned mountain sheep, wolves, and more. A diverse range of birds can also be sighted, including osprey, eagles, and herons fly and nest along the rivers and lakes of the valley. Just outside the downtown centre of Golden, you can head to Kicking Horse Mountain Resort to see the world's largest enclosed and protected grizzly bear habitat. The Grizzly Bear Refuge is home to resident grizzly bear Boo, who can be viewed as part of an interpretive tour.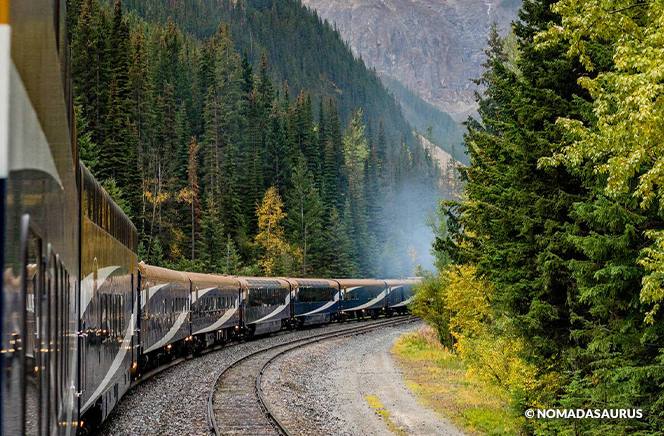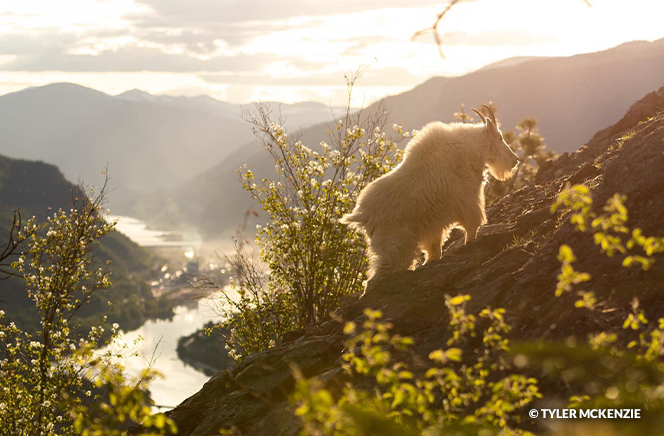 For more remote wilderness wildlife viewing, Wells Gray Provincial Park, a 5,000-square-kilometre wilderness just west of towering Mount Robson, is one of the largest protected areas in BC. The sheer size of this park makes this place home to a rich diversity of species, including 219 birds, 56 mammals, and over 700 types of flowering plants. Simply driving through this park can yield wildlife sightings of bears, white-tailed deer, coyote, and fox, with an opportunity to see more than 40 named waterfalls.
SAFE AND RESPONSIBLE WILDLIFE VIEWING
BC is a place where wildlife roam free. It's important to respect the natural ecosystems you visit and leave no trace for the safety and protection of the animals, the environment, as well as yourself and future visitors.
While travelling in BC, you should know what to do if you encounter or startle an animal. Always keep your distance and never approach or feed any wildlife. If you are travelling in the backcountry or rural areas, always dispose of garbage correctly and pack out what you bring in. Follow all wildlife-viewing laws and regulations, including directions from wildlife-viewing guides.
Written by: Leah Adams-Chute