Posted by on 18 Jan 2022 , in North America
Have your camera in hand all the way on this stunning drive that takes you to gold rush towns, past azure lakes and through magnificent mountain ranges. One of the most popular touring routes in the Yukon, this spectacular mountain drive will take you on a grand tour through picturesque Yukon towns and alpine passes to the Alaska Panhandle. Journey from Whitehorse to Skagway, Alaska through the scenic White Pass, ride the ferry to Haines and circle back to the Yukon through Kluane country.

Drive from Whitehorse to Skagway, Alaska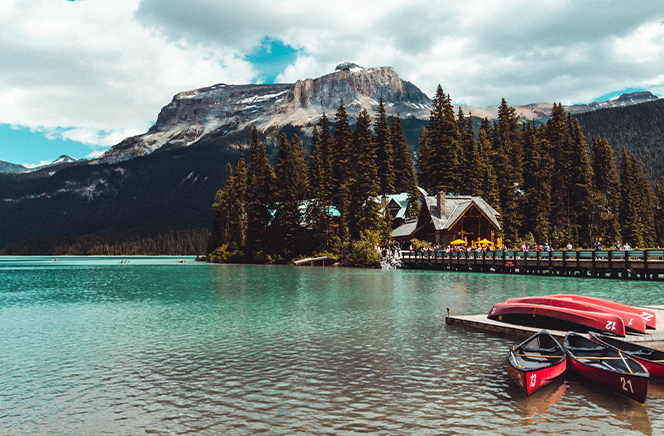 The drive from Whitehorse to Skagway is, in a word, spectacular. You'll be reaching for your camera around every bend in the road.
Stop for a scenic selfie at the dazzling turquoise-hued Emerald Lake before meeting some sled dog puppies at the Caribou Crossing Trading Post. Learn how the world's smallest desert ended up in the middle of the alpine at the Carcross Desert.
The village of Carcross is a historic town on the shores of Bennett Lake. Indulge in some ice cream from Canada's oldest operating store or grab a coffee at the Carcross Commons. Then pick up the Historic Buildings Walking Tour brochure at the Visitor Information Centre and go exploring. For outdoor enthusiasts, this area is home to some world-class mountain biking and hiking trails.
Next, drive by stunning Windy Arm and Tutshi Lake, and test your nerve at the Yukon Suspension Bridge—a pedestrian cable suspension bridge high above the Tutshi River Canyon.
The road continues winding through magnificent alpine scenery and over White Pass, before descending into Skagway. Pullouts along the way not only give you some outstanding photo opps, but also reveal the heroic and heartbreaking stories of the gold rush.
Driving Time: 2.5 hours (176km/109mi.)

Ferry from Skagway to Haines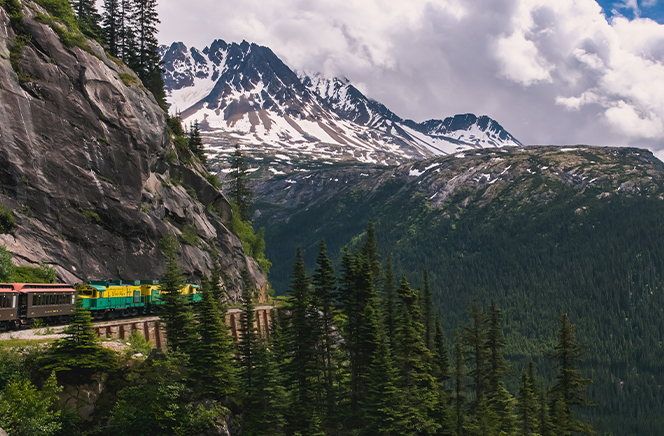 Skagway was the gateway to the Klondike gold fields—from here, prospectors hiked the Chilkoot Trail to Bennett Lake and then navigated the Yukon River to Dawson City. Today, it's a well-preserved gold rush town and major cruise ship port with a wealth of activities to enjoy. Stroll along the wooden boardwalks and soak up the history and lively vibe of this bustling town. And if you like your fries with a side of history, call in to the Red Onion Saloon—one of the original dance halls and bordellos in town.
No visit to Skagway would be complete without a ride on the White Pass and Yukon Route Railroad. Built in 1898 to service the Klondike Gold Rush, this narrow gauge railway is now a Historic Civil Engineering Landmark. The track climbs 3000 ft in just 20 miles, through tunnels and across sky-high trestle bridges. There's a range of tour options available between Skagway and Carcross that can be booked at the historic train station.
After exploring Skagway, board the ferry to Haines. Watch out for whales, eagles and maybe even grizzly bears fishing for salmon on this scenic trip.
Drive from Haines to Haines Junction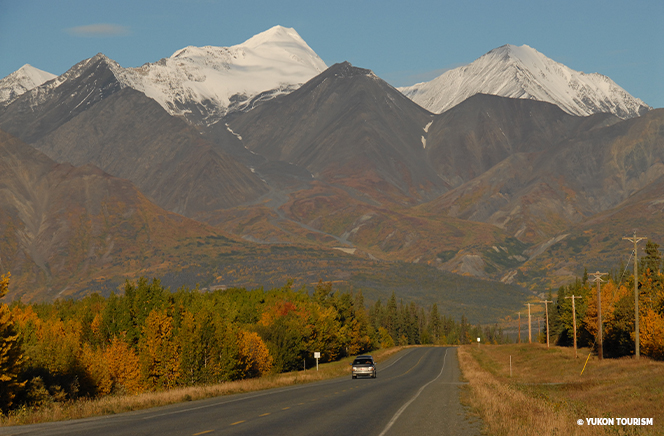 Spend the morning exploring Haines before heading back to the Yukon. Just out of town the area along the Chilkat River flats, alongside the Haines Road, is critical habitat for bald eagles and an outstanding place to observe them.
After re-entering Canada, the road passes through the alpine heights of Haines Pass. As you head towards Haines Junction, keeping your eyes on the road and not the breathtaking mountain views can prove challenging. Along the way, explore the seasonal First Nations fishing camp of Klukshu Village as well as Million Dollar Falls.
Kathleen Lake is a great place to stop for a picnic. This crystal clear lake, surrounded by snow-capped mountains offers a range of hiking trails from an easy boardwalk to strenuous climbs. In summer, the area bursts with wildflowers (tip: keep an eye out for Quill Creek—summer flowers grow here in profusion) and in fall, the aspen forests take on a magical golden glow.
Kluane is also home to the highest concentration of grizzly bears in North America. Chances of seeing them along Haines Road are high so keep the binoculars and camera handy. And don't forget to pack the zoom lens!
Driving Time: 3.5 hours (238km/148mi.)

Exploring Kluane Country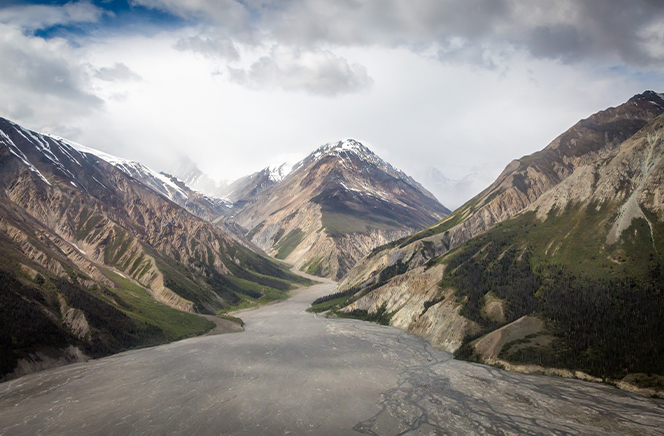 The picture-postcard village of Haines Junction boasts a wilderness adventure playground in its backyard.
Kluane National Park and Reserve is a UNESCO World Heritage Site and about half the size of Switzerland. Together with neighbouring parks in British Columbia and Alaska, it forms one of the largest internationally protected areas in the world. You'll also find Canada's highest peak, Mount Logan, and the largest icefields outside of the polar caps here. "Small" is not in our vocabulary. An outdoor-lover's paradise, it offers world-class hiking and whitewater rafting.
In town, Da Kų "Our House" celebrates the vibrant language, culture and traditions of the local First Nation. If you're looking for a unique gift by a local artisan, you're sure to find it here.
For the ultimate I-can't-believe-how-awesome-that-was experience, a flightseeing tour over the park tops the list. As you soar over glaciers and mountains, you'll realize what all the fuss is about. And so will your friends…after you post your awesome photos on Instagram. Your biggest challenge is going to be finding enough hashtags to use.
From Haines Junction it's an easy two hour drive (154km/96mi.) back to Whitehorse.