Posted by on 03 Jul 2023
Calgary is a kaleidoscope of performing arts, modern cuisine, diverse cultures, and legendary events, all year round.

Attractions and events
From the "Greatest Outdoor Show on Earth" to grizzly bears and dinosaurs, the dynamic city of Calgary is one of Canada's most captivating urban destinations.
Become an Olympian for a day at Canada Olympic Park on the western edge of Calgary, the epicentre of the 1988 Winter Olympic Games. Today it's part of WinSport, where Olympic hopefuls continue to train in state-of-the-art facilities and visitors can live out their own Olympic dreams, year round. Grab a seat in the back of a bobsled and ride the course that made the Jamaican bobsled team famous. Feeling brave? Jump on the Skyline Luge and hang on tight as it twists and turns for 1800 metres and plummets more than 100 metres to the finish line. Want more? Ride the fastest, longest single zipline in North America from the top of a ski jump, and spend some time at Canada's Sports Hall of Fame with its 12 galleries and hands-on exhibits.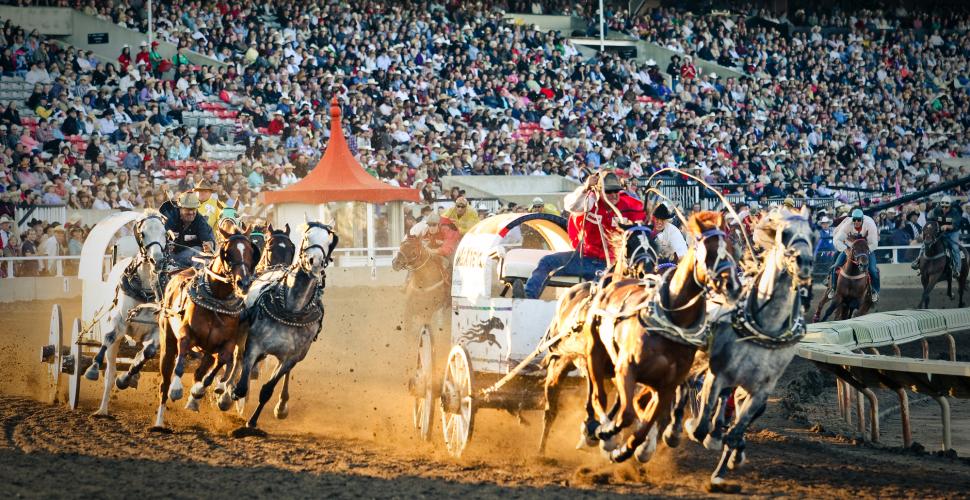 Cowboys take centre stage as the stars of the annual Calgary Stampede. Cheer on your favourite athletes—animal and human—in the barrel racing, bull riding, bareback and saddle bronco competitions, and the chuckwagon races. The whole city celebrates its western heritage for ten days every July with country music, cultural exhibits, cowboy food, and fashion on the Stampede Grounds and throughout the city.
Can't get enough of traditional western heritage? The whole family can step back in time at Heritage Park Historical Village. Canada's largest living history museum has more than 180 interactive exhibits spread throughout 127 acres of land. Hop on board a steam train dating back to the 1880s and tour the park, take a boat ride on a paddle-wheeler and enjoy the fun of the fair on an old fashioned Ferris wheel, and snack on delicious home-made pastries and sweets.
Music lovers from across the globe flock to Calgary each year for its cornucopia of musical events for all genres. From the Calgary Folk Music Festival and the Calgary International Blues Festival, to the Opera in the Village, music is the very heart and soul of the city. The state-of-the-art Studio Bell National Music Centre is a hub of musical performances, recording, technology, and musical education. Check out over 2000 musical artifacts and 22,000 square feet of exhibitions that tell the story of music in Canada.
Calgary locals know how to celebrate, no matter what the season. Join more than 30,000 revellers at Sled Island in May for five days of music, film, visual arts, and comedy at 35 different venues around the city. Celebrate summer at GlobalFest, an annual multicultural festival with a spectacular international fireworks competition. Come on, who doesn't like fireworks.
24 hours in Calgary
There's countless ways to spend a day in Calgary. Our advice? Go with the flow. Follow your nose, your taste buds, and your heart, and find out what makes Calgarians so proud to call this city home.
Start your day downtown with a walk along the Bow River pathway system. Cross the river into pedestrian-friendly Kensington Village and slurp on a raw food smoothie or tuck into a more traditional sit-down breakfast; there are more than 40 restaurants and coffee shops to choose from. Ready? Let the shopping begin! After you've explored Kensington, head to the CORE shopping centre on Stephen Avenue, and take a stroll along 17th Avenue for unique, funky boutiques.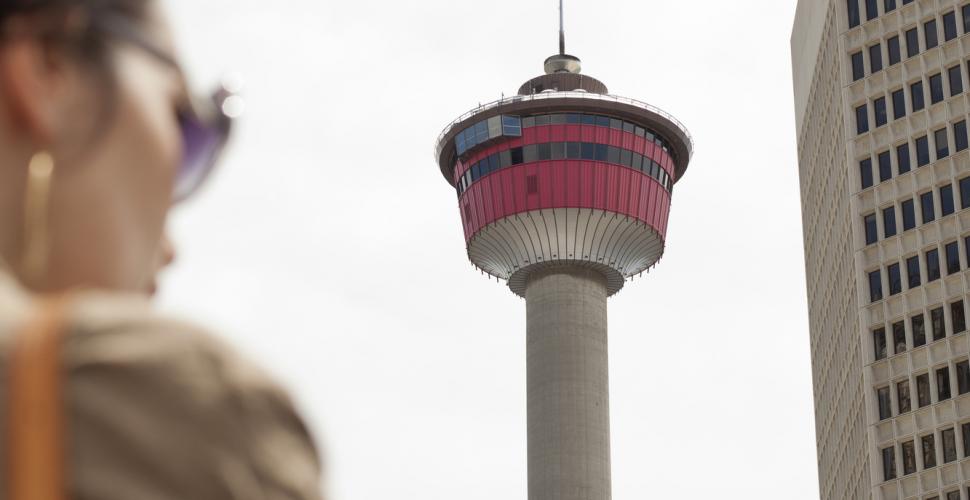 Hit the heights for lunch in the rotating restaurant at the top of the Calgary Tower, 1228 metres above sea level. Afterwards take the self-guided multi-media tour of the 360-degree observation deck and venture out onto a glass walkway, 190 metres above the downtown core.
Next stop is the nearby Glenbow Museum, home to the largest art collection in Western Canada and a great place to learn about its history. For more on the history of Calgary, visit Fort Calgary just 10 minutes away, established by the North West Mounted Police in 1875.
After a wander around St. Patrick's Island, a grassy green escape on the Bow River, head out for an unforgettable dinner. There are plenty of traditional and cosmopolitan restaurants in nearby Inglewood, Calgary's oldest neighborhood, or along historic Stephen Avenue Walk downtown.
The night is young! The Arts Commons hosts live theatre in the evenings, or attend the symphony at the Jack Singer Concert Hall. Afterward, head back to 17th Avenue or Kensington to immerse yourself in Calgary's nightlife in its lively bars, pubs, and clubs.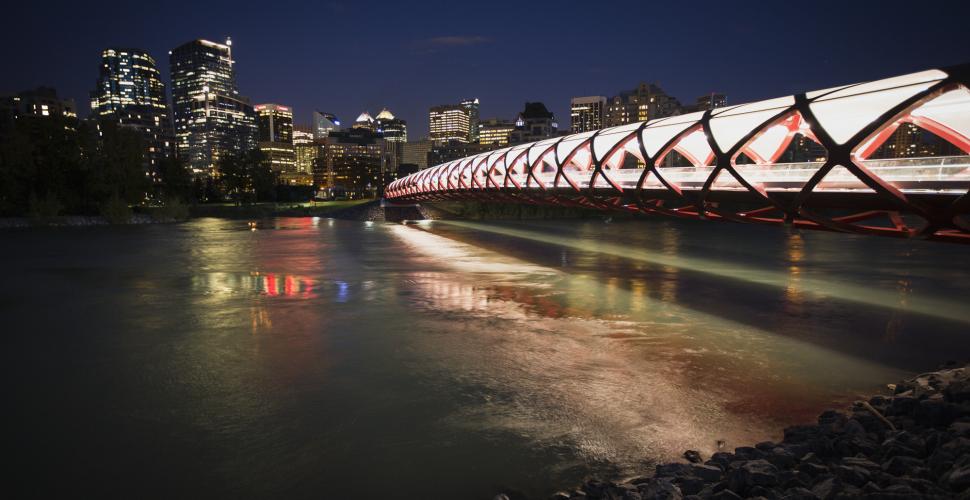 Snap your next Facebook cover photo in front of the beautifully illuminated Peace Bridge. It's time to call it a night.
Learn more about Calgary.