Posted by on 14 Sep 2022
Mountains are nature's monuments of wonder and awe. When travelling through BC's mountainous terrain, the sheer scale of the landscape will help you literally and figuratively see the bigger picture, appreciating the respect and reverence these towering giants demand—and both the humility and change in perspective they inspire.
BC has 10 distinct mountain ranges that make up 75% of its land mass, enough terrain that it would take several lifetimes to see them all. In each, you'll find kind and welcoming people who are happy to share their love of the mountains, no matter how you choose to enjoy them. From the Canadian Rockies in the east to the Coast Mountain Range in the west, here are 5 ways to get into the heart of BC's mountains.
1. BY AIR
Gain a new perspective and look down upon millenia-old glaciers, turquoise lakes, and rugged alpine peaks on a flightseeing tour.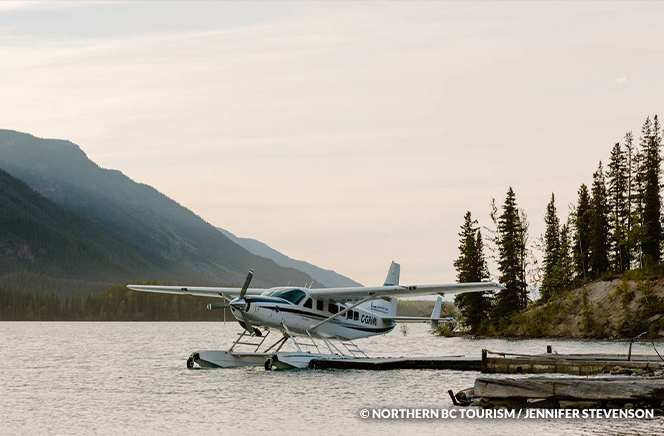 On Vancouver Island, hop on a 45-minute Comox Glacier Tour with 49 North Helicopters to soar over the Vancouver Island Ranges towards the famous Comox Glacier. The pilot will gently land on top of a remote mountain for a chance to soak in the unique surroundings.
In Northern BC, join a floatplane tour with Alpine Lakes Air from the outdoor adventure town of Smithers. For a truly adventurous getaway you can book a drop-off and pickup at a remote lakeside cabin to give you a truly Canadian backcountry experience.
For flightseeing tours over the Bugaboo Range in the Kootenay Rockies region, book a Mt. Sir Donald or Columbia Icefield tour with Kicking Horse Aviation. Soar over granite spires, majestic valleys, and vast glacial ice fields, all covering terrain with an otherworldly feel.
2. BY BIKE
Let Earth's gravity be your ally as you ride through fields of subalpine wildflowers or through ancient forests and lava flows. Bonus: The famed mountain bike trail networks in BC have something for every ability level and style of riding.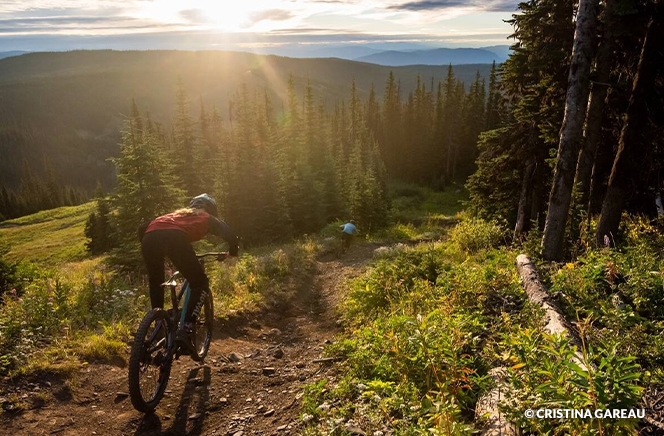 In Squamish, Dialed In Cycling can show you the best trails with guided tours and family rides that explore one of Canada's finest trail networks.
For a truly unique and homegrown bike culture experience, head over on the BC Ferries (40 min. from the Horseshoe Bay terminal in West Vancouver) to the Sunshine Coast to level up at Coast Gravity Park. Here you can freeride, try impressive jump lines, and be coached by some of BC's top riders.
If speed and air is what you crave, time in a bike park is a must. With eight downhill bike parks across BC—from Vancouver Island to the Kootenay Rockies—the terrain in Canada's westernmost province is extensive and varied.
Keen to know more? Head over to Mountain Biking BC to get info on the people, places, and epic rides that make BC's mountain biking some of the best anywhere.
3. BY LOCAL GUIDE
Join those who have a close connection to these lands as they share firsthand what makes this place special. With guides available around the province, you'll gain an even closer understanding to the sights, smells, and all the feels of these rugged landscapes.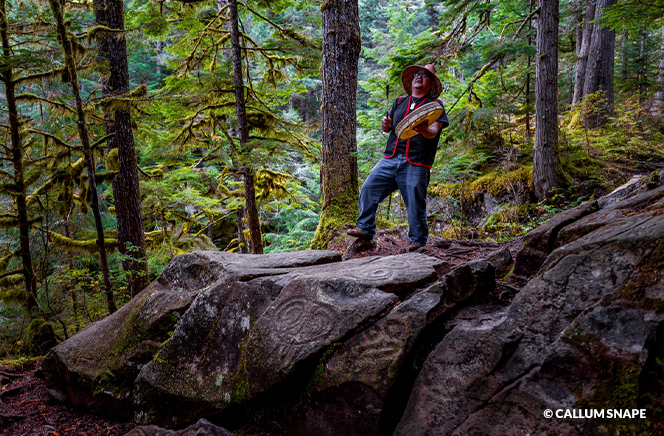 At Tweedsmuir Park Lodge in Bella Coola, learn about the local geography and history of the Nuxalk First Nation. Join the First Nations and Valley Tour to visit the Petroglyph Gardens, where 5,000 to 10,000-year-old rock carvings are left intact, and learn of their significance with an experienced Nuxalk guide.
Nemiah Valley Lodge is an Indigenous-owned and -operated lodge in the remote Chilcotin range, next to Tŝ'il?oŝ Provincial Park and one of the highest alpine lakes in North America. The location allows for some truly incredible day trips before guests return to a beautiful lodge and warm hospitality at the end of the day.
For a more off-the-beaten-path adventure, plan a multi-day trek along the Sunshine Coast Trail to experience one of Canada's longest hut-to-hut hiking routes. Footprint Nature Explorations can share their knowledge and help you with pacing the journey properly.
For a low-impact and accessible experience with world-class views, check out the Sea to Sky Gondola outside Squamish. Here guests can ascend in minutes to the coastal subalpine with sweeping views of Howe Sound and some well-graded trails that provide access for all. Also check out the British Columbia Mobility Opportunities Society for a great community of people dedicated to improving access to the outdoors for everyone.
4. BY NATURAL HEALING
Sometimes we need a good reset; a moment to hit pause on life and seek wellness and healing in nature. BC is home to many unique mountainside natural hot springs, resort spas, and retreat centres ready to soothe.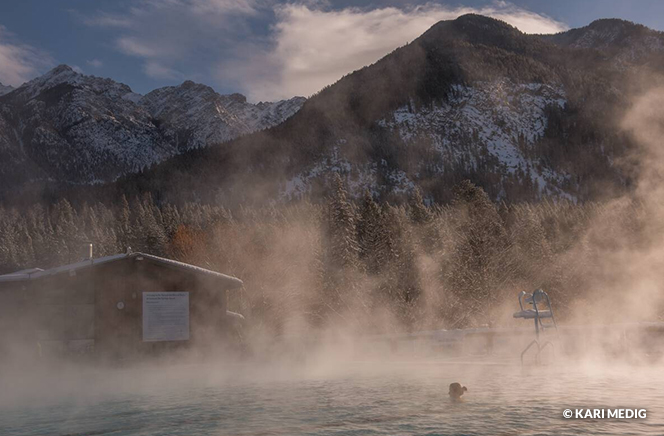 Just a 45-minute drive up the stunning Sea-to-Sky highway is the Squamish Valley. Here you can treat the body at the newly opened AIKA Spa with a secluded and private traditional wellness cycle of hot and cold therapy. Cycle between a wood-fired sauna, cold plunges, and indoor and outdoor relaxation spaces.
In the Kootenay Rockies region of southeast BC, take a drive along the Hot Springs Circle Route to find geothermal hot pools, in both developed and natural settings, as well as some welcoming communities, each with their own distinct character. Near Nelson, the Ktunaxa Nation invite you to soak in therapeutic hot mineral waters at Ainsworth Hot Spring Resort. Farther inland toward the Rocky Mountains in Kootenay National Park, visit Radium Hot Springs. Open year round, this spacious family-friendly facility welcomes visitors from around the world.
Farther north, near Kitimat, experience a hot springs and waterfall tour through towering fjords with Northern BC Jet Boat Tours.
5. BY RIVERS
Navigate rushing waterways that cut through deep canyons to adventure through BC's mountainous terrain. Feel the flow on a jet boat or whitewater rafting adventure with a single-day or multi-day trip.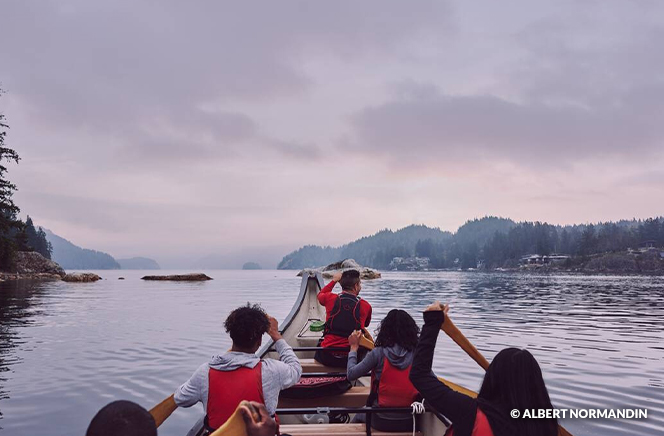 In the Thompson Okanagan, one of the best whitewater rivers in BC sits under the towering 3,959-m (12,970-foot) peak of Mount Robson. Book a tour with Mount Robson Whitewater for a three- or six-hour experience navigating Class 3 rapids.
In Northern BC, book a trip with Frontier Experience for a jet boat or river float trip down the Bulkley River. Or join Wild River Adventure Tours for a jet boat tour of the impressive and spectacular Kinuseo Falls in Tumbler Ridge, home to the newly-designated UNESCO global geopark.
Closer to Vancouver, paddle the mighty Fraser River on an all-inclusive experience with REO Rafting Resort or Kumsheen Rafting Resort. Enjoy a riverside camping and glamping-style getaway and raft on the jade-green Nahatlatch or Thompson rivers.
Whether you're seeking complete solace out in the backcountry or a more leisurely respite with loved ones, time in BC's mountains will let you place yourself in a landscape that lets you see the bigger picture and how you fall into it.

Written by: Leah Adams-Chute