Posted by on 16 Feb 2022 , in North America
LIFT-ACCESSED MOUNTAIN BIKING
It's not just for daredevils.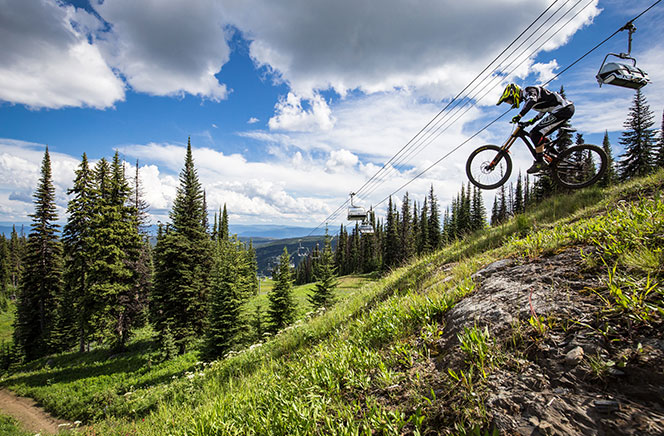 Once the late spring hits, the snow melts in Sun Peaks' alpine to reveal legendary mountain bike trails that are famous to BC. And while professional mountain bikers stop in—and even choose to call this place their home mountain—the Sun Peaks Bike Park is one of those rare places that caters to all ability levels. It's as easy as rolling your rented bike onto a metal bike rack on the chairlift and sitting down on the chair behind (all with the assisted coaching of their invaluable lift operators) and you will find everything from green (beginner) to double black diamond (expert) trails at the top. Their runs are aptly named. With "Smooth Smoothie", expect a smooth ride; "Root Dog", say hello to exposed tree roots; "Insanity One", well, leave this one to the advanced riders.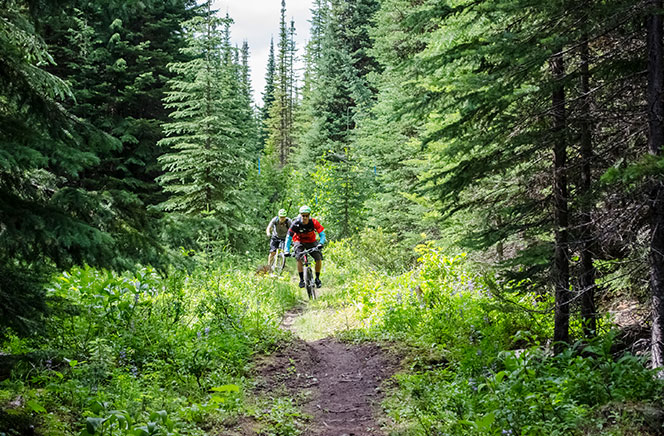 The Sunburst Express offers up 2,000 feet of lift-accessed vertical. If downhill mountain biking doesn't pique your interest, check out the newly expanded cross-country mountain bike trails.

GOLF HERE
You'll feel better about your game.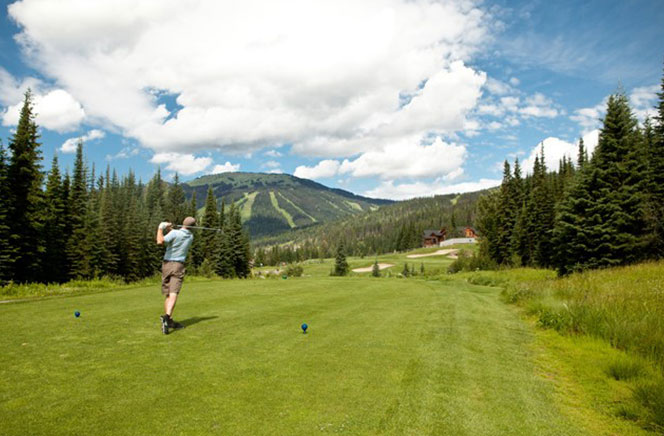 If you're one of those golfers that calls mulligan on a regular basis, Sun Peaks Golf Course is the ego boost you need. Sun Peaks is home to BC's highest elevation golf course, with greens at over 1,200 metres above sea level. This guarantees that—as long as you can hit the ball—your ball will soar farther. This course is centred along the valley floor, surrounded by three mountains and beautiful scenery. Just be sure to keep your eye on the ball or it may end up hidden in the trees. If one of the resident wild foxes makes a dash for it, just take it as a free drop—you are in the mountains after all.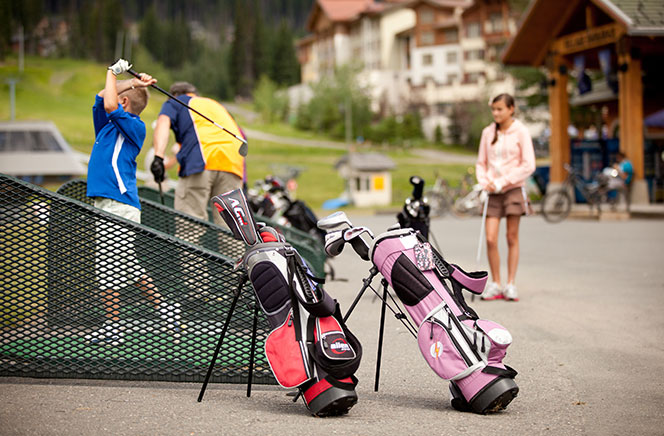 Hit the driving range before heading out on the Graham Cooke-designed, 6,400-yard course. While the course provides many risk/reward opportunities, it is also built for all skill levels to shine. Families can spend the day together in the mild mountain temperatures, meaning that afternoon tee times are a great time at Sun Peaks. It's often 10 degrees cooler than the nearby city of Kamloops. The front nine offers a few challenges with tree-lined fairways meandering along the creek. It requires delicate accuracy and some even suggest keeping the driver in the bag and pulling out the irons. Once you've warmed up, the back nine opens up with amazing vistas down the valley. Just be sure to hit 'em straight.

HIKING IN THE ALPINE
The wildflowers are calling.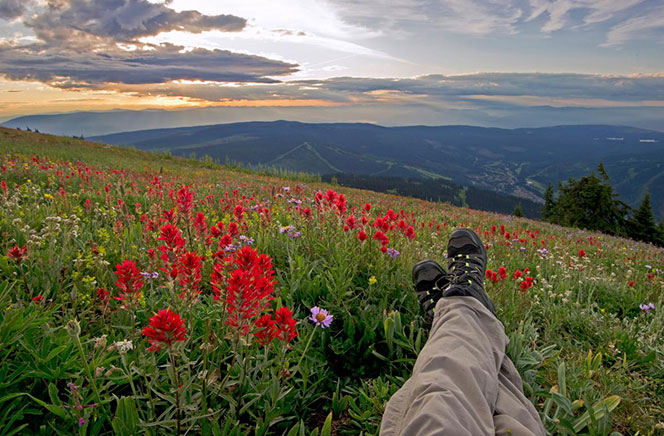 Indian Paintbrush, Tiger Lilies, Fireweed—the side hills are covered in deep purples, bright reds and yellows during the alpine blossom season which runs mid-July to mid-August. And one of the best ways to appreciate it is hiking in the alpine.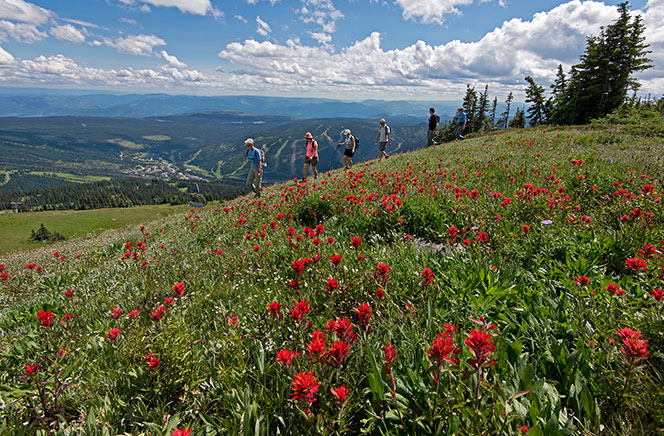 Hiking enthusiasts can start from the village, or take the Sunburst Express up and embark from over 1,800 metres above sea level. The hiking season at Sun Peaks starts late June and runs to the first week in September. Sun Peaks is home to 16 hiking trails. These range from sightseeing strolls to breathtaking alpine summits. Be sure to pack some layers to stay warm. Temperatures get surprisingly cooler the higher you go, and you aren't going to want to prematurely turn back because you're feeling chilled.
Don't forget to bring your smart phone or camera. You'll want to snap some pics.
STAND UP PADDLE BOARDING
Walking on water is easier than it sounds.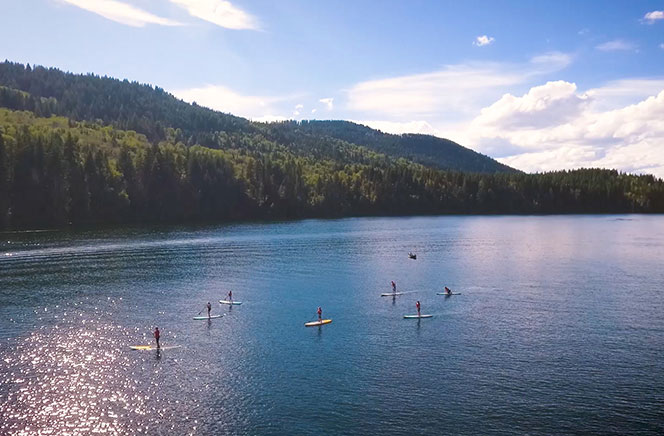 Just minutes from Sun Peaks is beautiful Heffley Lake where you'll find Paddle Surfit—a Stand Up Paddleboarding company offering up lessons and tours by professionally certified instructor and owner Bodie Shandro. The lake is surrounded by mountains and deep forest, making for a peaceful and tranquil atmosphere when learning to "walk on water."
Hiring a local expert for a lesson or guided expedition like Shandro means you get to explore prime locations. Expect to venture around the unique shoreline areas to see loons, fish, turtles and even the great blue heron that lives nearby. Shandro starts off each tour/lesson with a short briefing and some basic tips including how to get back on the board (which will come in handy when you dive in to clean off from all your biking and hiking adventures)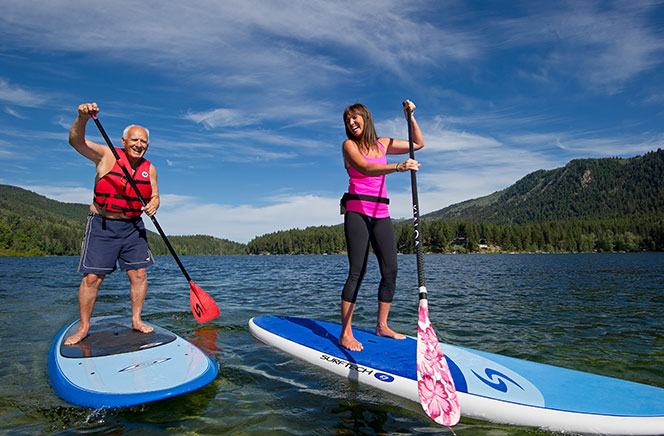 All ages can participate in this non-intimidating activity, and Shandro ensures that everyone is comfortable in the group as he moves quickly around to anyone that is falling behind. Stop for a swim, relax on the board or do some yoga stretching.
Local tip: stop for a walk on the way back to Sun Peaks. As you exit the village of Whitecroft, pull over on the right-hand side of the road, just past the cattle guard before the road becomes steep. You'll find a well-used trail leading to a hidden waterfall in the forest. The waterfall flows all year, but rages in the early summer as the snow melts.
EVENTS ALL SUMMER
Pull up your favourite lawn chair.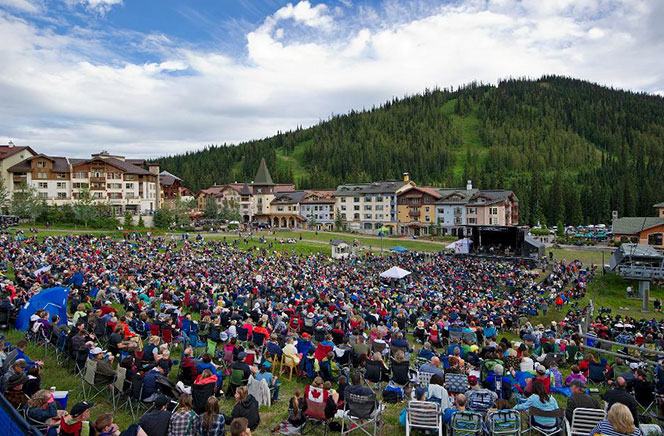 Sun Peaks hosts a multitude of events during the summer months. Whether you're the type to pull up your socks and penguin slide a foam filled chute or take in a free outdoor concert, check out their event calendar before you schedule your trip.
This summer Sun Peaks will host renowned rockers 54.40 and Trooper, as part of their summer concert series.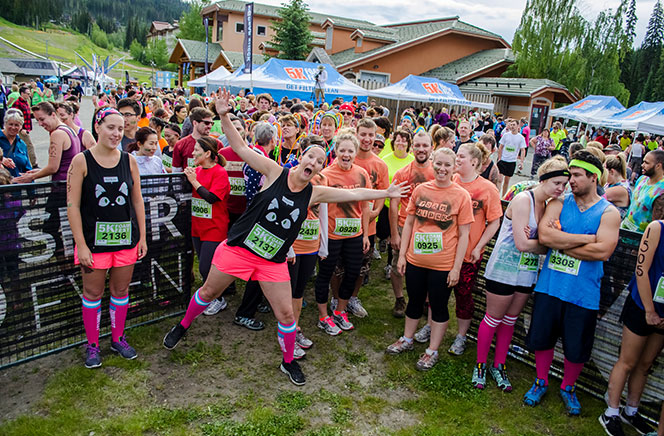 Other highlights include the return of 5K Foam Fest, the North Face Dirty Feet and the Reebok Spartan races. Races run well into September, so there's still time for you to train. Or, if you prefer, pull up a seat on one of Sun Peaks' patios and watch the shenanigans unfold from the sideline.