Posted by on 09 Nov 2022
Stretching over half of the Northern Hemisphere from north to south, Canada has multiple diverse provinces waiting to be explored. With five geographic regions, Canada's biodiversity is mirrored in its countless destinations and attractions suited for every kind of traveller.
If you're spending your next holiday in this picturesque nation, here are 10 exciting activities worth adding to your bucket list.
Explore Banff National Park
Turquoise lakes, thermal hot springs, and a prime spot within the Canadian Rocky Mountains have made travellers fall in love with Banff National Park- Canada's first national park and the world's third.
Open all year, it's a wonderland for outdoor enthusiasts. Winter puts the park's top-notch skiing experience front and centre with its three world-class ski resorts, while summer is for kayaking on immaculate lakes and hiking on trails spanning 1,000 miles.
Set Your Sights on Niagara Falls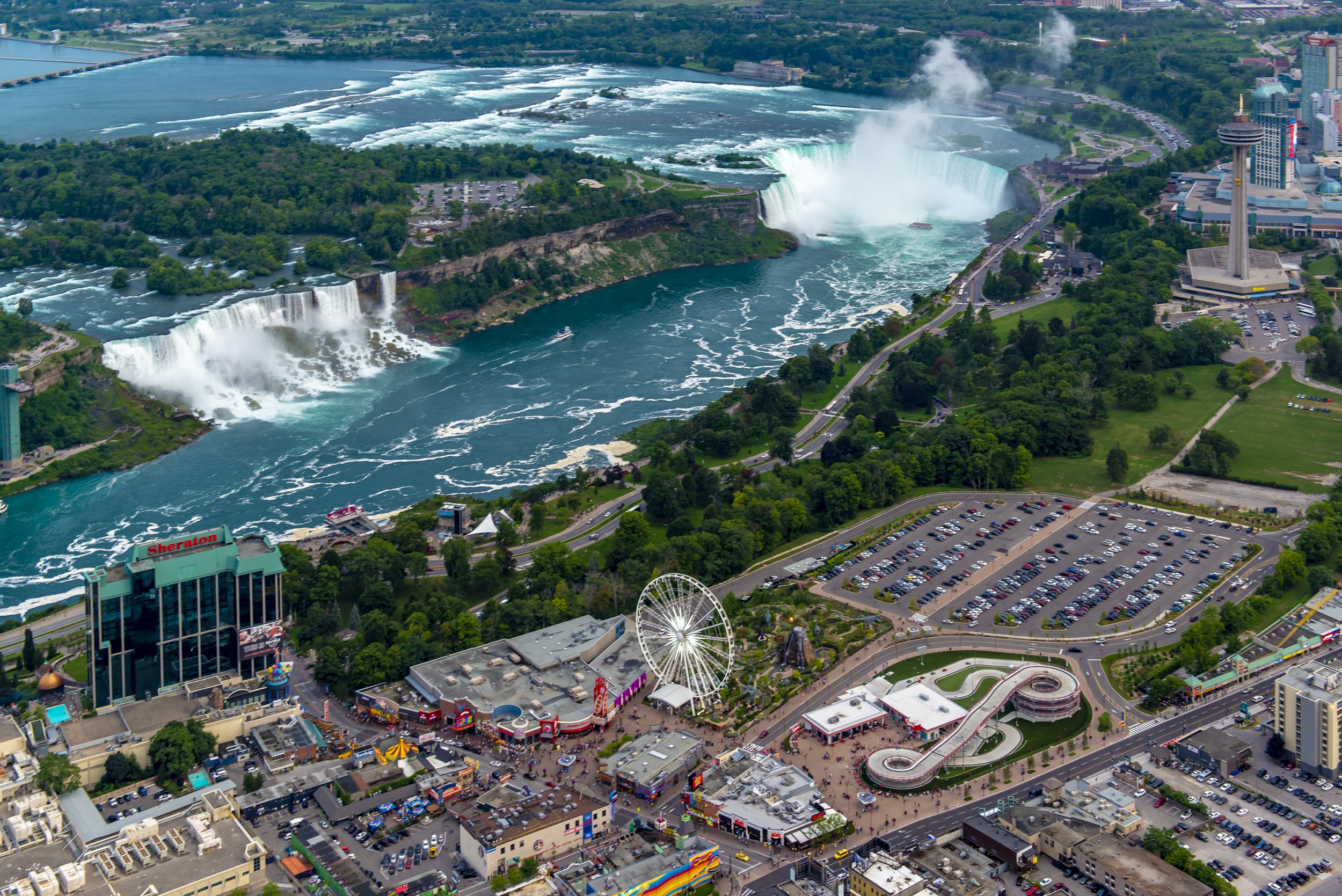 Caption: An aerial view of Niagara Falls and the attractions on the Canadian side, including Clifton Hill and the Skylon Tower. Photo courtesy of Destination Toronto.
Serving as a border to the United States, Niagara Falls is a collective name for three separate cascades–the American Falls, the Bridal Veil Falls, and the Canadian Horseshoe Falls.
This must-see natural wonder is the largest in North America in width and volume. It hosts several attractions offering a unique Ontario experience to thrill-seekers and relaxed sightseers alike.
Go on the classic 20-minute Niagara cruise, enjoy the view from a helicopter, zipline across or visit the Skylon Tower to marvel at this waterfall's majestic flowing streams.
After taking in the magnificent view of the Horseshoe Falls, consider spending more time at other attractions within Niagara. These include hotspots for fun-loving visitors like gaming casinos and Clifton Hill's amusement rides.
There's also Niagara-on-the-Lake, a picturesque town with breweries, bistros and whimsical antique shops that exude old-world charm. Here you can enjoy a horse-drawn carriage ride through Heritage District, take in the views from its tree-lined streets, or enjoy a rich, cultural performance at the Shaw Festival.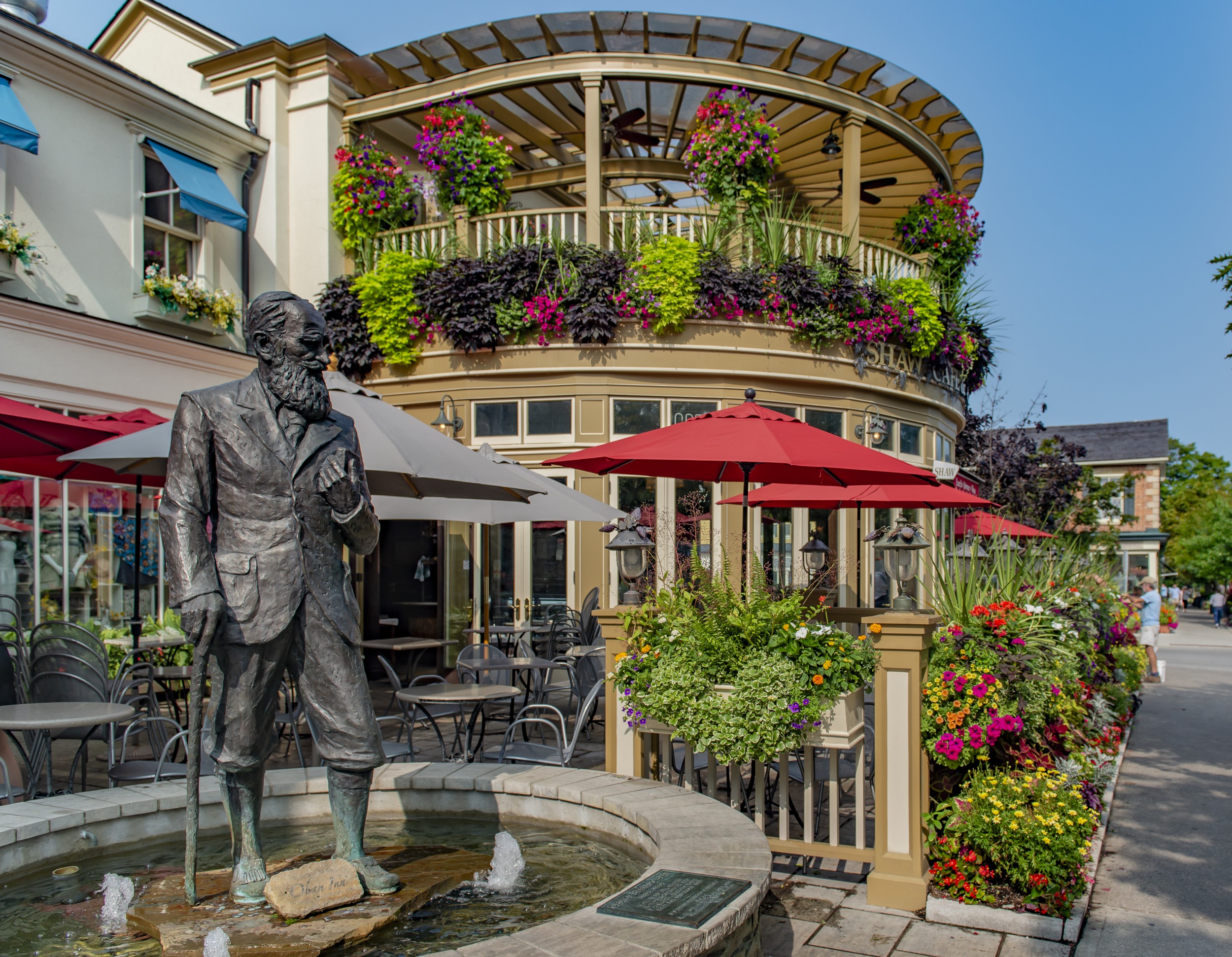 Caption: George Bernard Shaw Statue and Fountain in Niagara-on-the-Lake, a picturesque town near Niagara Falls and home of the Shaw Festival. Photo courtesy of Destination Toronto.
Take in Picturesque Sights from The Rocky Mountaineer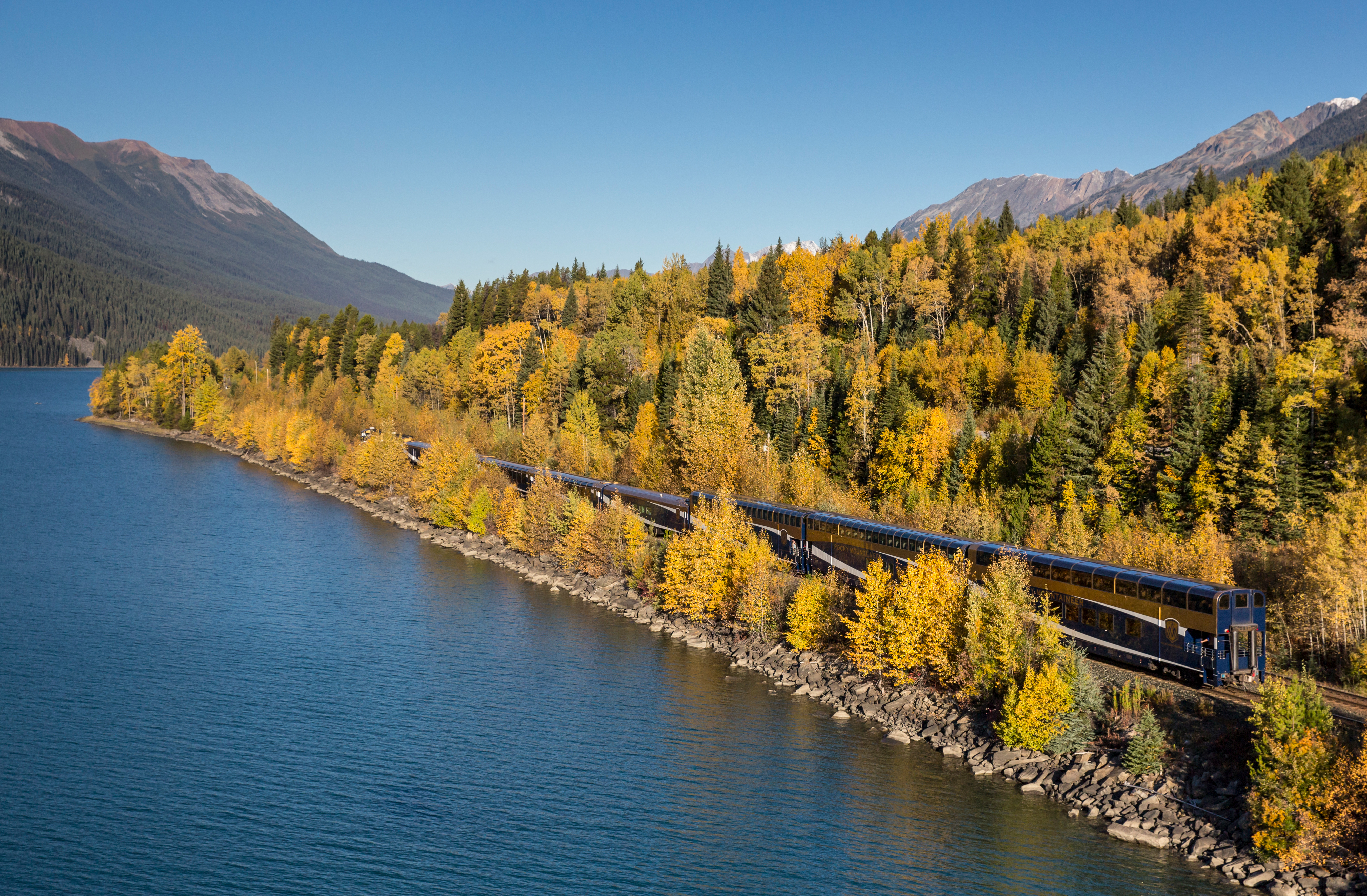 Caption: The Rocky Mountaineer passes through the majestic Canadian Rockies. Photo courtesy of Rocky Mountaineer.
Experience the magnificent Canadian landscape on luxury rail journeys aboard Rocky Mountaineer. With glass dome coaches and viewing decks, panoramic views of stunning scenery are within reach.
The Journey Through The Clouds passage invites you to engage your senses as you traverse routes only accessible by train while enjoying locally-inspired gourmet cuisine prepared with the finest regional ingredients.
Currently, Rocky Mountaineer travels through four distinct routes, including:
First Passage to the West (Vancouver to Banff or Lake Louise)
Journey through the Clouds (Vancouver to Jasper)
Rainforest to Gold Rush (Vancouver to Jasper via Whistler)
Rockies to the Red Rocks (Moab to Denver; *This route starts and ends in the USA)
Rocky Mountaineer is a daylight train–allowing you to maximise sightseeing with utmost comfort via accompanied hotel stays each night.
Visit the Yukon to See the Spectacular Northern Lights
A chance to witness this ethereal phenomenon can be quite elusive and a trip to one of the northern provinces can give you a better chance of viewing the famous aurora display.
Thanks to its land mass falling within the auroral oval, its pitch-black nights and clear skies, the Yukon remains to be one of the most popular spots to catch the Northern Lights. From mid-August to mid-April, Whitehorse has some of the most dramatic views to one of the most spectacular light shows on earth.
Extend your aurora borealis viewing to a stargazing excursion and admire the Milky Way constellations for a genuinely breathtaking and transcendent experience.
Experience Living with Polar Bears in Churchill, Manitoba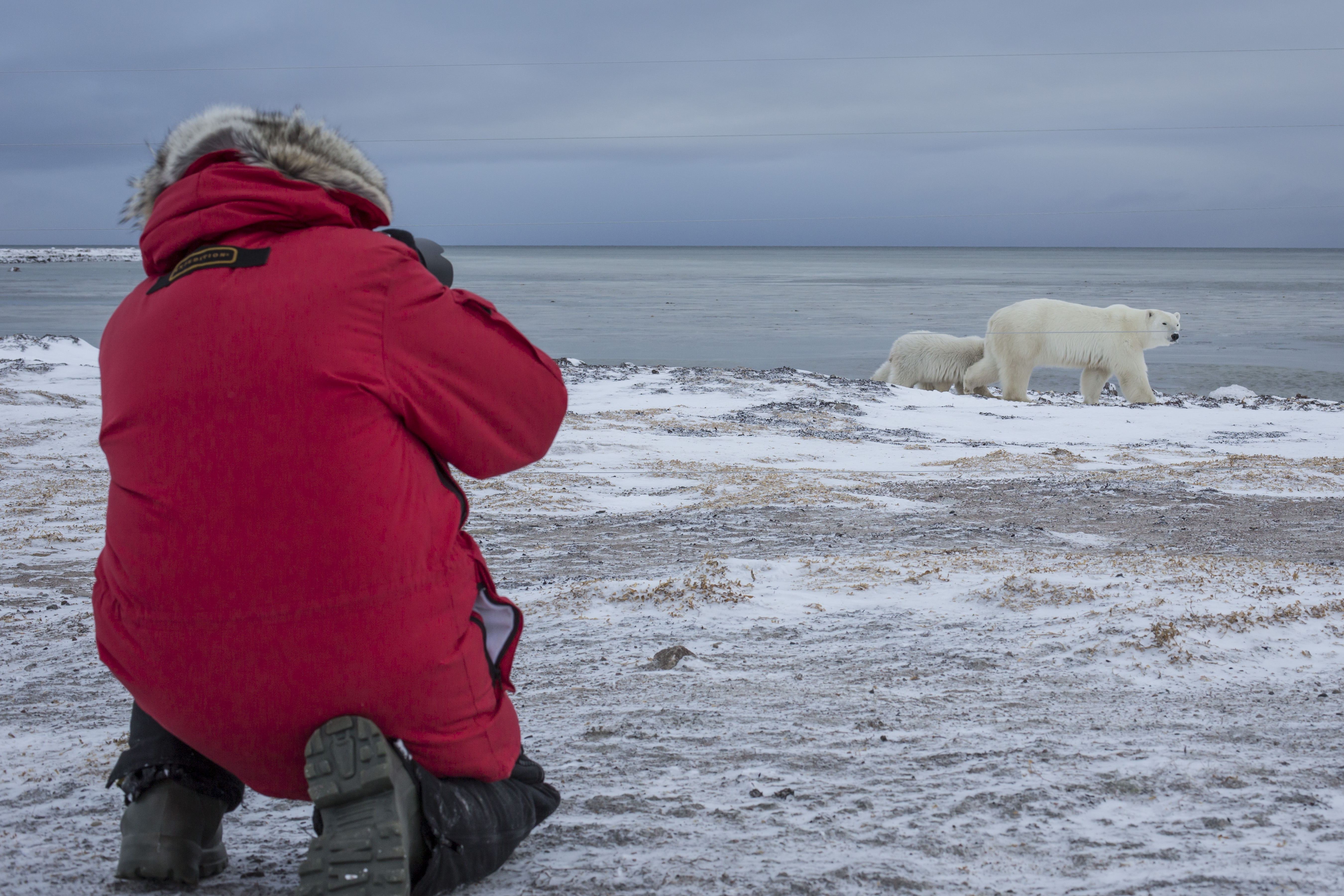 Caption: A man takes a picture of a polar bear in Manitoba. Photo courtesy of Destination Canada.
Over 1,200 polar bears head to the charming town of Churchill every October to early November. It's one of their stops along their journey toward Hudson Bay's shore. You can catch migrating polar bears exploring the town on this polar bear tour.
Apart from polar bears, Churchill is also home to other wildlife such as beluga whales, arctic foxes and moose. Whether you're going dog-sledding, bird-watching, or kayaking, there will be ample opportunities to witness Manitoba's abundance of wildlife.
Do bear in mind that Manitobans maintain respect for their environment. In case you encounter wild animals, take responsible safety measures and act with caution to mitigate risks.
Give Canadian Wines a Try
The Niagara Peninsula in Ontario and Okanagan Valley in British Columbia are the country's most prominent wine producers.
Although the art of viticulture has long existed in the country, it can be said that Canadian ice wine (one of Canada's flagship products) wasn't introduced until the 1990s. Since then, it has gained accolades and traction among connoisseurs worldwide.
More closely referred to as a dessert wine, it involves pressing grapes left on the vine to freeze. The flavours produced are said to be highly concentrated and of unparalleled smoothness. The production is labour intensive, as specially-trained pickers harvest these frozen berries in -8°C evenings and work rather quickly to prevent the grapes from thawing.
Although a variety of grapes can be used to produce ice wine, it only meets the criteria if the grapes have been naturally frozen and if their sugar levels meet 35 degrees Brix (a unit for measuring the amount of sugar dissolved in a liquid solution).
Juxtaposed against Canada's stunning natural scenery, it's easy to see why wine tourism and tastings are a popular itinerary for visitors in the country.
Explore Prince Edward Island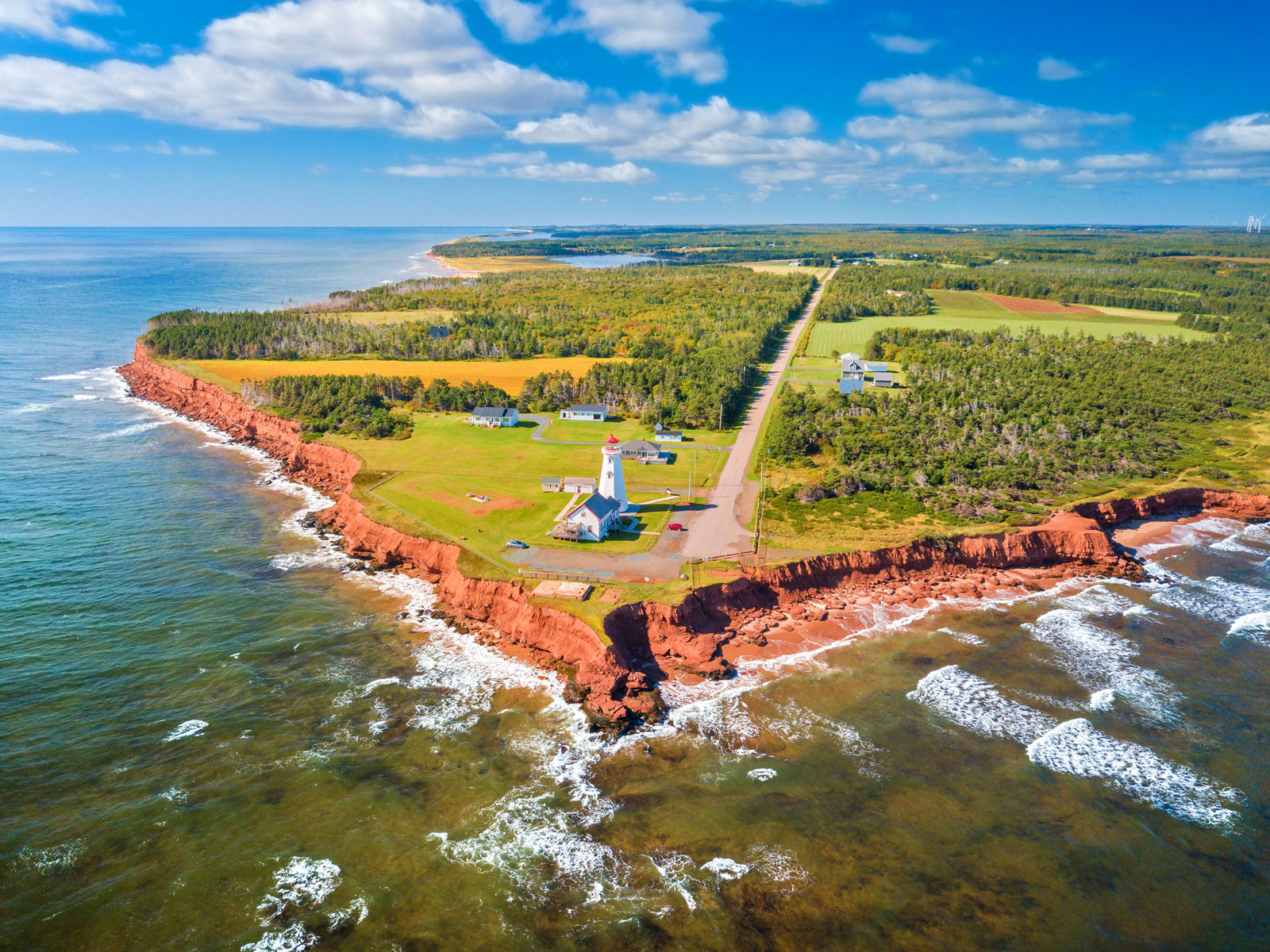 Caption: An aerial view of Prince Edward Island. Photo courtesy of Tourism PEI.
A relaxing island atmosphere, a plethora of red-sand beaches and a gorgeous rural landscape have made this next Canada holiday destination world-famous.
More than just its red-sand beaches, Prince Edward Island holds one more claim to fame: it also inspired the classic tale of Anne of Green Gables. The island's north shore housed the farm known as the Green Gables in Lucy Maud Montgomery's story.
Today, Prince Edward Island has several attractions inspired by the novel, including a guided tour of Montgomery's home and musical retellings at local theatres. You can feast on delicious seafood, go kayaking, and discover the island's rich history during your stay.
Eat Your Heart Out in Toronto
The 7,500 restaurants comprising Toronto's culinary scene may be the most diverse selection of dining establishments you'll enjoy, as over half of the city's residents are of different ethnicities with distinctive culinary backgrounds.
From delicious Tibetan cuisine in Little Tibet along Toronto's Parkdale neighbourhood to Jamaican and Italian fusion dishes in Kensington Market, you can expand your palate and explore an array of culinary worlds through your taste buds.
Family restaurants and Michelin-starred celebrity chefs in Toronto embrace collaboration and invention. Both qualities have helped them create gastronomic delights, which you can savour in establishments ranging from fine dining restaurants to food markets.
And if you want to try something new, strip malls in the Greater Toronto Area (GTA) offer sumptuous dishes from multiple cultures. Think delectable dumplings or unique, mouthwatering Filipino street food.
Embark on Thrilling Adventures in Whistler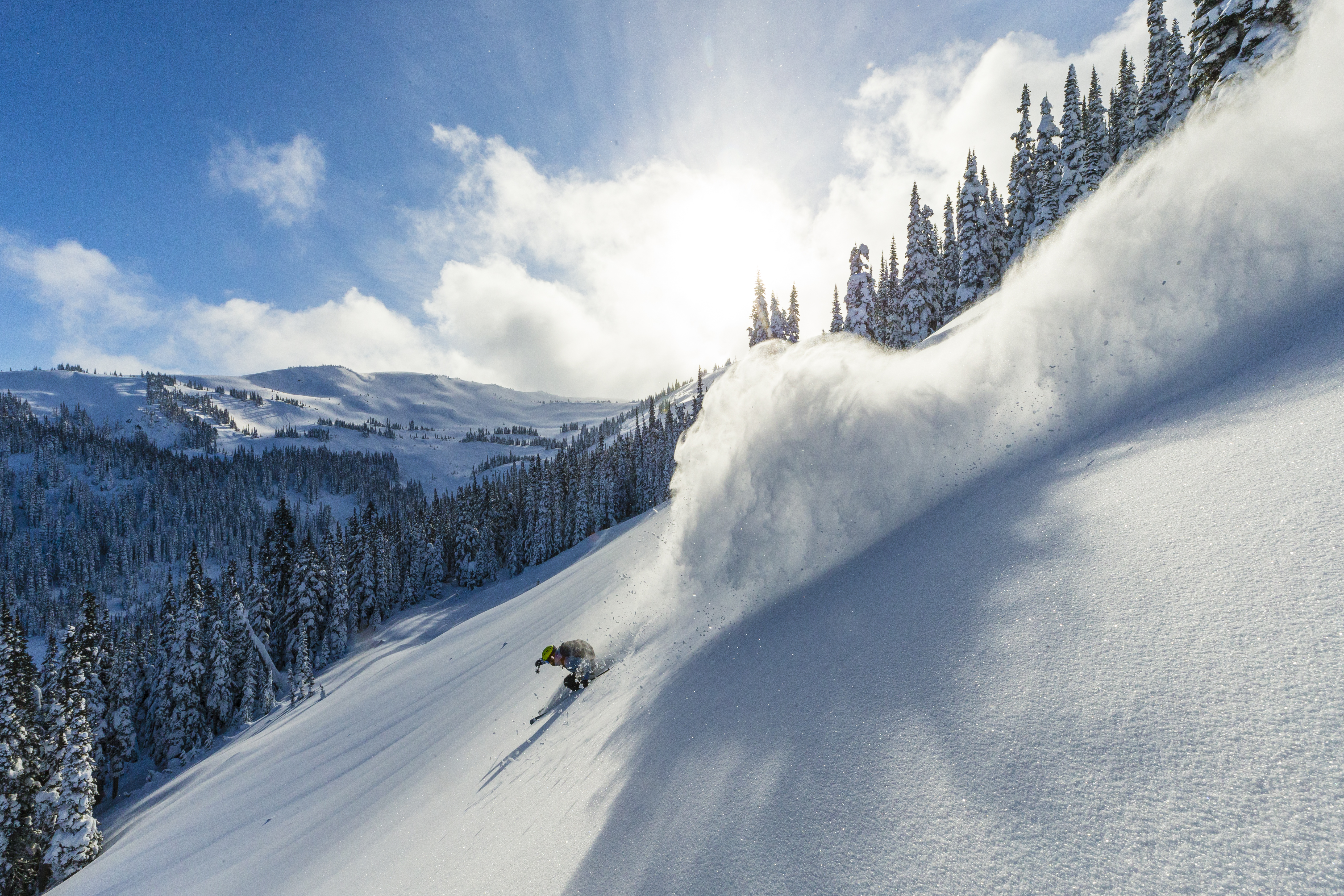 Caption: A skier skis down Whistler Mountain. Photo courtesy of Grant Gunderson/ Destination Canada
Whistler, 2 hours north of downtown Vancouver, is home to Whistler Blackcomb–one of Canada's largest ski resorts. Flanked by two massive mountains, this pedestrian-only resort village offers endless mountain adventures, spectacular alpine vistas, and a vibrant dining scene in all seasons.
In the winter, satisfy your need for speed and shred through 8000 acres of snow-covered terrain or slide from over 1000 ft on a snow tube. For the phlegmatic traveller, this winter wonderland also offers snowshoeing, eagle viewing and open bath treatments in its picturesque Scandinave Spa.
Summer in Whistler is by no means less of an experience. Blaze through its multi-level, cross-country trail bike park, perfect your swing on its premier, top-rated golf courses, or simply enjoy the landscape through its paved trails and bear viewing tours–there'll certainly be no dull moment in this world-class destination.
Admire the Icebergs Floating in Iceberg Alley
Throughout the Canadian spring and summer, enormous icebergs float down Iceberg Alley along the coasts of Newfoundland and Labrador. While you can see these icy giants from nearby towns like Twillingate or Fogo Island, a boat or kayak tour will take you closer to them.
These icebergs come from an estimated 100 iceberg-producing glaciers along the coast of Greenland, carried south by the powerful Labrador Current. It was one of these icebergs that sank the Titanic on a foggy April night in 1912.
Keep your eyes peeled for whales and seabirds during these tours. It is in the summer months that Newfoundland receives up to 35 million visiting seabirds and the largest population of feeding humpback whales. There's quite possibly no other place comparable to Newfoundland to enjoy this trifecta of spectacle.
Make Unforgettable Memories in Canada's Holiday Destinations
Whether you fancy adventure or are taking things slow, Canada's multiple regions have the perfect experiences for you.
Consider building your Canada bucket list with any of these recommended activities, or find other must-visit places in Canada and add them to your itinerary.
Are you spending your next holiday in Canada or another destination? Find the best package on the Entire Travel Group website, or get some inspiration from our blog today.