France
Best of Sarlat and Dordogne Valley
(Tour code: 11979)
Starts and Ends
in Sarlat
Travel Periods
01 Apr 24 - 31 Oct 24
Travel Style
Independent Holiday Packages
Discover the Dordogne River amidst cliffside villages and glimpse the 17,000-year-old cave paintings.
Highlights
Visit the most important landmarks of Sarlat with your guide including: Lantern of the Dead, Saint Sacerdos Cathedral, Saint Mary Church & covered market and many more!
Admire the village of Beynac and its Castle. This Middle Age construction, with its austere appearance, is perched on top of a limestone cliff, dominating the town and the north bank of the Dordogne River.
Board an electric train and descend almost 2 kilometres to admire the artwork located inside the Cave Paintings from 15,000 BC
Traverse the beautiful town of Rocamadour and visit the Notre Dame Chapel, boasting the exquisite frescoes that depict the Annunciation and Visitation
Cancel booking
Are you sure you want to cancel this booking?
All services are subject to availability.
Book Now
Only $100pp deposit to Book Now
Overview
Discover the essentials of this interesting French province on this private guided tour based in Sarlat, in the heart of the Dordogne. You will follow your guide to one of the best-preserved 17th-century towns during its bustling market day.

Experience a one-of-a-kind excursion to the Lascaux IV Cave, which will plunge you back to the dawn of Art. The tour also includes a visit to some of the area's most picturesque villages, as well as a boat ride along the River Dordogne to see the gorgeous scenery and mighty medieval strongholds that line the river.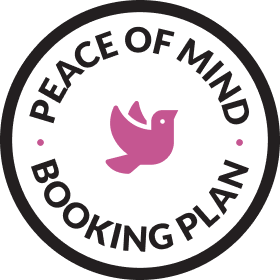 ENTIRE Cooling-Off Period
ENTIRE AUD Prices
ENTIRE Change of Mind
ENTIRE Industry Accredited
ENTIRE On Ground Support
ENTIRE Australian Owned
Inclusions
4 nights in Sarlat at Hotel Plaza Madeleine - 4* or similar
Daily breakfasts
Sarlat Gourmet walking tour with private guide
Half day tour of the villages of the Dordogne Valley
Full day Paleolithic Art of The Caves private tour
Full day Rocamandour and Padirac Chasm private tour
Itinerary
Make your own way to the charming small town of Sarlat and settle into your hotel.

Sarlat has remained preserved and is one of France's most typical cities from the 14th century. The town, which is located in the heart of the Perigord Noir, has an exceptional amount of structures and homes ranging from the 13th to the 18th centuries. Take a stroll through the small narrow alleys and streets for some personal exploration.

Overnight stay in Sarlat at Hotel Plaza Madeleine.
Day

2
Sarlat Domme La Roque Gageac Beynac Sarlat
After breakfast, experience the best of historic Sarlat with a 2 hour walking tour.
With your guide, tour the city's most notable landmarks like the Lantern of the Dead, a small stone tower located behind the Cathedral. Lanterns were once used to mark the location of a cemetery. The little apertures at the top of the structure where the light was shown at night gave them the name Lanterns. According to folklore, the Lantern of Sarlat was constructed to commemorate Bernard de Clairvaux's trip through the city in 1147. Another theory is that the Lantern is a representation of the dome of the Holy Sepulchre of Jerusalem as it has been depicted from the 4th century: a circular tower with an entrance on the first level and a second level covered by a canopy with 12 columns.
Continue with a visit to Saint Sacerdos Cathedral. The Cathedral is mainly Gothique or northern influence. The bell tower dates back to the 12th century and is the oldest part of the building with the bulbed belfry at the top being more recent as it was added in the 19th century.
Then, discover the Old Sainte-Marie Church, the construction of the Church dates back to the middle of the 14th century and was consecrated in 1507. By 1794 the church was abandoned and transformed into a bakery, a post office and finally sold in 1805. In 1834 the town of Sarlat bought back the land and the church was renovated. In 2001 the Church was again transformed, into the covered market you see today.
Visit the House of La Boétie, built in the Italian Renaissance style in 1525 and it is the birthplace of Étienne de La Boétie, a magistrate, writer, jurist, and philosopher. The façade of this Private Mansion's principal architectural characteristics are wide mullion windows flanked by pilasters carved with big medallions. In 1899, the house was designated as a historical landmark.

In the afternoon, jaunt through the breathtaking landscape and traditional medieval villages of Dordogne Valley.
Begin with the Bastide Village of Domme. The village is classified as one of the Plus Beaux Villages de France or "The Most Beautiful Villages of France". Drive to La Roque-Gageac and enjoy a peaceful cruise on the Dordogne River on board an authentic Gabarre to admire the mighty castles that line the river. The boat ride lasts about one hour (tickets not included) and comes highly recommended. The Gabarres are traditional flat-bottomed boats that have been used for transporting goods along the Dordogne since the Middle Ages.

Finally, arrive at Beynac to take in the sights of the hamlet and castle. This Middle Age structure, with its austere aspect, sits on a limestone cliff, commanding the town and the Dordogne River's north bank. The Lords of Beynac (one of Périgord's four baronies) erected the fortress to seal the valley in the 12th century. See architectural phenomenon, aided by nature, and discover more about the history of this unusual city on this half-day tour!

Return to your accomodation in Sarlat at 5:30 pm.

Overnight stay in Sarlat at Hotel Plaza Madeleine.
Day

3
Sarlat Les Eyzies-de-Tayac Montignac Rouffignac-Saint-Cernin-de-Reilhac Sarlat
After breakfast, discover the Paleolithic Art of the Dordogne.

Begin the day in Les Eyzies de Tayac for a guided visit of the National Museum of Prehistory. Established in July 2004, the museum houses some 18,000 pieces and a collection of six million artifacts. The museum possesses the largest collection of prehistoric artifacts in the world. Follow your guide and discover the main chapters of the Hominids' development through an anthropological frieze and a brief reminder of Africa's history, starting with the early Australopithecus. Visit the permanent exhibit galleries that will plunge you into the mists of time, revealing seven sequences that cover the entire Paleolithic era through an "ideal historiography".

Enjoy some free time for lunch (at your own expense) in Montignac or a village in the Dordogne region. Ask your guide for recommendations.

Visit the brand new Lascaux IV Cave in Montignac – which opened in December 2016. Follow your guide and take some time to visit the exhibitions and the Centre for Prehistoric Cave Art.

Complete your journey with a visit to Rouffignac Cave, which has state-of-the-art original cave paintings as well as real etchings and sketches. François de Belleforest first described the Rouffignac Cave in 1575. He mentioned "paintings and animal trails" in his " Cosmographie Universelle". The cave was formerly a popular tourist destination in the 19th century. Famous archaeologists like as Henri Breuil, André Glory, and Martel visited the cave in the early 20th century, but it wasn't until 1956 that two prehistorians from the Pyrenees, Louis-René Nougier and Romain Robert, found and validated the cave art.

As you arrive, board an electric train and descend almost 2 kilometres to admire the artwork located inside the cave. The small train makes a few stops in front of spectacular drawings and etchings. Finally, reach the bottom of the cave for a stop of a few minutes. Disembark the train and just a few steps away admire the ceiling of the cave where a large amount of drawings are present. The 66 animal depictions appear to have been arranged in a haphazard manner, swirling around a massive suction funnel that leads to a well that provides access to the cave's second level. Mammoths are everywhere, while the remainder of the bestiary consists of rhinoceros, bisons, and horses. More unusually, all of the Ibex depictions are concentrated in one area, which is totally isolated from the rest of the cave.

Return to your hotel at 5:30 pm.

Overnight stay in Sarlat at Hotel Plaza Madeleine.
Day

4
Sarlat Rocamadour Sarlat
After breakfast, meet your English speaking driver-guide at Place Pasteur and depart for the village of Rocamadour.
Miraculous rock, collection of tales, legends and beliefs, sanctuary of the Black Virgin, pilgrimage site: the Village of Rocamadour is all of this at the same time. The old medieval houses, the towers and fortifications, the oratories all tumble along the steep cliff that dominates the Alzou Canyon. The whole site is topped off by the castle and its dungeon and the seven sanctuaries. Your guide will certainly stop here for a breathtaking view of the whole site that make for fantastic photo opportunities.

You will follow a guided walking tour of the village and then enjoy some free time for lunch. Rocamadour is without a doubt one of the most beautiful villages of the area. Classified as a UNESCO World Heritage site as it is located on the way to Santiago de Compostela (St James Way), the main attraction of the village lies in its sanctuaries especially that of Notre Dame that bears a statue of the Black Virgin.

The visit of the village can be difficult for those with walking difficulties due to the step paths and steps, but please note that you may access the sanctuaries by lift (tickets not included in price). For lunch, there are many restaurants & snacks to be found in the village and your guide will make suggestions depending on what type of meal you are looking for.
Overnight stay in Sarlat at Hotel Plaza Madeleine.
After breakfast, prepare for check-out of the hotel, where your tour will end.
Accommodation
Sarlat
The hotel is located in the heart of Sarlat with direct access to the medieval city, its market and entertainment. Contemporary, opulent decor, relaxed atmosphere, quality of services, Plaza Madeleine is also recognized in the major national guides. For your enjoyment, it now has a heated pool, a wellness center!
Optional Extras
1 additional Pre-night in Sarlat
Add 1 extra night at the beginning of your package and extend your stay in Sarlat!
1 additional Post-night in Sarlat
Add 1 extra night at the end of your package and extend your stay in Sarlat!
Additional information
Order of Tours can be modified depending on availability of the activities.
We work with a selection of hotels in each location. All bookings are subject to availability, which means our team will confirm your specific hotels upon confirmation and payment of deposit. The package price is based on 4-star accommodation.
Excluded
International airfares and taxes
Domestic airfares and taxes, unless otherwise specified in our holiday package
Visa expenses, processing and issuance fees
Meals other than as specified in our holiday package
Travel Insurance or expenses of a personal nature (mini-bar, phone call, laundry, etc.)
Tips or gratuities to guides, drivers, porters, hotel, restaurant or boat staff, etc.
Or any other travel expense that has not been included in our holiday package
FAQs
Who are Entire Travel Group?
Welcome to Entire Travel Group. We offer exceptional travel experiences across our extensive range of Entire Holiday Packages, Entire Group Journeys, Entire Rail Journeys, and Entire Cruise Journeys. With our industry-leading Peace of Mind Booking Plan, you can Book Now with flexibility and confidence.
Entire Travel Group is celebrating over 50 years of passionately delivering unique and memorable travel experiences. We are an Australian, family-owned, award-winning business with a friendly team ready to match your expectations to the perfect holiday experience.
Entire Travel Group used to be known by the individual brands shown in the footer of the website. The company has not changed, but we have amalgamated under one brand - Entire Travel Group.
For more details please visit - About Us | Entire Travel Group
Is Entire Travel Group Australian owned and operated?
Entire Travel Group is proudly Australian family owned and operated and as it stands today represents 50 years of experience, progress, and evolution. We proudly support the community with our long-term commitment to many important charity organisations. We were awarded the best operator in our class at the most recent National Travel Industry Awards.
Is Entire Travel Group industry accredited?
Entire Travel Group is both ATAS and CATO Accredited. ATAS is actively administered by the Australian Travel Industry Association (ATIA). The Council of Australian Tour Operators (CATO) is the trade association representing the land supply sector of the Australian Travel Industry.
Does Entire Travel Group have industry awards?
Entire Travel Group was honoured at the 2023 National Travel Industry Awards with Most Oustanding Wholesaler - Product / Service.
As our team works tirelessly to deliver exceptional holiday experiences, it was exciting to have this acknowledged with the highest recognition. The award is also a testament to the quality of our partners around the globe, and we take this opportunity to thank them for their tremendous support of our customers.
Are the Entire Travel Group holiday packages exclusive?
In some cases, we are the sole representative in Australia for the overseas travel operator. In other circumstances the product developed has been exclusively built for Entire Travel Group and can't be found elsewhere.
What's unique about Entire Travel Group Holiday Packages?
They are not group tours with set departures - they are pre-designed, purpose built, independent holiday packages full of unique and memorable experiences.
Our holiday packages have been exclusively built for us in collaboration with our handpicked suppliers, who also offer full on-ground support for the clients.
We are offering unique travel experiences which cannot be found elsewhere.
Many packages include our "Freedom of Choice" options which allow you to tailor the holiday experience. Like a sommelier matching wine to a meal, we have used our experience to carefully select and offer the right experiences in each location.
They include our Peace of Mind Booking Plan.
A wide selection of our packages are compliant with the World Travel & Tourism Council (WTTC) Covid Safe Travels.
Our motto for Independent Holiday Packages is start your holiday when and with who you want!
Our Independent Holiday Packages are NOT group tours with set departure dates. Group Tours have specific set departure dates, and of course, you are travelling with unknown passengers in a coach. These tours are great for certain travellers and there are many reputable tour operators providing a wide range of options around the world.
At Entire Travel Group, our focus is Independent Holiday Packages. Available daily, they are pre-designed, purpose built, packaged itineraries full of memorable experiences delivered by our hand-picked local partners.
Our holidays suit every demographic, from couples to singles, to retirees to families and everyone else in between.
Why travel with Entire Travel Group?
Of Entire Travel Group's attributes, we have settled on "When Experience Matters" as the quality we believe adds the most value to our customers. We have the experience to ensure your itinerary makes the dream holiday possible. Our continually enhanced technology allows our team to provide a quality customer service experience, and our partnerships with outstanding operators ensure we are confident of the on-ground experience for our customers.
For more details please visit - About Us | Entire Travel Group
How does the Peace of Mind Booking Plan work?
Our Peace of Mind Booking Plan allows you to book with confidence in the new international travel environment. With low deposits, a cooling off period and a flexibility period where you can cancel and rebook later, we really do have you covered.
For more details please visit - Peace of Mind Booking Plan | Entire Travel Group
Is there a cooling-off period?
Look for packages with our Peace of Mind Booking Plan logo on the website.
We understand that occasionally plans may change, so we give you the confidence to proceed with a cooling off period.
You may cancel for any reason within 7 days, where you will receive a 100% refund of your $100 per person deposit.
For more details please visit - Peace of Mind Booking Plan | Entire Travel Group
What is Freedom of Choice?
At Entire Travel Group we understand that our customers have their own personal tastes and interests - so throughout our packages look for "Freedom of Choice" which gives you the ability to tailor your holiday from the various experiences offered on selected days. Like a sommelier matching wine to a meal, we have used our experience to carefully select and offer the right experiences in each location.
The Freedom of Choice options are included in the package price, and the price remains the same regardless of the choice you make on each day.
Our Freedom of Choice program offers flexibility, by allowing you to choose from different options on pre-selected days in the itinerary.
Our per person price includes one tour on each Freedom of Choice day in the itinerary.
The price of the package remains the same regardless of the choice you make on each day.
For more details please visit - Freedom of Choice | Entire Travel Group
What is Book Now?
Book Now offers you the ability to make a reservation on our website for Holiday Packages that include our Peace of Mind Booking Plan. But it's not just a static offer – you have complete flexibility from travel dates, passenger numbers, single supplements, room upgrades, optional extras, flexible booking terms and more.
Our team will contact our overseas suppliers and confirm all arrangements.
A Confirmation from our reservation system will be sent in the coming days.
The Booking Number on this confirmation supersedes the website reference.
What forms of payment can be used at Entire Travel Group?
To confirm a booking using our on-line Book Now process, a credit card must be used to pay the refundable deposit.
For additional payments on the booking, Entire Travel Group supports bank transfer, credit card, TravelPay B2B, PaymentGate.
For further details please visit our Payments page.
How secure is the Entire Travel Group's on-line payment portal?
Entire Travel Group have partnered with TravelPay to ensure secure on-line credit card payments.
TravelPay is a level 1 PCI DSS compliant, which gives you peace of mind that your payment card data is in safe hands.
Entire Travel Group does not store any credit card information.
For more details please visit - Security and Compliance - TravelPay
Can you book my international airfares?
On some Islands Holiday Packages (e.g. Fiji), it is practical to include flights, so where we have done this it is indicated by the plane icon.
However, on the majority of our Holiday Packages, we do not include international flights.
We found that many customers may prefer to:
Travel on a specific airline of their choice
Have the flexibility to book flights with Frequent Flyer points
Select flight dates that may be different to our Holiday Package start/end dates
Use a Travel Credit already held with the airline
Use their travel agent for this service
We are able to assist with flights on any Holiday Package, so please just notify us during the Book Now process or contact our team.
Should I take travel insurance?
Travel insurance is strongly recommended. During the Book Now process please confirm you require assistance, and our team will be in contact with you.
What should I do before travelling?
Before you travel it is your responsibility to ensure you have the appropriate documentation including visas. If you are travelling on a passport other than Australian or New Zealand, you will require a permit to re-enter Australia. It is your responsibility as the traveller and/or travel booker to meet all government entry requirements.
For more information please visit - Before you travel | Entire Travel Group
How does a Travel Agent make a booking?
Please visit the Entire Travel Group's Agent Portal. We are here to support our industry partners with a range of informative updates, marketing collateral for campaigns and a reward & recognition program.
How do I start a Booking?
On any page that has Book Now simply follow the booking process.
You must select the Travel Agent tick box and provide correct details.
To confirm a booking only the refundable deposit is required.
An agency credit card must be used for this initial payment.
How do I contact Entire Travel Group?
Best of Sarlat and Dordogne Valley
SOMEWHERE ELSE TO CONSIDER
Subscribe now for your chance to win
a $500 Travel Voucher
Be the first to hear about our new Holiday Packages