France
Discover Bordeaux
(Tour code: 11959)
Starts and Ends
in Bordeaux
Travel Periods
01 Mar 24 - 30 Nov 24
Travel Style
Independent Holiday Packages
Delight your senses with Bordeaux's rich cultural scene and taste world-class wines produced from the region's vast vineyards.
Highlights
As you reach Medoc, take in the splendid landscapes of the scenic Route des Chateaux, lined with World famous wineries.
Discover the Magic of the 'Right Bank' Wine Region of Bordeaux with your driver/wine guide.
Visit the enchanting village of Saint Emilion with its Monolithic Church, carved from the limestone in the 12th century!
Cancel booking
Are you sure you want to cancel this booking?
All services are subject to availability.
Book Now
Only $100pp deposit to Book Now
Overview
On this wine tour based in the UNESCO world heritage city of Bordeaux, your driver/wine guide will take you to the most famous wine producing areas of the Bordeaux vineyards to allow you to discover the best of Bordeaux wines.
With this 4-day experience, you will cover both the left and right bank and visit the most famous appellations and Chateaux known for the quality of their wines but also for the expertise of the people behind the wines. All visits will be conducted by the most knowledgeable wine guides of the region.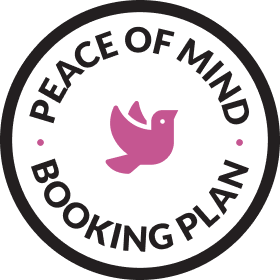 ENTIRE Cooling-Off Period
ENTIRE AUD Prices
ENTIRE Change of Mind
ENTIRE Industry Accredited
ENTIRE On Ground Support
ENTIRE Australian Owned
Inclusions
3 nights in Bordeaux at Hotel de Seze - 4* or similar
Return Private transfers between Bordeaux Railway Station or Airport and your hotel
Daily Breakfast
Full day Small Group Tour (max 8 pax) to Saint Emilion with 3 wine tastings
Full day Small Group Tour (max 8 pax) to Medoc with 3 wine tastings
Itinerary
Upon arrival at Bordeaux train station or airport you will be escorted by private transfer to your centrally located hotel and check in.
In the afternoon, enjoy some free time to discover the lively city of Bordeaux! Bordeaux is classified a "City of Art and History" and has been inscribed on UNESCO World Heritage List as "an outstanding urban and architectural ensemble". It is home to one of Europe's biggest 18th century architectural urban areas and stands out as one of the first French cities to have entered an era of urbanism and metropolitan big scale projects, with the team Gabriel father and son, architects for King Louis XV, under the supervision of two Governors, first Nicolas-François Dupré de Saint-Maur then the Marquis de Tourny.
Overnight stay in Bordeaux at Hotel de Sèze.
Day

2
Bordeaux Medoc Bordeaux
After breakfast, meet your English speaking driver guide at Bordeaux Tourism Office and start your full day small group tour to Medoc with wine tastings.
On this highly recommended full day small group tour in the Medoc, you'll discover one of France's most admired wine-growing regions. Beginners and seasoned wine connoisseurs alike will find plenty to love on this guided wine tasting tour of Medoc led by local expert wine guides. Drawing on local knowledge and a real love of wine, our tour guides will fill you in on this unique and beautiful region, and you'll discover what make Medoc wines so special.

Your first stop will be at a winery located along the Castle Road. This small winding road, also known as the D2, is lined with some of the most prestigious wineries of the Medoc including Chateau Palmer, Chateau Margaux, Chateau Latour and many others. It crosses through the different appellations that make up the Medoc such as Margaux, Saint Julien, Pauillac and Saint Estephe. Upon arrival at the winery, start your tour with a visit of the property. Then, you will be taken to the technical installations so that you may understand the whole wine making process. After the visit, it will be time to experience your first commented wine tasting session. This will be a chance to gain an excellent understanding of the wines produced here, whether as an introduction to wines or to expand on your existing knowledge..

Unlike other wine tasting sessions that you might have followed around the world, the tastings in Bordeaux are very refined. The amount of wine poured is not what many would expect but here it is all about elegance, fruit, quality, aromas and flavors rather than quantity. If you want to further your wine experience, it is always possible to buy some bottles at the winery.

After your first visit, your drive will continue and if time permits your driver/guide will probably stop along the way for great photo opportunities. The number of Wine Estates that can be seen along the famous wine route is also a perfect element of commentary for your guide who will explain the historic facts behind the building of some many estates in this area.

As you arrive in Pauillac, it will be time for lunch on your own. Your guide will point out the different options but please note that due to strict timing for the winery visits, we suggest that you opt for a light lunch that will not be time consuming.

After lunch, it will be time to slowly make our way back towards Bordeaux. Along the way, we will stop in two different carefully selected wineries so that your full day wine tour from Bordeaux to the Medoc is complete. On a typical day, we will include different appellations. This is an important aspect of the tour as the wines in France are based on the importance of the terroir (a combination of the soil, the climate and the expertise of the winemaker).

Another interesting aspect that can be approached during your winery visits is to see how the Bordeaux wines are traded. There are 300 trading houses (or maisons de négoce) which, for several centuries, have been a major financial and economic force known by the name of "Place de Bordeaux". Wine trading began in Bordeaux around the 11th century with the development of business between Bordeaux and England. At the time, practically all of the wines were bought in bulk at the estate then aged in the cellars owned by the négociants who were then in charge of selling them. Today, their principal role is selling selected crus and producing wine: négociants blend, age and sell wines under their own brand names, providing consumers with a guarantee of know-how, and retailers with a guarantee of regular supply.

After the visit and wine tasting session in the two wineries, return to Bordeaux around 6.00pm.

Overnight stay in Bordeaux at Hotel de Sèze.
Day

3
Bordeaux Saint Emilion Bordeaux
After breakfast, meet your English speaking driver guide at Bordeaux Tourism Office and start your full day small group tour to Saint Emilion with wine tastings.
Depart for your small group St Emilion wine tour. It covers a full day of visits starting in the morning with a scenic drive from Bordeaux through the vineyards and rolling hills of the St Emilion wine producing region located on the right bank. Before visiting the UNESCO world heritage site of Saint Emilion village, the wine tour kicks off in the surrounding countryside with a visit and wine tasting session in 2 Classified Growth Chateaus of the right bank.

Not included in the 1855 Classification of Bordeaux wines, Saint Emilion wines have their own system that included top rated Premier Grand Cru Classé wines such as Château Cheval Blanc, Chateau Ausone, Chateau Pavie or Chateau Angelus. Petrus is not classified as it is a winery located in the Pomerol appellation and the wines there do not have a classification. All wineries visited during our tours are at least Grand Cru classified.

After a short drive of about an hour, reach your first stop at a selected Grand Cru Winery. All winery tours in Bordeaux include the visit of the technical installations first. This is where a local guide of the winery will go through all the wine making process so that you can better understand how from a complex blending of different grape varieties and storage in oak barrels the local wineries obtain one of the world's most delicious wines.

A second Chateau visit is also planned for the morning. Again, after the visit of the property and the installations, you will participate in a commented tasting of the Chateau wines. All the Bordeaux wine tastings are commented by the local guide of the winery. However, your driver/guide who will be with you throughout the day is also there to answer any questions that you might have. The driver/guides have great knowledge about wines and they will be happy to share any basic or more technical information concerning French or Bordeaux Wines. Whether you have questions about history, technique, flavours, aromas, food & wine pairings don't hesitate to ask them anything that relates to wine to make this day a very special one.

Then, arrive in Saint Emilion. The village of Saint Emilion is named after a monk who left his region of origin and settled down in the area hundreds of years ago. The village is a rare example of a largely intact medieval town whose geography has not been modified over the centuries. Here, you will enjoy a short walking tour taking in important historical sites like the Romanesque cloister and the monolithic church carved into the limestone cliffs (also known as the underground monuments – not included in the tour).
Following the village tour, enjoy a nice lunch in the village (own expenses).
Please note however that due to strict timing for the winery visits, we suggest that you opt for a light lunch that will not be time consuming. This is also a great option if you really want to take some time to stroll through the narrow streets and discover the village on your own.
In the afternoon, leave Saint Emilion village for a visit and a wine tasting in another Classified Growth Chateau. Since our goal is to have you discover the different types of wineries that are present in Saint Emilion, we usually select very different Chateaux during the day. Our winery selection includes some very progressive ones that have decided to invest in the latest technology to help them craft the best possible Bordeaux wines. Other wineries are family owned and have kept their wine making process as traditional as possible, using techniques that have been passed on from generation to generation. Some wineries are quite large, while others produce wine on no more than 12 acres. This final visit can also be a great opportunity for you to find out about the unique way in which most of the Bordeaux wines are sold and the secret world of the 'Negociants'. After the visit, experience a commented wine tasting session of the Chateau wines and then it will be time to return to Bordeaux around 5.30pm.

The rest of the day is yours to explore Bordeaux.
Overnight stay in Bordeaux at Hotel de Sèze.
Breakfast at your hotel and return transfer from your hotel in Bordeaux to the Airport or to the train station.

Accommodation
Bordeaux
Located in the heart of Bordeaux, the Hôtel de Sèze is part of the great French hotel tradition with 55 rooms (including 3 suites) and plays the card of the cozy spirit with its services: the Comptoir De Seze Restaurant and its bistronomic cuisine, the Bar and its lounges , smoking room, and cigar cellar, the Spa , a true temple of well-being exclusively for customers. This elegant hotel proposes rooms that blend harmoniously decorated in the sprit of the 18th century with exclusive furnitures. The color and decoration of bold wallpaper deliver an intimate and cozy ambiance.
Optional Extras
1 additional Pre-night in Bordeaux
Add 1 extra night at the beginning of your package and extend your stay in Bordeaux!
1 additional Post-night in Bordeaux
Add 1 extra night at the end of your package and extend your stay in Bordeaux!
Additional information
Adult tour only, no children accepted under the age of 18.
Order of Tours can be modified depending on availability of the activities.
We work with a selection of hotels in each location. All bookings are subject to availability, which means our team will confirm your specific hotels upon confirmation and payment of deposit. The package price is based on 4-star accommodation.
Excluded
International airfares and taxes
Domestic airfares and taxes, unless otherwise specified in our holiday package
Visa expenses, processing and issuance fees
Meals other than as specified in our holiday package
Travel Insurance or expenses of a personal nature (mini-bar, phone call, laundry, etc.)
Tips or gratuities to guides, drivers, porters, hotel, restaurant or boat staff, etc.
Or any other travel expense that has not been included in our holiday package
FAQs
Who are Entire Travel Group?
Welcome to Entire Travel Group. We offer exceptional travel experiences across our extensive range of Entire Holiday Packages, Entire Group Journeys, Entire Rail Journeys, and Entire Cruise Journeys. With our industry-leading Peace of Mind Booking Plan, you can Book Now with flexibility and confidence.
Entire Travel Group is celebrating over 50 years of passionately delivering unique and memorable travel experiences. We are an Australian, family-owned, award-winning business with a friendly team ready to match your expectations to the perfect holiday experience.
Entire Travel Group used to be known by the individual brands shown in the footer of the website. The company has not changed, but we have amalgamated under one brand - Entire Travel Group.
For more details please visit - About Us | Entire Travel Group
Is Entire Travel Group Australian owned and operated?
Entire Travel Group is proudly Australian family owned and operated and as it stands today represents 50 years of experience, progress, and evolution. We proudly support the community with our long-term commitment to many important charity organisations. We were awarded the best operator in our class at the most recent National Travel Industry Awards.
Is Entire Travel Group industry accredited?
Entire Travel Group is both ATAS and CATO Accredited. ATAS is actively administered by the Australian Travel Industry Association (ATIA). The Council of Australian Tour Operators (CATO) is the trade association representing the land supply sector of the Australian Travel Industry.
Does Entire Travel Group have industry awards?
Entire Travel Group was honoured at the 2023 National Travel Industry Awards with Most Oustanding Wholesaler - Product / Service.
As our team works tirelessly to deliver exceptional holiday experiences, it was exciting to have this acknowledged with the highest recognition. The award is also a testament to the quality of our partners around the globe, and we take this opportunity to thank them for their tremendous support of our customers.
Are the Entire Travel Group holiday packages exclusive?
In some cases, we are the sole representative in Australia for the overseas travel operator. In other circumstances the product developed has been exclusively built for Entire Travel Group and can't be found elsewhere.
What's unique about Entire Travel Group Holiday Packages?
They are not group tours with set departures - they are pre-designed, purpose built, independent holiday packages full of unique and memorable experiences.
Our holiday packages have been exclusively built for us in collaboration with our handpicked suppliers, who also offer full on-ground support for the clients.
We are offering unique travel experiences which cannot be found elsewhere.
Many packages include our "Freedom of Choice" options which allow you to tailor the holiday experience. Like a sommelier matching wine to a meal, we have used our experience to carefully select and offer the right experiences in each location.
They include our Peace of Mind Booking Plan.
A wide selection of our packages are compliant with the World Travel & Tourism Council (WTTC) Covid Safe Travels.
Our motto for Independent Holiday Packages is start your holiday when and with who you want!
Our Independent Holiday Packages are NOT group tours with set departure dates. Group Tours have specific set departure dates, and of course, you are travelling with unknown passengers in a coach. These tours are great for certain travellers and there are many reputable tour operators providing a wide range of options around the world.
At Entire Travel Group, our focus is Independent Holiday Packages. Available daily, they are pre-designed, purpose built, packaged itineraries full of memorable experiences delivered by our hand-picked local partners.
Our holidays suit every demographic, from couples to singles, to retirees to families and everyone else in between.
Why travel with Entire Travel Group?
Of Entire Travel Group's attributes, we have settled on "When Experience Matters" as the quality we believe adds the most value to our customers. We have the experience to ensure your itinerary makes the dream holiday possible. Our continually enhanced technology allows our team to provide a quality customer service experience, and our partnerships with outstanding operators ensure we are confident of the on-ground experience for our customers.
For more details please visit - About Us | Entire Travel Group
How does the Peace of Mind Booking Plan work?
Our Peace of Mind Booking Plan allows you to book with confidence in the new international travel environment. With low deposits, a cooling off period and a flexibility period where you can cancel and rebook later, we really do have you covered.
For more details please visit - Peace of Mind Booking Plan | Entire Travel Group
Is there a cooling-off period?
Look for packages with our Peace of Mind Booking Plan logo on the website.
We understand that occasionally plans may change, so we give you the confidence to proceed with a cooling off period.
You may cancel for any reason within 7 days, where you will receive a 100% refund of your $100 per person deposit.
For more details please visit - Peace of Mind Booking Plan | Entire Travel Group
What is Freedom of Choice?
At Entire Travel Group we understand that our customers have their own personal tastes and interests - so throughout our packages look for "Freedom of Choice" which gives you the ability to tailor your holiday from the various experiences offered on selected days. Like a sommelier matching wine to a meal, we have used our experience to carefully select and offer the right experiences in each location.
The Freedom of Choice options are included in the package price, and the price remains the same regardless of the choice you make on each day.
Our Freedom of Choice program offers flexibility, by allowing you to choose from different options on pre-selected days in the itinerary.
Our per person price includes one tour on each Freedom of Choice day in the itinerary.
The price of the package remains the same regardless of the choice you make on each day.
For more details please visit - Freedom of Choice | Entire Travel Group
What is Book Now?
Book Now offers you the ability to make a reservation on our website for Holiday Packages that include our Peace of Mind Booking Plan. But it's not just a static offer – you have complete flexibility from travel dates, passenger numbers, single supplements, room upgrades, optional extras, flexible booking terms and more.
Our team will contact our overseas suppliers and confirm all arrangements.
A Confirmation from our reservation system will be sent in the coming days.
The Booking Number on this confirmation supersedes the website reference.
What forms of payment can be used at Entire Travel Group?
To confirm a booking using our on-line Book Now process, a credit card must be used to pay the refundable deposit.
For additional payments on the booking, Entire Travel Group supports bank transfer, credit card, TravelPay B2B, PaymentGate.
For further details please visit our Payments page.
How secure is the Entire Travel Group's on-line payment portal?
Entire Travel Group have partnered with TravelPay to ensure secure on-line credit card payments.
TravelPay is a level 1 PCI DSS compliant, which gives you peace of mind that your payment card data is in safe hands.
Entire Travel Group does not store any credit card information.
For more details please visit - Security and Compliance - TravelPay
Can you book my international airfares?
On some Islands Holiday Packages (e.g. Fiji), it is practical to include flights, so where we have done this it is indicated by the plane icon.
However, on the majority of our Holiday Packages, we do not include international flights.
We found that many customers may prefer to:
Travel on a specific airline of their choice
Have the flexibility to book flights with Frequent Flyer points
Select flight dates that may be different to our Holiday Package start/end dates
Use a Travel Credit already held with the airline
Use their travel agent for this service
We are able to assist with flights on any Holiday Package, so please just notify us during the Book Now process or contact our team.
Should I take travel insurance?
Travel insurance is strongly recommended. During the Book Now process please confirm you require assistance, and our team will be in contact with you.
What should I do before travelling?
Before you travel it is your responsibility to ensure you have the appropriate documentation including visas. If you are travelling on a passport other than Australian or New Zealand, you will require a permit to re-enter Australia. It is your responsibility as the traveller and/or travel booker to meet all government entry requirements.
For more information please visit - Before you travel | Entire Travel Group
How does a Travel Agent make a booking?
Please visit the Entire Travel Group's Agent Portal. We are here to support our industry partners with a range of informative updates, marketing collateral for campaigns and a reward & recognition program.
How do I start a Booking?
On any page that has Book Now simply follow the booking process.
You must select the Travel Agent tick box and provide correct details.
To confirm a booking only the refundable deposit is required.
An agency credit card must be used for this initial payment.
How do I contact Entire Travel Group?
SOMEWHERE ELSE TO CONSIDER
Subscribe now for your chance to win
a $500 Travel Voucher
Be the first to hear about our new Holiday Packages