Posted by on 23 Nov 2021
What places have overwater bungalows? Chances are, Maldives is the first country to cross your mind. After all, you can find a wide variety of overwater villas within the island nation. Each of these villas offers scenic beaches and exciting activities that cater to all sorts of travellers.
It can be overwhelming to choose which overwater suite to visit, especially if it's your first time in Maldives. To help you decide, we have selected the best water bungalows that you can visit in the archipelago.
10 Dreamy Maldives Overwater Bungalow Villas for an Unforgettable Stay
One&Only Reethi Rah

Leave your worries behind and hit the restart button at the overwater bungalows in One&Only Reethi Rah. This ultra-chic resort sits neatly on one of the largest islands in the North Ari Atoll.

The resort consists of over 130 spacious villas running across six kilometres of secluded coastline. Its unparalleled style and sophistication, along with great amenities for relaxation, have made it a favourite among A-list celebrities and royal family members.

Its luxurious spa treatment rooms can help ease the aches and tensions in your body. If you want to clear your head, you can head over to the Chi Pavilion for yoga and meditation. Or take a refreshing dip in their vitality pool and feel the stress seep away.

Conrad Maldives Rangali Island

Enjoy a unique underwater experience with Conrad Maldives Rangali Island. This tropical paradise lies at the South Ari Atoll, spanning over two islands connected by a wooden footbridge. Its gorgeous villas offer unmatched luxury and relaxation alongside stunning views and regal shorelines.

But its charm lies beneath the waters—and not just its diverse marine life. It's also home to the first underwater restaurant in Maldives. Indulge in a dining experience like no other at the Ithaa Undersea Restaurant.

hat's more, you can also get a once-in-a-lifetime chance to stay under the ocean with Rangali Island's first undersea residence, the Muraka.

Anantara Kihavah Maldives

Discover a different side of Maldives at night with Kihavah Huravalhi's Anantara Kihavah Maldives. This tropical jewel is situated in the Baa Atoll, a UNESCO Biosphere Reserve. It's home to over 80 beach- and overwater villas amidst azure lagoons and immaculate beaches. Your eyes can feast on the island's surreal views, from sun-kissed horizons to star-filled skies. Take your stargazing experience to the next level with the archipelago's first overwater observatory, the Sky Bar. Take a closer look into the planets and constellations with the resort's home telescope, or simply gaze at the dazzling night sky from the comfort of your seat.

Gili Lakanfushi

Treat yourself to a scenic getaway with Gili Lakanfushi, found in the islands of the North Male Atoll. It hosts over 45 charming villas with a rustic touch, perfect for soul searchers and those looking for a down-to-earth holiday. By blending natural elements within the villa's construction, guests can enjoy a healing experience while being close to nature. Savour the gentle tropical breeze while strolling along the villa's open-air walkway. Discover the hidden gems beneath the intimate coral island by swimming or snorkelling in daylight. After a long day, enjoy a delicious feast with a sunset view on the restaurant's curated Wine and Dine Experience.

Baros Resort Maldives

Revel in intimate moments with your partner in Maldives' most romantic destination, the Baros Resort Maldives. It offers over 30 stunning overwater villas with elegant interior décor, splendid views, and amenities made for the best honeymoon experience. The villa provides an exclusive dining experience for couples in the island's romantic spots. Enjoy an exquisite meal and a complimentary wine made just for you and your partner. While eating, you can watch as the skies change colours from cool blues to deep reds.

If you're up for an adventure, you can explore underwater marine life with the island's marine experts. But if you prefer a laid back setting, you can take a romantic barefoot stroll along the powder sand beaches.

Centara Grand Island Resort & Spa

Create unforgettable memories with your kids in Centara Grand Island Resort and Spa, found in the South Ari Atoll. This luxurious resort is home to over 112 beach and overwater villas, some of which are built especially for families. Let your little ones swim and splash around the shallow children's pools. They can also keep themselves entertained inside the playground and the activities of the kid's club. Older kids and teenagers would surely appreciate the resort's fully-equipped game room.

Aside from kid-friendly amenities, the villa also offers jam-packed excursions for the whole family such as snorkelling and line fishing trips.

Soneva Jani

Experience prime luxury with the overwater villas in Soneva Jani. This resort lies in the Medhufaru Island, one of the uninhabited five islands in the Noonu Atoll. It boasts 24 extravagant water villas, which are among the largest in Maldives. The highlight of this gorgeous villa is its posh, elegant rooms, perfect for a grand holiday. It has master bedrooms equipped with retractable roofs, allowing guests to get the best view of the Indian Ocean. With a simple push of a button, you can stare at the vast expanse of the night sky without needing to move from the comfort of your bed.

Como Maalifushi

Want to get your adrenaline pumping? Consider visiting Como Maalifushi, located southwest in the Thaa Atoll. The villa has over 65 land and overwater suites connected by wooden bridges above sapphire pools of water.

This uninhabited island cluster is perfect for adventurous souls, as it's rich in activities that you'd be thrilled for. Dive into a new world under the island's sea with the villa's diving course and aqua safari. Ride along with the island's dynamic swells with your surfboard and bring out the adventurer within you.

What's more, you can snorkel at any time of the day! Say hello to the turtles at daylight and greet whale sharks during nightfall.

Niyama Private Island Maldives

Enjoy the best of both worlds—the thrill and the tranquillity—with Niyama's Private Islands resort. This villa, located on two serene islands, features Maldivian elegance with a modern touch. You can stay in one of the two Ocean Pavilions, inclusive of a huge water pool and easy access to the beach.

If you're in it for an adrenaline rush, then surf along to the rhythm of the ocean's pristine waters. Want to take it up a notch? Try your hand at windsurfing, which combines sailing and surfing into one thrilling activity. You can also reach new heights with a fun round of flyboarding.

But if you're seeking a relaxing experience, consider taking a dip in the villa's jacuzzi. You can also lounge on the secluded deck and soak in the tropical sunshine.

Cheval Blanc Randheli

Looking for a hidden getaway in Maldives? Then head over to Cheval Blanc Randheli. This secluded island lies in the Noonu Atoll, a UNESCO-protected site. With crystal-clear waters along pristine sandbanks and colourful flowers, it truly is a picture-perfect tropical haven.

Stay in one of its 46 island, garden, and overwater villas that are furnished with a contemporary style. Take a swim in the villa's private swimming pools, or head out to the beach and savour the tropical sunlight. You can also try the villa's divine spa rituals for the ultimate rejuvenating experience.
Plan Your Sweet Escape to Maldives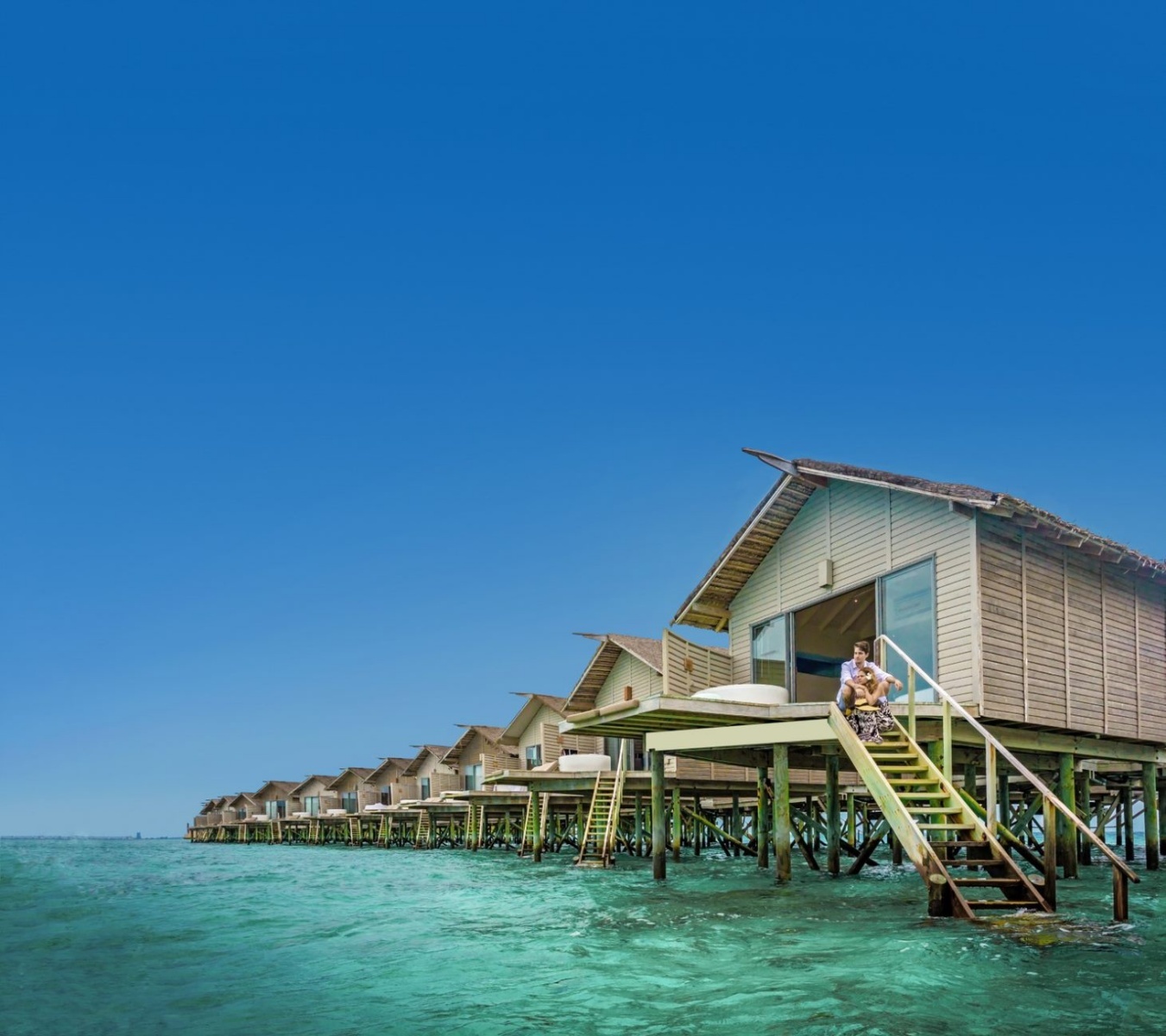 Within its islands, Maldives offers beautiful overwater bungalow villas where you can stay for the rest of your holiday. Each villa has its unique charm that can appeal to all kinds of travellers. Make your dream destination come true with our holiday packages for Maldives.