Jordan
Jordan Journeys
(Tour code: 12972)
Travel Periods
14 Apr 24 - 17 Nov 24
Travel Style
Group Journeys
Discover the treasures of Jordan on an immersive 8-day journey that takes you through captivating landscapes and cultural wonders. From the iconic UNESCO site of Petra to the diverse historical and natural sites, this adventure offers a deep exploration of Jordan's rich heritage.
Highlights
Guaranteed Departures. Small group sizes (max 24 passengers). English speaking only tour with an experienced Tour Director.
Indulge in a unique stay in a superior Bedouin tent within a desert camp
Unveil the ancient wonder of Petra as you walk through the narrow Siq to witness the iconic Treasury, known as Al-Khazneh
Explore the historical allure of Shoubak Castle, perched atop a hill, and discover its intriguing remnants of baths, archways, and ancient structures.
Enjoy a traditional cooking class followed by a Farewell Dinner at a local restaurant in Amman
Cancel booking
Are you sure you want to cancel this booking?
All services are subject to availability.
Book Now
Only $100pp deposit to Book Now
In partnership
Overview
From the bustling city of Amman to the ancient wonders of Petra and the healing waters of the Dead Sea, this journey promises an immersive experience. Enjoy guided tours in Amman, Jerash, Ajlun, Madaba, Nebo, and Petra will transport you through millennia of history and architecture. Immerse yourself in the magic of Petra, explore ancient ruins, and traverse the desert in a 4x4 vehicle through Wadi Rum.
Enjoy a night in Wadi Rum's superior Bedouin tents, equipped with private bathrooms and air conditioning. Your adventure concludes with a farewell dinner, leaving you with memories of a diverse and unforgettable Jordanian odyssey.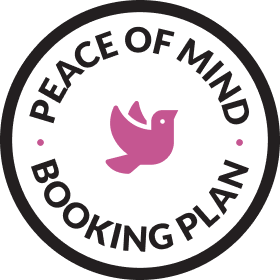 ENTIRE Cooling-Off Period
ENTIRE AUD Prices
ENTIRE Change of Mind
ENTIRE Industry Accredited
ENTIRE On Ground Support
ENTIRE Australian Owned
Inclusions
6-nights accommodation in 5-star hotels
1-night accommodation in Wadi Rum camp in a superior category Bedouin tent
Transportation by luxury coach
Private transfers to/from airport as per itinerary
Daily Breakfast
Guided visits in Amman, Jerash, Ajlun, Madaba, Nebo, Petra, Wadi Rum, and Dead Sea
Excursion in a 4x4 vehicle through the Wadi Rum desert
Visit and entrance fees to monuments as per itinerary
English-Speaking Only Tour Director throughout the journey
Itinerary
Jordan Journeys
Day

1
Amman Airport Amman
Upon your arrival at the airport, a private transfer will be awaiting for you and transfer you to your hotel.
At 19:00, meet with your Tour Director at the hotel´s Reception Desk for a welcome meeting where you will also be meeting your fellow travellers. Following the meeting, enjoy a delightful dinner at the hotel.
Overnight stay in Amman at Hotel Amman Kempinski.
Enjoy a full buffet breakfast at your hotel.
Depart to the capital city of Jordan, Amman. Explore the downtown part of Amman, visiting sites and museums including the Citadel, Roman Theater, Archaeological Museums. Everywhere you look there is evidence of the city's much older past!
Departing from Amman, your next stop is Jerash, a captivating historical site. As you explore, you'll walk the Colonnaded Street, discover the Amphitheater, visit Churches and Temples, and take in the vast Roman Forum. Jerash, once Gerasa, is famed for its well-preserved Roman heritage, often referred to as the "city of a thousand pillars." Flourishing under Roman rule, it stands as one of the world's best-preserved Roman provincial towns. Rediscovered and restored over 70 years, Jerash offers a glimpse into the grand urbanism of the Middle East's past, reflecting its Roman golden age.
Back in Amman, and in the early evening, join your fellow travelers for an authentic dinner at a local restaurant.
Overnight stay in Amman at Hotel Amman Kempinski.
Day

3
Amman Madaba Nebo Shobak Petra
Enjoy a full buffet breakfast at your hotel.
Depart to visit Madaba located 30 kilometers south-west of the capital Amman. It is best known for its Byzantine and Umayyad mosaics, especially a large Byzantine-era mosaic map of The Holy Land. Then, visit St. George church where you will find the Mosaic Map of Jerusalem painted on the floor of the church.
Continue to Mount Nebo, the place where Moses was buried. From this vantage point, you'll be treated to a breathtaking panorama encompassing the Jordan Valley, the Dead Sea, and the city of Jericho on the opposite bank of the Jordan River.
Continue south to visit Shoubak Castle, perched on top of a small hill northeast of the town of Shobak. Inside the fortress there are two churches, the first of which is to the left of the entrance and and is accessed via stairs. The second church is located just past the watchtower and contains catacombs underneath. As you explore the castle, you'll come across various remnants, including baths, cisterns, and rainwater pipes. The site also features millstones used for pressing olives, enduring archways, and other well-preserved elements that have withstood the passage of time. Shoubak Castle stands as a testament to the region's history and craftsmanship.
After the visit, return to the hotel in Petra for a delightful dinner.
Overnight stay in Petra at The Old Village.
Enjoy a full buffet breakfast at your hotel.
Dedicate a full day to the exploration of Petra, often referred to as the "pink city" and the capital of the Nabateans. This ancient city, ingeniously carved into the rose-red sandstone cliffs, invites your imagination to roam freely. It's a place of mystique and grandeur, a timeless homage to a civilization now lost to time.
Petra held a pivotal role as the hub of the Nabatean spice routes, connecting regions from the Persian Gulf, Western Arabia, and the Red Sea. Over two millennia ago, it emerged as the heart of the Nabatean Empire. The city's significance extended to the point where one of its rulers, Aretas IV, earned a mention in the Bible. Their craftsmanship can be witnessed through the carved theaters, temples, tombs, monasteries, houses, and roads that grace the rose-red sandstone cliffs. Recognizing its significance, UNESCO has rightfully designated Petra as a World Heritage Site.
Your journey into Petra commences by passing through the Siq, a narrow and profound gorge. At its culmination, a breathtaking sight awaits you: the iconic al-Khazneh, known as the Treasury. As you explore further, the ancient city unravels before you. Countless stone-carved structures, shaped by the hands of time into resplendent multi-hued walls, await your discovery. Petra, with its rich history, architectural marvels, and vivid colors, promises an unforgettable journey into a world shaped by the hands of ancient artisans and the passage of time.
Overnight stay in Petra at The Old Village.
Day

5
Petra Little Petra Wadi Rum
Enjoy a full buffet breakfast at your hotel.
Today's excursion takes us to Little Petra, a once-inhabited Nabatean site adorned with numerous tombs, water reservoirs, and intricate channels. A narrow trail leads to the inner section known as Siq Al Bared. This area, an extension of Petra itself, earned the name of "Little Petra" due to its scaled-down yet reminiscent features and its role as a continuation of the Petra experience.
Depart for Wadi Rum, traversing the captivating Lawrence of Arabia desert. Your exploration takes place in unique 4x4 vehicles led by Bedouin guides. This journey offers a glimpse into the lunar-like expanse of Wadi Rum's landscape. Marvel at the incredible creations of nature, shaped by rocks and sands. Highlights include Wadi Rum village, Lawrence spring, Alamele inscriptions, 7 pillars, and enchanting sand dunes.
For the evening, you'll experience a stay in a superior Bedouin tent boasting a private bathroom and air conditioning, all within a desert camp setting. Enhance your experience by treating yourself to a delightful dinner in this remarkable setting.
Overnight stay in Wadi Rum in a superior Bedouin tent.
Enjoy a full buffet breakfast at the Camp.
Journey towards the Dead Sea, a natural wonder situated at the lowest point on Earth, 400 meters below sea level. The high salinity and mineral content of its waters present therapeutic opportunities for various ailments, as well as serving as a source for producing cosmetic and beauty products.
Overnight stay near the Dead Sea at Hotel Holiday Inn.
Day

7
Dead Sea Al Salt Amman
After enjoying a buffet breakfast, you'll be transferred to visit Al Salt.
Explore the Harmony Trail, where you'll encounter significant sites such as Al Hammat Street, Bait Abu Jabber showcasing traditional Jordanian architecture, and the historic Madafat Al Khalili.
Enjoy lunch in Al Salt before proceeding to Amman.
In the early evening, come together with your fellow travelers for a traditional cooking class followed by a Farewell Dinner at a local restaurant, creating a memorable conclusion to your journey.
Overnight stay in Amman at Hotel Amman Kempinski.
Day

8
Amman Amman Airport
Enjoy breakfast at the hotel before a private transfer takes you to the airport.
Accommodation
Encompassing an area of 56,000 square meters, Kempinski Hotel Amman presents a blend of contemporary design and elegant interiors. This establishment offers a European luxury ambiance infused with Jordanian authenticity and hospitality. It stands as a unique venue in Amman with its exclusive convention center, making it the foremost choice for hosting conferences, gatherings, exhibitions, and social occasions within the city.
Located on the outskirts of Wadi Musa with stunning views of the Shahara Mountains and Petra, The Old Village Hotel & Resort offers luxurious five-star accommodations. The resort features multiple relaxation areas where guests can enjoy beverages while taking in the terraces and sunset. Just 1.9 km from Petra, the property is conveniently close to Petra Visitor Centre and Wadi Mussa City Centre. Each room is equipped with Wi-Fi, TV, air conditioning, and a mini bar, designed to reflect local culture and history. The resort also includes an indoor pool and sauna for post-exploration relaxation.
Experience a distinctive fusion of modern comfort and traditional Bedouin culture at Aladdin Camp in Wadi Rum. Nestled amidst breathtaking mountains and strategically situated close to renowned tourist spots, visitors can unwind and indulge in an authentic Bedouin glamping escapade. The camp provides cozy facilities and a range of desert activities, allowing you to uncover the enchantment of Wadi Rum. Secure your reservation now to fully engage in the captivating history and heritage of the Bedouin community.
Experience the allure of the Dead Sea at the modern Holiday Inn® Resort Dead Sea hotel. Situated just 45 minutes from Queen Alia International Airport, this 5-star retreat offers a private beach by the famous salt lake. With palm-fringed heated pools, a soothing infinity pool, and a dedicated kids' area, water enthusiasts are in for a treat. Luxurious spa treatments using natural Dead Sea products await at the Shape Up spa. The resort provides event facilities including a ballroom and meeting rooms, along with complimentary valet parking and a business center. Dining options range from a chic pool bar to fine steaks and Jordanian dishes, while Horizon Terrace offers sunset views and live music. Enjoy the ultimate comfort with 24-hour room service.
Additional information
Excluded
International airfares and taxes
Domestic airfares and taxes, unless otherwise specified in our holiday package
Visa expenses, processing and issuance fee
Meals other than as specified in our holiday package
Travel Insurance or expenses of a personal nature (mini-bar, phone call, laundry, etc.),
Tips or gratuities to guides, drivers, porters, hotel, restaurant or boat staff, etc.
Or any other travel expense that has not been included in our holiday package (Entrance tickets to sites and museums)
FAQs
Who are Entire Travel Group?
Welcome to Entire Travel Group. We offer exceptional travel experiences across our extensive range of Entire Holiday Packages, Entire Group Journeys, Entire Rail Journeys, and Entire Cruise Journeys. With our industry-leading Peace of Mind Booking Plan, you can Book Now with flexibility and confidence.
Entire Travel Group is celebrating over 50 years of passionately delivering unique and memorable travel experiences. We are an Australian, family-owned, award-winning business with a friendly team ready to match your expectations to the perfect holiday experience.
Entire Travel Group used to be known by the individual brands shown in the footer of the website. The company has not changed, but we have amalgamated under one brand - Entire Travel Group.
For more details please visit - About Us | Entire Travel Group
Is Entire Travel Group Australian owned and operated?
Entire Travel Group is proudly Australian family owned and operated and as it stands today represents 50 years of experience, progress, and evolution. We proudly support the community with our long-term commitment to many important charity organisations. We were awarded the best operator in our class at the most recent National Travel Industry Awards.
Is Entire Travel Group industry accredited?
Entire Travel Group is both ATAS and CATO Accredited. ATAS is actively administered by the Australian Travel Industry Association (ATIA). The Council of Australian Tour Operators (CATO) is the trade association representing the land supply sector of the Australian Travel Industry.
Does Entire Travel Group have industry awards?
Entire Travel Group was honoured at the 2023 National Travel Industry Awards with Most Oustanding Wholesaler - Product / Service.
As our team works tirelessly to deliver exceptional holiday experiences, it was exciting to have this acknowledged with the highest recognition. The award is also a testament to the quality of our partners around the globe, and we take this opportunity to thank them for their tremendous support of our customers.
Are the Entire Travel Group holiday packages exclusive?
In some cases, we are the sole representative in Australia for the overseas travel operator. In other circumstances the product developed has been exclusively built for Entire Travel Group and can't be found elsewhere.
What's unique about Entire Travel Group Holiday Packages?
They are not group tours with set departures - they are pre-designed, purpose built, independent holiday packages full of unique and memorable experiences.
Our holiday packages have been exclusively built for us in collaboration with our handpicked suppliers, who also offer full on-ground support for the clients.
We are offering unique travel experiences which cannot be found elsewhere.
Many packages include our "Freedom of Choice" options which allow you to tailor the holiday experience. Like a sommelier matching wine to a meal, we have used our experience to carefully select and offer the right experiences in each location.
They include our Peace of Mind Booking Plan.
A wide selection of our packages are compliant with the World Travel & Tourism Council (WTTC) Covid Safe Travels.
Our motto for Independent Holiday Packages is start your holiday when and with who you want!
Our Independent Holiday Packages are NOT group tours with set departure dates. Group Tours have specific set departure dates, and of course, you are travelling with unknown passengers in a coach. These tours are great for certain travellers and there are many reputable tour operators providing a wide range of options around the world.
At Entire Travel Group, our focus is Independent Holiday Packages. Available daily, they are pre-designed, purpose built, packaged itineraries full of memorable experiences delivered by our hand-picked local partners.
Our holidays suit every demographic, from couples to singles, to retirees to families and everyone else in between.
Why travel with Entire Travel Group?
Of Entire Travel Group's attributes, we have settled on "When Experience Matters" as the quality we believe adds the most value to our customers. We have the experience to ensure your itinerary makes the dream holiday possible. Our continually enhanced technology allows our team to provide a quality customer service experience, and our partnerships with outstanding operators ensure we are confident of the on-ground experience for our customers.
For more details please visit - About Us | Entire Travel Group
How does the Peace of Mind Booking Plan work?
Our Peace of Mind Booking Plan allows you to book with confidence in the new international travel environment. With low deposits, a cooling off period and a flexibility period where you can cancel and rebook later, we really do have you covered.
For more details please visit - Peace of Mind Booking Plan | Entire Travel Group
Is there a cooling-off period?
Look for packages with our Peace of Mind Booking Plan logo on the website.
We understand that occasionally plans may change, so we give you the confidence to proceed with a cooling off period.
You may cancel for any reason within 7 days, where you will receive a 100% refund of your $100 per person deposit.
For more details please visit - Peace of Mind Booking Plan | Entire Travel Group
What is Freedom of Choice?
At Entire Travel Group we understand that our customers have their own personal tastes and interests - so throughout our packages look for "Freedom of Choice" which gives you the ability to tailor your holiday from the various experiences offered on selected days. Like a sommelier matching wine to a meal, we have used our experience to carefully select and offer the right experiences in each location.
The Freedom of Choice options are included in the package price, and the price remains the same regardless of the choice you make on each day.
Our Freedom of Choice program offers flexibility, by allowing you to choose from different options on pre-selected days in the itinerary.
Our per person price includes one tour on each Freedom of Choice day in the itinerary.
The price of the package remains the same regardless of the choice you make on each day.
For more details please visit - Freedom of Choice | Entire Travel Group
What is Book Now?
Book Now offers you the ability to make a reservation on our website for Holiday Packages that include our Peace of Mind Booking Plan. But it's not just a static offer – you have complete flexibility from travel dates, passenger numbers, single supplements, room upgrades, optional extras, flexible booking terms and more.
Our team will contact our overseas suppliers and confirm all arrangements.
A Confirmation from our reservation system will be sent in the coming days.
The Booking Number on this confirmation supersedes the website reference.
What forms of payment can be used at Entire Travel Group?
To confirm a booking using our on-line Book Now process, a credit card must be used to pay the refundable deposit.
For additional payments on the booking, Entire Travel Group supports bank transfer, credit card, TravelPay B2B, PaymentGate.
For further details please visit our Payments page.
How secure is the Entire Travel Group's on-line payment portal?
Entire Travel Group have partnered with TravelPay to ensure secure on-line credit card payments.
TravelPay is a level 1 PCI DSS compliant, which gives you peace of mind that your payment card data is in safe hands.
Entire Travel Group does not store any credit card information.
For more details please visit - Security and Compliance - TravelPay
Can you book my international airfares?
On some Islands Holiday Packages (e.g. Fiji), it is practical to include flights, so where we have done this it is indicated by the plane icon.
However, on the majority of our Holiday Packages, we do not include international flights.
We found that many customers may prefer to:
Travel on a specific airline of their choice
Have the flexibility to book flights with Frequent Flyer points
Select flight dates that may be different to our Holiday Package start/end dates
Use a Travel Credit already held with the airline
Use their travel agent for this service
We are able to assist with flights on any Holiday Package, so please just notify us during the Book Now process or contact our team.
Should I take travel insurance?
Travel insurance is strongly recommended. During the Book Now process please confirm you require assistance, and our team will be in contact with you.
What should I do before travelling?
Before you travel it is your responsibility to ensure you have the appropriate documentation including visas. If you are travelling on a passport other than Australian or New Zealand, you will require a permit to re-enter Australia. It is your responsibility as the traveller and/or travel booker to meet all government entry requirements.
For more information please visit - Before you travel | Entire Travel Group
How does a Travel Agent make a booking?
Please visit the Entire Travel Group's Agent Portal. We are here to support our industry partners with a range of informative updates, marketing collateral for campaigns and a reward & recognition program.
How do I start a Booking?
On any page that has Book Now simply follow the booking process.
You must select the Travel Agent tick box and provide correct details.
To confirm a booking only the refundable deposit is required.
An agency credit card must be used for this initial payment.
How do I contact Entire Travel Group?
Subscribe now for your chance to win
a $500 Travel Voucher
Be the first to hear about our new Holiday Packages