Türkiye
Türkiye (Turkey) Journeys
(Tour code: 12973)
Starts and Ends
in Istanbul
Travel Periods
14 Apr 24 - 17 Nov 24
Travel Style
Group Journeys
Embark on an enchanting journey through Istanbul's iconic landmarks, Cappadocia's mesmerizing landscapes, Konya's spiritual essence, and Pamukkale's natural marvels.
Highlights
Guaranteed Departures. Small group sizes (max 24 passengers). English speaking only tour with an experienced Tour Director.
Visit the Blue Mosque and the Hagia Sophia Mosque, iconic symbols of Istanbul.
Enjoy a boat trip along the Bosphorus to witness Istanbul's skyline, historic landmarks, and the unique experience of being between two continents.
Admire the Fairy Chimneys in Cappadocia, unique rock formations that enhance the landscape, resembling fantastical shapes.
Be amazed by Pamukkale's natural marvel: white waterfall, hot spring pools, and distinct calcareous formations, shaped by lime-rich waters.
Cancel booking
Are you sure you want to cancel this booking?
All services are subject to availability.
Book Now
Only $100pp deposit to Book Now
In partnership
Overview
Commence your journey in Istanbul by visiting the iconic Blue Mosque and Hagia Sophia Mosque. Then, embark on a Bosphorus boat trip, savoring Istanbul's skyline and crossing continents.
Explore Cappadocia's unparalleled landscape, shaped by ancient volcanic eruptions, as you uncover intricate rock-carved chapels adorned with frescoes in Göreme valley, revel in the captivating vistas of "Fairy Chimneys" in Avcilar and Güvercinlik valleyS. Travel to Konya to explore the Mevlana Monastery—home of the whirling dervishes—offering a captivating glimpse into Turkish culture.
Then, journey to Pamukkale's natural wonder with white cascades, stalactite formations, and thermal pools. Discover the necropolis in Hierapolis. Depart for Ephesus, explore iconic vestiges, including the Hadrian Temple and Celso Library, and experience a fur production center. Return to Istanbul, completing your extraordinary adventure.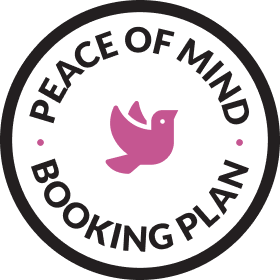 ENTIRE Cooling-Off Period
ENTIRE AUD Prices
ENTIRE Change of Mind
ENTIRE Industry Accredited
ENTIRE On Ground Support
ENTIRE Australian Owned
Inclusions
7-nights accommodation in 4-star hotel
Internal Flights
Transportation by luxury coach
Private transfers to/from airport as per itinerary
Daily Breakfast
Lunches and Dinners as per itinerary
Guided visits in Istanbul, Cappadocia, Pamukkale, and Esmirna
English-Speaking Only Tour Director throughout the journey
Itinerary
Turkey Journeys
Day

1
Istanbul Airport Istanbul
Upon your arrival at the airport, a private transfer will be awaiting for you and transfer you to your hotel.
At 19:00, meet with your Tour Director at the hotel´s Reception Desk for a welcome meeting where you will also be meeting your fellow travellers. Following the meeting, enjoy a delightful dinner in a local restaurant.
Overnight stay in Istanbul at Hotel Barcelo Istanbul.
Enjoy a full buffet breakfast at your hotel.
Departure from the hotel to visit the Topkapi Palace, residence of the sultans of the Ottoman Empire and It's situated in a strategic location overlooking the Bosphorus and the Golden Horn. The palace is renowned for its opulent architecture, lush gardens, and intriguing collections of artifacts.
Then, enjoy a lunch in a local restaurant.
In the afternoon, visit the Sultanahmet neighborhood with the Roman Hippodrome square, the Blue Mosque, unique among all Ottoman mosques in having 6 minarets and the splendid 6th century Hagia Sophia Mosque.
In the evening, discover the Egyptian Bazaar, a vibrant market filled with an array of aromatic spices, teas, sweets, nuts, and more.
Overnight stay in Istanbul at Hotel Barcelo Istanbul.
Day

3
Istanbul Cappadocia
Enjoy a full buffet breakfast at your hotel.
In the morning, we will have a panoramic tour of the city, passing through the important neighborhoods of the historical part and the modern part of the city, including a walk along the pedestrian street of Istiklal.
Time at leisure in the Grand Bazaar (closed on Sundays, religious holidays and on October 29), a building that houses more than 4,000 shops inside.
Take a boat trip through the Bosphorus, the strait that separates Europe from Asia where we can enjoy the great beauty of the forests of Istanbul, its palaces and the yalı, wooden palaces built on both banks.
After the tour, transfer to the airport to take a domestic flight to Cappadocia.
Upon your arrival in Cappadocia, you will be transferred to your hotel. If your arrival time at the hotel is after 10:00 p.m., dinner will be provided in the form of a boxed meal.
Overnight stay in Cappadocia at Hanedan Cappadocia Suites.
Enjoy a full buffet breakfast at your hotel.
The morning is free for you to enjoy at your leisure. Alternatively, you have the option to enhance your experience by choosing a sunrise balloon ride (Please note: This is not included in the package and can be purchased on-site).
Later, we will embark on a captivating exploration of this remarkable region, characterized by a unique landscape sculpted by the volcanic eruptions of Erciyes and Hasan Volcanoes that occurred 3 million years ago. Our journey begins with a visit to the Göreme valley, where you will discover a multitude of monasteries and chapels intricately carved into the rock formations and adorned with exquisite frescoes. Continue to the Avcilar and Güvercinlik valleys, both boasting awe-inspiring vistas of the iconic "Fairy Chimneys." This route also leads us to the troglodyte town of Uçhisar, a living testament to its era, with dwellings etched into the rock and a commanding fortress that has withstood the test of time.In Cappadocia you have the opportunity also to visit the typical workshops of Turkish carpets.
In the evening, enjoy a delightful dinner at your hotel.
Overnight stay in Cappadocia at Hanedan Cappadocia Suites.
Enjoy a full buffet breakfast at your hotel.
During the morning, we will have the opportunity to visit a traditional pottery workshop, where the age-old craft comes to life. Continuing our journey, we will encounter a remarkably intact 13th-century Caravanserai, a haven for travelers seeking respite along their routes.
En route, we will explore the Serhatlı underground city. Constructed by Christian communities as a safeguard against Arab assaults, this city offers a glimpse into the strategic craftsmanship of its time.
Upon arriving in Konya, we will visit the Mevlana Monastery, the spiritual home of the whirling dervishes. This immersive experience provides a captivating window into the rich tapestry of traditional Turkish culture.
In the evening, enjoy a delightful dinner at your hotel.
Overnight stay in Konya at Hotel Dedeman.
Enjoy a full buffet breakfast at your hotel.
We depart to Pamukkale, a true marvel of nature boasting a massive white cascade, intricate stalactite formations, and inviting natural pools created by the thermal springs. Renowned for its remarkable calcareous terraces, which have crystallized over time due to the calcium-rich water sourced from the region.
We will, then, visit Hierapolis, where a vast necropolis featuring over 150,000 tombs awaits our discovery.
In the evening, enjoy a delightful dinner at your hotel.
Overnight stay in Pamukkale at Hotel Doga Termal.
Day

7
Pamukkale Ephesus Izmir Istanbul
Enjoy a full buffet breakfast at your hotel.
Departure to Ephesus, the capital of Asia Minor in Roman times. Visit the archaeological vestiges, where the temple of Hadrian and the library of Celso stand out. We will have the chance to visit a typical fur production center.
Later, we will make our way to Izmir's airport to catch a flight back to Istanbul. Upon arrival, we will come together with the fellow travelers for a memorable Farewell Dinner hosted at a local restaurant.
Overnight stay in Istanbul at Hotel Barcelo Istanbul.
Day

8
Istanbul Istanbul Airport
Enjoy breakfast at the hotel before a private transfer takes you to the airport.
Accommodation
The recently renovated Barceló Istanbul hotel is situated at the heart of the city near the elegant Taksim Square. It offers 270 well-designed rooms and suites with modern amenities, providing utmost comfort. The hotel boasts contemporary facilities including a rooftop lounge, sunbathing area with jacuzzis, and an impressive 1,200 square meter Wellness and Fitness Center. Additionally, it features 7 versatile event spaces accommodating up to 600 individuals, equipped for successful meetings and gatherings. The hotel's prime location in the Beyoglu district makes it an excellent choice for both business and leisure travelers, allowing them to immerse themselves in Istanbul's rich historical, cultural, and economic offerings.
Hanedan Cappadocia Suites
Experience the captivating allure of Hanedan Cave Suites in Nevsehir, situated 6 km from Urgup Museum. With a charming garden and terrace, the hotel offers a 24-hour front desk service, elegantly designed rooms with vintage furniture, private bathrooms, and select rooms featuring terraces. A comfortable seating area graces each room, while a buffet breakfast starts your day. Cycling activities are available, allowing you to explore nearby attractions including Tatlarin Underground City (34 km) and Dark Church (8 km). Conveniently close, Nevsehir Airport is approximately 38 km away, inviting you to revel in the unique blend of comfort and adventure that Hanedan Cave Suites promises.
Nestled in the heart of Konya, Dedeman Hotel presents rooms with complimentary Wi-Fi, conveniently situated next to one of the city's largest shopping centers. The hotel boasts a rooftop bar and a range of recreational amenities, including an outdoor swimming pool, squash court, and fitness center. The contemporary air-conditioned rooms at Dedeman Konya Hotel Convention Center are equipped with a flat-screen TV and minibar. Indulge in Turkish and International cuisine at the Safran Restaurant amidst sophisticated surroundings. For panoramic city views, the Roof Restaurant and Bar is a perfect choice, and 24-hour room service is at your disposal. The hotel's offerings encompass an indoor swimming pool, hot tub, and hammam, inviting relaxation and massage indulgence.
Beyond being a localized thermal hotel, Doğa Thermal Health & Spa boasts consistent therapeutic thermal water temperatures throughout the year, an expansive 693-square-meter spa and wellness center, four distinct conference venues, and a variety of leisure and communal spaces. As an opulent 5-star gem in the Karahayıt-Pamukkale region, this extraordinary establishment, located approximately 3 kilometers from the UNESCO World Heritage site of Pamukkale and conveniently situated about an hour's drive (60 km/37.28 miles) from Denizli Çardak Airport, offers an unparalleled experience.
Additional information
Excluded
International airfares and taxes
Domestic airfares and taxes, unless otherwise specified in our holiday package
Visa expenses, processing and issuance fee
Meals other than as specified in our holiday package
Travel Insurance or expenses of a personal nature (mini-bar, phone call, laundry, etc.),
Tips or gratuities to guides, drivers, porters, hotel, restaurant or boat staff, etc.
Or any other travel expense that has not been included in our holiday package (Entrance tickets to sites and museums)
FAQs
Who are Entire Travel Group?
Welcome to Entire Travel Group. We offer exceptional travel experiences across our extensive range of Entire Holiday Packages, Entire Group Journeys, Entire Rail Journeys, and Entire Cruise Journeys. With our industry-leading Peace of Mind Booking Plan, you can Book Now with flexibility and confidence.
Entire Travel Group is celebrating over 50 years of passionately delivering unique and memorable travel experiences. We are an Australian, family-owned, award-winning business with a friendly team ready to match your expectations to the perfect holiday experience.
Entire Travel Group used to be known by the individual brands shown in the footer of the website. The company has not changed, but we have amalgamated under one brand - Entire Travel Group.
For more details please visit - About Us | Entire Travel Group
Is Entire Travel Group Australian owned and operated?
Entire Travel Group is proudly Australian family owned and operated and as it stands today represents 50 years of experience, progress, and evolution. We proudly support the community with our long-term commitment to many important charity organisations. We were awarded the best operator in our class at the most recent National Travel Industry Awards.
Is Entire Travel Group industry accredited?
Entire Travel Group is both ATAS and CATO Accredited. ATAS is actively administered by the Australian Travel Industry Association (ATIA). The Council of Australian Tour Operators (CATO) is the trade association representing the land supply sector of the Australian Travel Industry.
Does Entire Travel Group have industry awards?
Entire Travel Group was honoured at the 2023 National Travel Industry Awards with Most Oustanding Wholesaler - Product / Service.
As our team works tirelessly to deliver exceptional holiday experiences, it was exciting to have this acknowledged with the highest recognition. The award is also a testament to the quality of our partners around the globe, and we take this opportunity to thank them for their tremendous support of our customers.
Are the Entire Travel Group holiday packages exclusive?
In some cases, we are the sole representative in Australia for the overseas travel operator. In other circumstances the product developed has been exclusively built for Entire Travel Group and can't be found elsewhere.
What's unique about Entire Travel Group Holiday Packages?
They are not group tours with set departures - they are pre-designed, purpose built, independent holiday packages full of unique and memorable experiences.
Our holiday packages have been exclusively built for us in collaboration with our handpicked suppliers, who also offer full on-ground support for the clients.
We are offering unique travel experiences which cannot be found elsewhere.
Many packages include our "Freedom of Choice" options which allow you to tailor the holiday experience. Like a sommelier matching wine to a meal, we have used our experience to carefully select and offer the right experiences in each location.
They include our Peace of Mind Booking Plan.
A wide selection of our packages are compliant with the World Travel & Tourism Council (WTTC) Covid Safe Travels.
Our motto for Independent Holiday Packages is start your holiday when and with who you want!
Our Independent Holiday Packages are NOT group tours with set departure dates. Group Tours have specific set departure dates, and of course, you are travelling with unknown passengers in a coach. These tours are great for certain travellers and there are many reputable tour operators providing a wide range of options around the world.
At Entire Travel Group, our focus is Independent Holiday Packages. Available daily, they are pre-designed, purpose built, packaged itineraries full of memorable experiences delivered by our hand-picked local partners.
Our holidays suit every demographic, from couples to singles, to retirees to families and everyone else in between.
Why travel with Entire Travel Group?
Of Entire Travel Group's attributes, we have settled on "When Experience Matters" as the quality we believe adds the most value to our customers. We have the experience to ensure your itinerary makes the dream holiday possible. Our continually enhanced technology allows our team to provide a quality customer service experience, and our partnerships with outstanding operators ensure we are confident of the on-ground experience for our customers.
For more details please visit - About Us | Entire Travel Group
How does the Peace of Mind Booking Plan work?
Our Peace of Mind Booking Plan allows you to book with confidence in the new international travel environment. With low deposits, a cooling off period and a flexibility period where you can cancel and rebook later, we really do have you covered.
For more details please visit - Peace of Mind Booking Plan | Entire Travel Group
Is there a cooling-off period?
Look for packages with our Peace of Mind Booking Plan logo on the website.
We understand that occasionally plans may change, so we give you the confidence to proceed with a cooling off period.
You may cancel for any reason within 7 days, where you will receive a 100% refund of your $100 per person deposit.
For more details please visit - Peace of Mind Booking Plan | Entire Travel Group
What is Freedom of Choice?
At Entire Travel Group we understand that our customers have their own personal tastes and interests - so throughout our packages look for "Freedom of Choice" which gives you the ability to tailor your holiday from the various experiences offered on selected days. Like a sommelier matching wine to a meal, we have used our experience to carefully select and offer the right experiences in each location.
The Freedom of Choice options are included in the package price, and the price remains the same regardless of the choice you make on each day.
Our Freedom of Choice program offers flexibility, by allowing you to choose from different options on pre-selected days in the itinerary.
Our per person price includes one tour on each Freedom of Choice day in the itinerary.
The price of the package remains the same regardless of the choice you make on each day.
For more details please visit - Freedom of Choice | Entire Travel Group
What is Book Now?
Book Now offers you the ability to make a reservation on our website for Holiday Packages that include our Peace of Mind Booking Plan. But it's not just a static offer – you have complete flexibility from travel dates, passenger numbers, single supplements, room upgrades, optional extras, flexible booking terms and more.
Our team will contact our overseas suppliers and confirm all arrangements.
A Confirmation from our reservation system will be sent in the coming days.
The Booking Number on this confirmation supersedes the website reference.
What forms of payment can be used at Entire Travel Group?
To confirm a booking using our on-line Book Now process, a credit card must be used to pay the refundable deposit.
For additional payments on the booking, Entire Travel Group supports bank transfer, credit card, TravelPay B2B, PaymentGate.
For further details please visit our Payments page.
How secure is the Entire Travel Group's on-line payment portal?
Entire Travel Group have partnered with TravelPay to ensure secure on-line credit card payments.
TravelPay is a level 1 PCI DSS compliant, which gives you peace of mind that your payment card data is in safe hands.
Entire Travel Group does not store any credit card information.
For more details please visit - Security and Compliance - TravelPay
Can you book my international airfares?
On some Islands Holiday Packages (e.g. Fiji), it is practical to include flights, so where we have done this it is indicated by the plane icon.
However, on the majority of our Holiday Packages, we do not include international flights.
We found that many customers may prefer to:
Travel on a specific airline of their choice
Have the flexibility to book flights with Frequent Flyer points
Select flight dates that may be different to our Holiday Package start/end dates
Use a Travel Credit already held with the airline
Use their travel agent for this service
We are able to assist with flights on any Holiday Package, so please just notify us during the Book Now process or contact our team.
Should I take travel insurance?
Travel insurance is strongly recommended. During the Book Now process please confirm you require assistance, and our team will be in contact with you.
What should I do before travelling?
Before you travel it is your responsibility to ensure you have the appropriate documentation including visas. If you are travelling on a passport other than Australian or New Zealand, you will require a permit to re-enter Australia. It is your responsibility as the traveller and/or travel booker to meet all government entry requirements.
For more information please visit - Before you travel | Entire Travel Group
How does a Travel Agent make a booking?
Please visit the Entire Travel Group's Agent Portal. We are here to support our industry partners with a range of informative updates, marketing collateral for campaigns and a reward & recognition program.
How do I start a Booking?
On any page that has Book Now simply follow the booking process.
You must select the Travel Agent tick box and provide correct details.
To confirm a booking only the refundable deposit is required.
An agency credit card must be used for this initial payment.
How do I contact Entire Travel Group?
Türkiye (Turkey) Journeys
Subscribe now for your chance to win
a $500 Travel Voucher
Be the first to hear about our new Holiday Packages