The Renaissance barge cruising along Canal de Briare
Cycle along the canal's path
Renaissance barge cruising the aqueduct in Briare
Saloon of Renaissance barge
Enjoy gourmet meals and French wines aboard
Cabin accommodation at Renaissance
Renaissance Barge - Upper Loire & Western Burgundy Cruise
(11147)
Discover the charm and beauty of Upper Loire and Western Burgundy as you cruise along Canal de Briare and the Loire River aboard Renaissance. Both regions are stepped in history, culture and picturesque scenery that will surely charm first-time and returning visitors.
France
Highlights
7-day, all-inclusive cruise aboard the Renaissance barge
Visit Chateau de Fontainebleau, one of the largest French royal chateaux and a UNESCO World Heritage Site.
Discover Château de La Bussière, known as the "fisherman's castle".
Explore the town of Gien, known for its castle and famous pottery
Tour and wine tasting in Sancerre
Cruise the aqueduct built by Gustave Eiffel
Renaissance was built in 1960 in Belgium and used to carry grain and ore. She was converted to a hotel barge in 1997 and now cruises in the waterways of Burgundy and Loire Valley. The elegant, 8-passenger
Renaissance cruises along the scenic Canal de Briare, France's oldest canal, and the Loire River, the longest river in the country. Renaissance can accommodate up to eight passengers with four spacious suites with en-suite facilities, saloon dining room, relaxing sun deck with spa pool, small library and bicycles.
Renaissance will take you to the heart of upper Loire Valley region and western Burgundy, steeped in history, culture and breathtaking countryside. This classic cruise highlights include Château de Fontainebleau, Château de Ratilly and the charming towns of Gien and Briare.
2020 Departure Dates
5, 12, 19 & 26 April
3, 10, 17, 24 & 31 May
7, 14, 21 & 28 June
5, 12, 19 & 26 July
2, 9, 16, 23 & 30 August
6, 13, 20 & 27 September
4, 11, 18 & 25 October
Included
7-day cruise aboard Renaissance
Comfortable accommodation in an air-conditioned, suite with bathroom and shower
Gourmet meals prepared by the on-board chef, fine wines and an open bar
Daily escorted excursions to places of interest and private wine tastings
Local transfers with designated drop-off and pick-up points
On-board facilities – small library, spa pool & bicycles
On-Board Facilities
Maximum of 8 passengers
4 suites
8 bicycles
Small library of books and maps
Collection of board games
Fishing rods
Nordic walking sicks (on request)
Bose Hi-fi system with an iPod docking station, radion and a selection of CDs
Guest iPods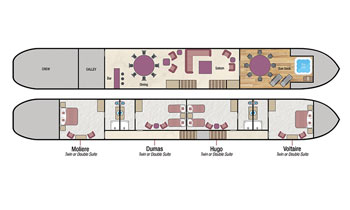 You are met at the meeting point in Paris and transferred by private chauffeured minibus to the spacious Renaissance where a Champagne welcome with canapés awaits you and you meet the Captain and crew. Time enough for a walking tour of the pretty village of Montargis before dinner on board.
Day 2
Montargis – Montbouy
This morning, embark on our first cruise through the Loire countryside, with great towpath walking and cycling opportunities, to moor at Montbouy.
After lunch on board, your visit this afternoon is to the splendid Château de Fontainebleau, a national museum and UNESCO World Heritage Site. It is the only royal and imperial château to have been continuously inhabited for seven centuries and every French royal family has added its own architectural style and features when in residence. To walk through this palace is to walk through the history of France, and you are lucky enough to be accompanied by a friendly and knowledgeable guide. Dinner on board.
Day 3
Montbouy – Rogny-les-Sept-Ecluses
This morning, visit the privately-owned Château de La Bussière, known as the 'fishermen's castle', with its wonderful ornamental and vegetable gardens. Following lunch back on board, enjoy an afternoon cruise to our mooring at the pretty village of Rogny-les-Sept-Ecluses, near its 350-year-old 7 lock-flight, which is well worth visiting on foot. Dinner on board.
Day 4
Rogny-les-Sept-Ecluses – La Gazonne
After a leisurely breakfast of fresh croissants, baguettes and assorted pastries, visit Gien, home of the Faience pottery, renowned for its beautifully decorated and vibrant dinnerware, and also explore the town's bustling market.
After lunch, enjoy an afternoon cruise to La Gazonne, a beautiful mooring surrounded by lakes and ponds that provide water for the workings of the Canal de Briare. Dinner ashore at the Michelin-starred Auberge des Templiers in Les Bezards.
Day 5
La Gazonne – Briare
A morning cruise to you mooring at the little town of Briare, site of Gustave Eiffel's magical aqueduct across the River Loire, again with excellent walking and bicycling opportunities. You will preview Friday's crossing of this amazing 10,000-ton, 662-metre Pont Canal which was completed in September 1896.
Your afternoon visit is to a renowned winery in Sancerre, such as Domaine Henri Bourgeois in Chavignol, for a tour and private tasting. This medieval hilltop village overlooks a vibrant region which has known viticulture since Roman times. Dinner on board.
Day 6
Briare – Châtillon-sur-Loire
This morning, wander around fruit and vegetable, seafood, cheese and French fashion stalls in the market in Briare before returning to the hotel barge for a short cruise across the aqueduct and lunch on-board.
This afternoon, visit the delightful Château de Ratilly and its rather spectacular selection of turreted towers, construction of which began in 1270! Captain's farewell dinner on-board.
Day 7
Châtillon-sur-Loire
After breakfast, you are transferred by private chauffeured minibus to Paris.
Renaissance Barge - Upper Loire & Western Burgundy Cruise
(11147)
6 nights
from
AUD11,845
per person, twin share
Important notes
This is a sample itinerary and is subject to change. On alternate weeks, the cruise will be in the reverse direction.
Private charter bookings and themed cruises are also available.