Italy
Italian Gourmet Delights by Train
(Tour code: 12982)
Travel Periods
18 Apr 24 - 10 Oct 24
Travel Style
Rail Escorted Tours
Learn the art of pasta-making, craft your own pizzas, and savour fine wines and Limoncello along the way. Your authentic Italian Gourmet delights by train awaits!
Highlights
Maximum group size is 20 passengers, ensuring a personalized and enjoyable travel experience.
Worry-free luggage porterage service at railway stations and/or "luggage bus" (that delivers luggage from hotel to hotel)
Join a pasta-making class, followed by a delightful lunch paired with the renowned Frascati DOCG wine in a picturesque setting.
Dive into the heart of Naples with a local flavors experience and a pizza-making class!
Venture to Sorrento for Limoncello tasting!
Sample the renowed Chianti wine, and learn the art of olive oil production.
Join a hands-on tortellini-making demonstration at the Tortellini LAB!
Sample the finest Barolo wine during a full-day exploration of the Langhe region!
Cancel booking
Are you sure you want to cancel this booking?
All services are subject to availability.
Book Now
Only $100pp deposit to Book Now
Overview
Welcome to "Italian Gourmet Delights by Train," where the journey promises an intimate and enjoyable experience with a maximum group size of 20 passengers. Our worry-free travel includes luggage porterage services and a delightful "luggage bus" to ensure your peace of mind.
Throughout this culinary adventure, you'll immerse yourself in authentic Italian flavors, from pasta-making in Frascati to the art of pizza in Naples, Limoncello in Sorrento, Chianti wine and olive oil in Tuscany, and tortellini near Modena. To enhance your palate, you'll also sample the renowned Barolo wine in the picturesque Langhe region. Join us for a delectable exploration of Italy's gourmet treasures!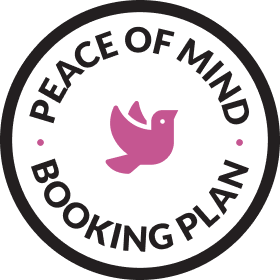 ENTIRE Cooling-Off Period
ENTIRE AUD Prices
ENTIRE Change of Mind
ENTIRE Industry Accredited
ENTIRE On Ground Support
ENTIRE Australian Owned
Inclusions
2 nights in Rome at Starhotels Metropole - 4*
2 nights in Naples at Palazzo Caracciolo - 4*
2 nights in Florence at Hotel Mulino di Firenze - 4*
3 nights in Turin at Starhotels Majestic - 4*
Train transfers in First class
Meals: 9 breakfast, 1 lunch, 6 dinner
Gourmet Street Food walking tour in Rome, Naples, Florence and Turin
Food experiences curated in collaboration with a professional sommelier, as outlined in the itinerary.
Professional English speaking guide for the entire duration of the tour
Worry-free luggage porterage service at railway stations
Itinerary
Upon arrival make your way to your hotel in Rome city center.
Take your time to settle and relax, then in the afternoon meet your Tour Leader and group. Discover Rome's culinary wonders on a gourmet walking tour through its historic center. Savour the city's rich flavors, guided by local experts, as you indulge in authentic Italian delicacies at carefully selected eateries. End the memorable day with a delightful dinner, immersed in the charming ambiance of Rome's culinary traditions.
Overnight stay in Rome at Starhotels Metropole.
After a buffet breakfast, the morning is at your leisure or you may choose to add extra experiences (additional cost) such as Colosseum and Ancient Rome tour or Vatican Museum..
In the afternoon, embark on a delightful journey by taking the regional train to Frascati, an idyllic town situated just 30 minutes away from Rome. Immerse yourself in an extraordinary pasta-making workshop, thoughtfully curated and conducted by a knowledgeable local expert. Discover the age-old techniques and secrets behind the craft of creating exquisite and authentic Italian pasta. Afterwards, savour a truly delectable dinner that showcases the fruits of your labor - the pasta delicacies handcrafted by you. To enhance this remarkable culinary experience, the dinner will be accompanied by the finest wines sourced from the surrounding region.
At the end of the activity, you will return to Roma by train.
Overnight stay in Rome at Starhotels Metropole.
In the morning, after breakfast in the hotel, get on the high-speed train to Napoli.
After an hour's journey arrive in Naples and begin your wonderful day with a delectable street food gourmet walking tour through Naples' historic center. Savour the city's culinary gems as you indulge in mouthwatering savoury Pizza Fritta or Cuoppo, delight in a crisp Sfogliatella or a buttery Frolla, and indulge in the exquisite flavors of a Baba or Fiocco di Neve.
After some time to relax in your hotel in the heart of Naples, become an "italian Pizzaiolo" by participating a pizza-making cooking class! Guided by local experts, they master the art of hand-stretching dough, selecting fresh toppings, and baking in wood-fired ovens. Enjoy your creations served with local wine in a delightful dining setting.
Overnight stay in Naples at Palazzo Caracciolo.
Day

4
Naples Sorrento Naples
Today, endeavor to immerse yourself in the awe-inspiring Sorrento coast on a captivating discovery tour departing from Naples.
Delight in the genuine pleasure of trying Mozzarella, a classic Italian cheese, and indulging in Limoncello, a traditional liqueur crafted from locally sourced lemons. Following this, a scrumptious seafood lunch awaits, perfectly complemented by a selection of chilled local wines.
As the afternoon unfolds, you will have the opportunity to leisurely explore the alluring charm and captivating beauty of Sorrento. Back to Naples in the late afternoon.
Overnight stay in Naples at Palazzo Caracciolo.
In the morning, board a high-speed train that will transport you to the enchanting city of Florence within a span of two hours.
Upon arrival, embark on a delightful gastronomic adventure through the historic center of Florence, indulging in the most exquisite street food treasures while reveling in the splendour of this grand city. Immerse yourself in a Gourmet Street Food walking tour amidst the ancient heart of Florence and indulge in 2 mouthwatering food stops accompanied by a refreshing glass of wine and a gelato.
After lunch at leisure, reach your hotel just a few minutes from the historic center of Florence, an unusual setting where the natural greenery surrounding Florence and the water of the River Arno merge.
Tonight, treat yourself to a delicious Bistecca dinner featuring a perfectly grilled Florentine steak. You'll also get to savor some tasty traditional sides and enjoy locally crafted wines.
Overnight in Florence at Hotel Mulino di Firenze.
Day

6
Florence Chianti Florence
Enjoy a relaxing morning by exploring the city at your own pace. Take the opportunity to admire the awe-inspiring Donatello's David or be wowed by the breathtaking panoramic views of Florence from Piazzale Michelangelo.
In the afternoon, experience the enchanting beauty of Chianti on an immersive tour: learn about the art of olive oil and winemaking from knowledgeable experts and enjoy the taste of those local products. Culminate your adventure with a memorable dinner amidst picturesque vineyards, relishing a delectable meal paired perfectly with local wines.
Overnight in Florence at Hotel Mulino di Firenze.
Day

7
Florence Reggio Emilia Turin
After breakfast, hop on a high-speed train to Reggio Emilia, a journey taking around 1.5 hours.
Once there, embark on an exciting Food Valley tour, exploring the rich culinary heritage of the region, tasting exquisite Lambrusco wines. Sample the aged traditional balsamic vinegar and uncover the mysteries of Parmigiano Reggiano. Immerse yourself in the authentic atmosphere of the Tortellini cooking class, where you'll experience a hands-on demonstration of crafting tortellini, learning the secrets of this cherished Italian dish.
In the afternoon, catch another high-speed train to Turin, check in at your hotel and enjoy time at leisure.
Ovenight stay in Turin at Starhotels Majestic.
Start your morning by immersing yourself in the city's vibrant culinary culture.
Take a leisurely stroll through charming cobblestone streets and let an expert guide accompany you on this delightful culinary adventure. Explore the flavours of Turin by sampling the finest local delicacies, from the renowned "Bicerin" to artisanal chocolates "Gianduiotto" and allow yourself to be captivated by its exquisite taste. Finally, conclude the tour with a delicious artisanal gelato, adding a sweet and refreshing touch to your unforgettable culinary experience.
In the afternoon, the remainder of the day is yours to explore the city.
Ovenight stay in Turin at Starhotels Majestic.
After breakfast, experience a full-day journey amidst the breathtaking landscapes of Langhe.
As you embark on a tour of exquisite vineyards and indulge in a delightful wine tasting session showcasing the renowned Barolo wines.
The day culminates with a cherished farewell dinner in the picturesque town of Alba, where you will savour the flavors of truffle, accompanied by two glasses of wine. This enchanting region will bestow upon you unforgettable memories.
Overnight stay in Turin at Starhotels Majestic.
After enjoying our breakfast, we conclude our journey exploring the enchanting wonders of Italy and indulging in its culinary masterpieces.
Accommodation
Nestled in the heart of Rome's city center, the Starhotels Metropole offers a harmonious blend of comfort and sophistication, conveniently located near the Roma Termini railway station and the Rome Opera House. Within a 10-minute walk, guests can explore renowned landmarks such as the Colosseum, the Fori Imperiali, and the Trevi Fountain. With 236 newly renovated rooms and suites providing a peaceful retreat from the city's bustle, an exquisite dining experience at the Apicio restaurant, and a welcoming ambiance at the Bistrot Rendez Vous bar, this hotel caters to diverse tastes. Additionally, its nine cutting-edge meeting rooms, accommodating up to 160 people, make it an ideal choice for both business meetings and private events in Rome.
Palazzo Caracciolo's grandeur encompasses 145 rooms that seamlessly blend history with contemporary hospitality essentials. The imposing walls provide naturally soundproofed spaces, offering a comfortable ambiance in both summer and winter. Nestled within the heart of the palace, the exclusive Suites embody the building's noble essence. These sumptuous, elegantly appointed accommodations boast lavish details, refined architecture, and are adorned with exquisite coffered ceilings. The spacious layouts extend up to 70 square meters, exemplifying luxury at its finest.
Experience the enchanting allure of the countryside, set against the backdrop of lush greenery, just moments away from Florence's historic center. Indulge in the Mulino di Firenze, a vacation that promises to fulfill your dreams with a blend of nature, art, entertainment, and authentic local cuisine.
A meticulous and knowledgeable renovation has breathed new life into a 15th-century mill, transforming it into an exclusive 4-star superior hotel that remains faithful to its historical roots. The building's rich history and distinctive characteristics remain unaltered, rendering it truly unique in the heart of Tuscany. This rare and beautiful gem beckons to you, enhanced by the presence of its indoor spa—a haven of wellness that invites you to immerse yourself in its splendor.
Additional information
Official language
Italian
This trip can be enjoyed by just about anyone with a reasonable level of fitness. Average physical ability is required such as long walks of a few hours
Excluded
International airfares and taxes
Domestic airfares and taxes, unless otherwise specified in our holiday package
Visa expenses, processing and issuance fees
Meals other than as specified in our holiday package
Travel Insurance or expenses of a personal nature (mini-bar, phone call, laundry, etc.),
Tips or gratuities to guides, drivers, porters, hotel, restaurant or boat staff, etc.
Or any other travel expense that has not been included in our holiday package
FAQs
Who are Entire Travel Group?
Welcome to Entire Travel Group. We offer exceptional travel experiences across our extensive range of Entire Holiday Packages, Entire Group Journeys, Entire Rail Journeys, and Entire Cruise Journeys. With our industry-leading Peace of Mind Booking Plan, you can Book Now with flexibility and confidence.
Entire Travel Group is celebrating over 50 years of passionately delivering unique and memorable travel experiences. We are an Australian, family-owned, award-winning business with a friendly team ready to match your expectations to the perfect holiday experience.
Entire Travel Group used to be known by the individual brands shown in the footer of the website. The company has not changed, but we have amalgamated under one brand - Entire Travel Group.
For more details please visit - About Us | Entire Travel Group
Is Entire Travel Group Australian owned and operated?
Entire Travel Group is proudly Australian family owned and operated and as it stands today represents 50 years of experience, progress, and evolution. We proudly support the community with our long-term commitment to many important charity organisations. We were awarded the best operator in our class at the most recent National Travel Industry Awards.
Is Entire Travel Group industry accredited?
Entire Travel Group is both ATAS and CATO Accredited. ATAS is actively administered by the Australian Travel Industry Association (ATIA). The Council of Australian Tour Operators (CATO) is the trade association representing the land supply sector of the Australian Travel Industry.
Does Entire Travel Group have industry awards?
Entire Travel Group was honoured at the 2023 National Travel Industry Awards with Most Oustanding Wholesaler - Product / Service.
As our team works tirelessly to deliver exceptional holiday experiences, it was exciting to have this acknowledged with the highest recognition. The award is also a testament to the quality of our partners around the globe, and we take this opportunity to thank them for their tremendous support of our customers.
Are the Entire Travel Group holiday packages exclusive?
In some cases, we are the sole representative in Australia for the overseas travel operator. In other circumstances the product developed has been exclusively built for Entire Travel Group and can't be found elsewhere.
What's unique about Entire Travel Group Holiday Packages?
They are not group tours with set departures - they are pre-designed, purpose built, independent holiday packages full of unique and memorable experiences.
Our holiday packages have been exclusively built for us in collaboration with our handpicked suppliers, who also offer full on-ground support for the clients.
We are offering unique travel experiences which cannot be found elsewhere.
Many packages include our "Freedom of Choice" options which allow you to tailor the holiday experience. Like a sommelier matching wine to a meal, we have used our experience to carefully select and offer the right experiences in each location.
They include our Peace of Mind Booking Plan.
A wide selection of our packages are compliant with the World Travel & Tourism Council (WTTC) Covid Safe Travels.
Our motto for Independent Holiday Packages is start your holiday when and with who you want!
Our Independent Holiday Packages are NOT group tours with set departure dates. Group Tours have specific set departure dates, and of course, you are travelling with unknown passengers in a coach. These tours are great for certain travellers and there are many reputable tour operators providing a wide range of options around the world.
At Entire Travel Group, our focus is Independent Holiday Packages. Available daily, they are pre-designed, purpose built, packaged itineraries full of memorable experiences delivered by our hand-picked local partners.
Our holidays suit every demographic, from couples to singles, to retirees to families and everyone else in between.
Why travel with Entire Travel Group?
Of Entire Travel Group's attributes, we have settled on "When Experience Matters" as the quality we believe adds the most value to our customers. We have the experience to ensure your itinerary makes the dream holiday possible. Our continually enhanced technology allows our team to provide a quality customer service experience, and our partnerships with outstanding operators ensure we are confident of the on-ground experience for our customers.
For more details please visit - About Us | Entire Travel Group
How does the Peace of Mind Booking Plan work?
Our Peace of Mind Booking Plan allows you to book with confidence in the new international travel environment. With low deposits, a cooling off period and a flexibility period where you can cancel and rebook later, we really do have you covered.
For more details please visit - Peace of Mind Booking Plan | Entire Travel Group
Is there a cooling-off period?
Look for packages with our Peace of Mind Booking Plan logo on the website.
We understand that occasionally plans may change, so we give you the confidence to proceed with a cooling off period.
You may cancel for any reason within 7 days, where you will receive a 100% refund of your $100 per person deposit.
For more details please visit - Peace of Mind Booking Plan | Entire Travel Group
What is Freedom of Choice?
At Entire Travel Group we understand that our customers have their own personal tastes and interests - so throughout our packages look for "Freedom of Choice" which gives you the ability to tailor your holiday from the various experiences offered on selected days. Like a sommelier matching wine to a meal, we have used our experience to carefully select and offer the right experiences in each location.
The Freedom of Choice options are included in the package price, and the price remains the same regardless of the choice you make on each day.
Our Freedom of Choice program offers flexibility, by allowing you to choose from different options on pre-selected days in the itinerary.
Our per person price includes one tour on each Freedom of Choice day in the itinerary.
The price of the package remains the same regardless of the choice you make on each day.
For more details please visit - Freedom of Choice | Entire Travel Group
What is Book Now?
Book Now offers you the ability to make a reservation on our website for Holiday Packages that include our Peace of Mind Booking Plan. But it's not just a static offer – you have complete flexibility from travel dates, passenger numbers, single supplements, room upgrades, optional extras, flexible booking terms and more.
Our team will contact our overseas suppliers and confirm all arrangements.
A Confirmation from our reservation system will be sent in the coming days.
The Booking Number on this confirmation supersedes the website reference.
What forms of payment can be used at Entire Travel Group?
To confirm a booking using our on-line Book Now process, a credit card must be used to pay the refundable deposit.
For additional payments on the booking, Entire Travel Group supports bank transfer, credit card, TravelPay B2B, PaymentGate.
For further details please visit our Payments page.
How secure is the Entire Travel Group's on-line payment portal?
Entire Travel Group have partnered with TravelPay to ensure secure on-line credit card payments.
TravelPay is a level 1 PCI DSS compliant, which gives you peace of mind that your payment card data is in safe hands.
Entire Travel Group does not store any credit card information.
For more details please visit - Security and Compliance - TravelPay
Can you book my international airfares?
On some Islands Holiday Packages (e.g. Fiji), it is practical to include flights, so where we have done this it is indicated by the plane icon.
However, on the majority of our Holiday Packages, we do not include international flights.
We found that many customers may prefer to:
Travel on a specific airline of their choice
Have the flexibility to book flights with Frequent Flyer points
Select flight dates that may be different to our Holiday Package start/end dates
Use a Travel Credit already held with the airline
Use their travel agent for this service
We are able to assist with flights on any Holiday Package, so please just notify us during the Book Now process or contact our team.
Should I take travel insurance?
Travel insurance is strongly recommended. During the Book Now process please confirm you require assistance, and our team will be in contact with you.
What should I do before travelling?
Before you travel it is your responsibility to ensure you have the appropriate documentation including visas. If you are travelling on a passport other than Australian or New Zealand, you will require a permit to re-enter Australia. It is your responsibility as the traveller and/or travel booker to meet all government entry requirements.
For more information please visit - Before you travel | Entire Travel Group
How does a Travel Agent make a booking?
Please visit the Entire Travel Group's Agent Portal. We are here to support our industry partners with a range of informative updates, marketing collateral for campaigns and a reward & recognition program.
How do I start a Booking?
On any page that has Book Now simply follow the booking process.
You must select the Travel Agent tick box and provide correct details.
To confirm a booking only the refundable deposit is required.
An agency credit card must be used for this initial payment.
How do I contact Entire Travel Group?
Italian Gourmet Delights by Train
SOMEWHERE ELSE TO CONSIDER
Subscribe now for your chance to win
a $500 Travel Voucher
Be the first to hear about our new Holiday Packages