Rocky Mountaineer
Rocky Mountaineer
Rocky Mountaineer
Rocky Mountaineer
Rocky Mountaineer
Rocky Mountaineer
An unforgettable way to experience the Canadian Rockies. Offering four unique North American rail routes and renowned for its luxurious glass-dome coaches, Rocky Mountaineer is considered by many to be one of the world's ultimate travel experiences. The breathtaking scenery is complemented by vibrant storytelling, regionally-inspired cuisine and impeccable service. Onboard, everything is choreographed to make your journey feel special, effortless and unforgettable.
Featured Rocky Mountaineer Packages


FOUR UNFORGETTABLE RAIL ROUTES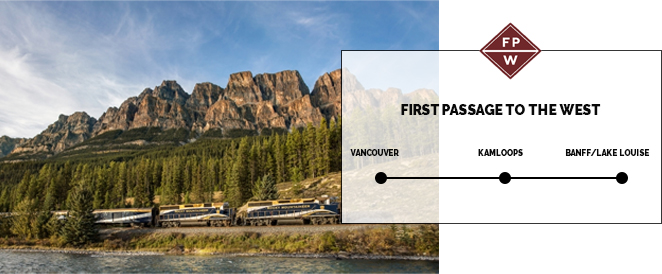 Following the transcontinental rail line, the First Passage to the West is Rocky Mountaineer's most popular route and travels between Vancouver and Banff/Lake Louise. Route highlights include Cisco Crossing, Hell's Gate, Spiral Tunnels, Avalanche Valley, Craigellachie, Hoodoos, Stoney Creek Bridge, Rogers Pass, Kicking Horse River, Castle Mountain and Mount Rundle.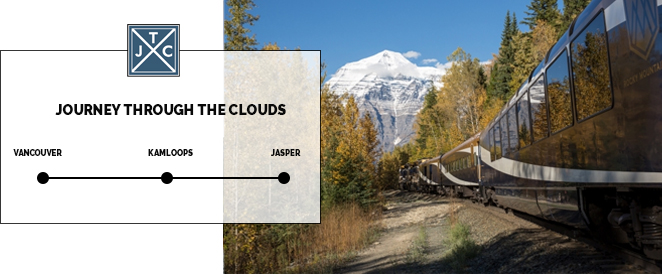 Experience the natural wonders of the West on the Journey Through the Clouds - Witness unspoiled beauty from the bustling city of Vancouver to the beautiful mountain town of Jasper, the largest national park in the Canadian Rockies. Route highlights include Hell's Gate, Cisco Crossing, Rainbow Canyon, Avalanche Valley, Pyramid Falls, Albreda Glacier, Moose Lake, Yellowhead Pass and the majestic Mount Robson.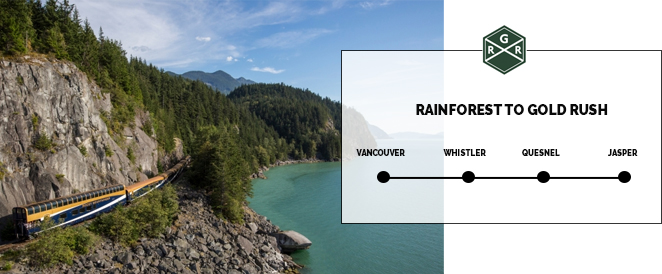 Witness true wilderness on the Rainforest to Gold Rush route between Vancouver and Jasper via Whistler and Quesnel. Explore the mountain mecca of Whistler. See hidden lakes and canyons few others get to witness. Available in GoldLeaf Service only, relax in comfort as you move through seemingly impassable terrain by the Rocky Mountaineer train. Revel in the history of the gold rush, marvel at Mount Robson, the highest peak in the Canadian Rockies.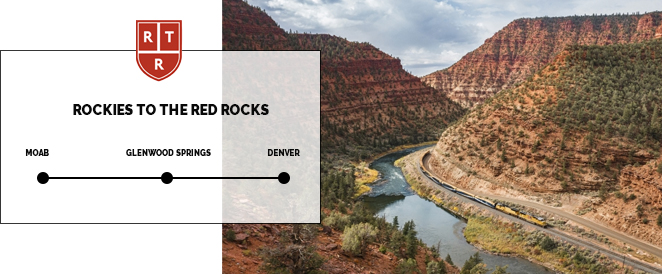 The newest route, Rockies to the Red Rocks, travels in the US between Denver, Colorado and Moab, Utah. With the ever-changing landscapes between Moab and Denver, this journey takes you from mesmerizing red sandstone landscapes that twist through the bright blue sky to majestic mountain ranges. Available in SilverLeaf Service only, this rail route is filled with highlights best seen by train, including Ruby Canyon, Mount Garfield. Moffat Tunnel and crossing the Continental Divide.

Life on board
No matter which service level you choose, every journey comes with breakfast and lunch served onboard; coffee, tea, drinks and snacks throughout the day; spacious and comfortable seating; hotel stays at midpoint destinations such as Kamloops, Quesnel, Whistler or Glenwood Springs; large glass-dome windows; plenty of photo opportunities and the Rocky Mountaineer hosts sharing stories and history along the route!

Rocky Mountaineer offers two levels of service: SilverLeaf Service and GoldLeaf Service*. Both come with friendly hosts and endlessly amazing views.
SilverLeaf service level gives you everything you need and more to experience the majesty of the Rocky Mountains in luxury: panoramic views, delicious meals and beverages brought right to your seat, friendly Hosts and complimentary baggage transfers. The custom-designed glass-dome coaches give you a truly panoramic view of your surroundings. The oversized windows give you a clean, crisp view and make photography a snap. So you can take it all in from the comfort of your reclining chair. Or you can get a little bit closer in the outdoor viewing area.
With GoldLeaf Service, indulge your senses with gourmet meals prepared by Executive Chefs, and expansive views through the panoramic windows of a bi-level glass dome coach through the Canadian Rockies. Stretch your legs and your viewing angles and make your way to the outdoor viewing platform. Sink into your spacious seat on the upper level and enjoy meals in the lower-level dining area.
Train by Day - Hotel by Night
As the evening sun casts a golden glow on the landscape, you climb off the train-and into a comfy hotel bed. With Rocky Mountaineer you get the best of both worlds: maximum views and maximum comfort. The daylight only service means you will be staying in beautiful hotels at each destination.
*Note: GoldLeaf Service is not offered on the Rockies to the Red Rocks route.
Dining:
Enjoy a menu inspired by the bounty of the passing regions, highlighted by prize-winning wines from British Columbia's Okanagan Valley. Whilst onboard Rocky Mountaineer, breakfast, lunch, snacks and beverages are all included. Need a top up? The friendly hosts appear right when you need another beverage!
Does Rocky Mountaineer have sleeper cars?
No. These are daylight rail journeys through the Canadian Rockies and American Southwest and are scheduled to show guests all of the scenery. We offer packages with hotel accommodation options pre- and post- your rail journey, and all include accommodation in the mid-point destination.
Can Rocky Mountaineer facilitate people with special needs and/or disabilities?
Rocky Mountaineer will make every effort to meet any special needs, including the requirements of disabled guests. Some of the Rocky Mountaineer coaches are wheelchair accessible. GoldLeaf Service coaches have elevators for guests who have problems using the spiral staircase. Please inform us at the time of booking if any assistance is required.
What is the best time of year to travel?
Each year, Rocky Mountaineer's season operates from April to October. These are all daylight tours meaning you stay overnight in comfortable accommodation in Kamloops, Quesnel, Glenwood Springs, and Whistler, the halfway points of the rail journeys. Travelling during this time of the year ensures that we take full advantage of the daylight hours and the spectacular scenery during the time of year when the regions show their full colours.
Can you cater to special dietary preferences?
While the onboard menus will have a selection of options to cater to various tastes and dietary requirements such as vegan, vegetarian, gluten-free etc., we ask that all guests notify us of any dietary restrictions or allergies in advance of travel.
Please advise us of your special dietary needs or allergies, at least 60 days prior to travel.
Does the train have Wi-Fi?
There is no Wi-Fi internet access onboard and much of the train route is out of cell phone range due to the train travelling through remote areas. There is cell service in major urban centres such as Kamloops, Quesnel, Whistler, and Glenwood Springs. We recommend guests use the outdoor viewing area for phone calls.
It is strongly recommended that guests disable data roaming or switch their device into airplane mode. Rocky Mountaineer will not be liable for any roaming charges incurred.
Is smoking permitted on the train?
To ensure the preservation of the fragile environment of the areas travelled through and for the comfort of all guests, there is no a smoking or vaping policy of any kind onboard Rocky Mountaineer, including vestibules, restrooms, inside the station, on the platforms or near the tracks. There is also no smoking in hotel rooms. We recommend that you prepare for the journey accordingly.
What is the dress code on the train?
Dress onboard Rocky Mountaineer is casual. Here are some recommendations on what you may want to wear onboard the train:
Comfortable, cool layers as there are expansive windows
A light jacket or sweater as the air conditioning may feel just right for some, but chilly for others
Flat-soled shoes with grip to help keep you steady with the natural movement of the train
A hat and sunglasses for sunny days
Are we able to pass between rail coaches?
While you aren't able to move between rail coaches, there are opportunities to move around within your coach. If you book GoldLeaf Service, you will enjoy a bi-level glass-dome coach with spacious seats upstairs and a dining room and outdoor viewing platform below. If you book SilverLeaf Service, your spacious, single-level glass-dome also has access to an outdoor viewing area to enjoy the fresh air. For Rockies to the Red Rocks, you also can enhance your journey by adding-on SilverLeaf Plus which will allow you access to the lounge car.
What are the luggage allowances?
Your rail journey includes complimentary luggage handling between destinations. When you check-in for your rail journey at one of Rocky Mountaineer's Guest Centres, you will be given a Rocky Mountaineer luggage tag. All checked luggage must include a Rocky Mountaineer luggage tag and a personal identification tag, including full name, return address and phone number.
Luggage allowances onboard Rocky Mountaineer
Luggage guidelines include:
Maximum two pieces of luggage per person
Total weight of luggage per person not to exceed 30kg, with a maximum weight per piece not more than 23kg.
Oversized items may be subject to surcharge
All luggage is subject to Rocky Mountaineer's luggage policy
Pack your fragile or breakable items in your luggage with care. Rocky Mountaineer is not responsible for any broken items.
Please note, if you booked a package there may be additional luggage restrictions due to accommodation or transportation inclusions. Refer to your travel documents for further details.
We recommend that you bring a day pack or bag which is small enough to fit at your feet onboard the train as there is no overhead or under seat storage, and you will not have access to your checked luggage while onboard. The space for your day pack or bag is approximately 16" x 11" x 8" in GoldLeaf Service, and 23" x 8" x 8" in SilverLeaf Service.
Will I need travel insurance?
As with all holidays and trips abroad, we strongly recommend that you have travel insurance. Please consult with our agents at time of booking and we can assist you with this.
Subscribe now for your chance to win
a $500 Travel Voucher
Be the first to hear about our new Holiday Packages