2 days onboard Rocky Mountaineer
Explore Vancouver at your leisure
Onboard Rocky Mountaineer
SilverLeaf Service onboard ©Rocky Mountaineer
First Passage to the West Classic
(11639)
Over 125 years ago, this route united Canada and helped define a nation. Travelling between the Pacific Coast and Banff, you'll witness mountains and wilderness, much of it seemingly unchanged since the days of the first explorers.
Canada
Highlights
Enjoy 2 days onboard Rocky Mountaineer as you journey from Vancouver to Banff via Kamloops in style.
Enjoy the views of the Canadian landscape which transforms from greenery to towering peaks to wilderness
Witness historic Craigellachie
Hell's Gate in the Fraser Canyon
Your journey starts in the urban oasis of Vancouver, from beautiful beach walks to award-winning restaurants, it's suburban, urban – and a natural beauty.

You will then board the Rocky Mountaineer for a journey through the farmlands of the Fraser Valley. From fertile greenery, the landscape transforms to the towering peaks of the Coast Mountains, until you travel along the shores of Kamloops Lake into the city of Kamloops. As your mountain adventure continues and you travel east along the South Thompson River, you'll witness historic Craigellachie.

You'll gaze in wonder at cascading waterfalls and at icy glaciers spilling over the lips of the peaks above, on your way to the charming alpine town of Banff. Here you'll discover a delightful combination of rugged mountains, lush parks with postcard scenery, and wildlife you'll need to see to believe.
Included
2 days onboard Rocky Mountaineer in SilverLeaf Service
1 night in Vancouver at Sheraton Wall Centre - 4*
1 night in Kamloops
1 night in Banff at Banff Caribou Lodge & Spa - 3*
Station transfers in Vancouver, Kamloops and Banff
4 meals included - 2 breakfasts and 2 lunches
Vancouver Lookout
National Parks Pass
Vancouver to Banff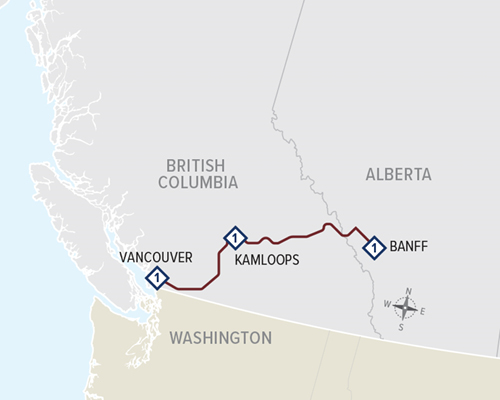 SilverLeaf Service
Onboard Rocky Mountaineer
Picture yourself onboard the world's leading luxury rail experience. From the moment you set foot onboard, experience hosts that will go above and beyond to make your journey as comfortable as it is unforgettable. The custom-designed glass-dome coaches provide you with panoramic views – or get a bit closer by stepping into the outdoor viewing area. See the sights by day, sleep in a hotel at night. With Rocky Mountaineer, you get the best of both worlds: maximum views, and maximum comfort.
SilverLeaf Service Inclusions:
Breakfast and lunch served in the comfort of your seat
Complimentary alcoholic and non-alcoholic beverages
Gourmet sweet and savoury snacks
Reclining, comfortable pre-assigned seating
Attended by two Hosts, plus one culinary team member
Luggage handling
Small outdoor viewing platform
Custom-designed single-level dome
Arrive in Vancouver and spend time exploring this scenic city on your own.
Overnight in Vancouver at the Sheraton Wall Centre.
Day 2
Rocky Mountaineer: Vancouver → Kamloops
Travel onboard the Rocky Mountaineer from the coastal city of Vancouver to Kamloops, in the heart of British Columbia's interior.
On today's journey you will see dramatic changes in scenery, from the lush green fields of the Fraser Valley, through forests and winding river canyons surrounded by the peaks of the Coast and Cascade Mountains, to the desert-like environment of the British Columbia interior. Highlights include the rushing waters of Hell's Gate in the Fraser Canyon and the steep slopes and rock sheds along the Thompson River.
Your day concludes as the Rocky Mountaineer travels along the shores of Kamloops Lake into Kamloops.
Overnight in Kamloops*
*Upon check-in for your train departure you will receive a boarding pass which will indicate your Kamloops accommodation. Your accommodation in Kamloops will be of a moderate standard, but will include all the essential amenities to make your stay comfortable.
Alcoholic and non-alcoholic beverages included whilst onboard Rocky Mountaineer.
Day 3
Rocky Mountaineer: Kamloops → Banff
Your journey continues Eastward to the mighty Canadian Rockies and the province of Alberta.
Once again you will see a spectacular array of scenery as you travel across ranchlands, along rocky lakeshores, over high mountain passes and through the remarkable tunnels that form part of the rich rail history of the Canadian Rockies. Today's highlights include Craigellachie, where the last spike of the Canadian Pacific Railway was driven, the climb over Rogers Pass, Kicking Horse Canyon, the Spiral Tunnels and, of course, the glaciers and snow-capped peaks of the Canadian Rockies.
Your rail journey ends this evening in the resort town of Banff.
Overnight in Banff at the Banff Caribou Lodge and Spa.
Alcoholic and non-alcoholic beverages included whilst onboard Rocky Mountaineer.
Your journey ends upon checkout from your Banff hotel.
Additional information
Official language
French & English
Local currency
Canadian Dollars
Rail Package
First Passage to the West Classic
(11639)
Rail Package
There is nothing as iconic or unique as a rail package offering a room with a view which constantly changes. Entire Travel Group offers a range of journeys often referred to as cruising on rails which will leave you with a lifetime of treasured memories.
3 nights
from
AUD2,304
per person, twin share
Hotel options
Banff Caribou Lodge & Spa
Banff
Located in Banff National Park, the Banff Caribou Lodge & Spa offers a mountain lodge hotel, a great steakhouse restaurant and a full service spa, all in one outstanding location. This ideal vacation spot is located on Banff Avenue, the main street in the town of Banff. Surrounded by mountains, there are plenty of activities to keep you busy.
Sheraton Vancouver Wall Centre
Vancouver
The Sheraton Wall Centre Downtown Vancouver Hotel is the perfect location for strolling scenic Robson Street and Yaletown or making connections in the nearby business and financial districts. Whatever your plans are, you'll find a feeling of welcome unlike any other at one of the best Vancouver hotels.
Optional Extras
Upgrade to GoldLeaf Service aboard Rocky Mountaineer.
Features of GoldLeaf Service:
Bi-level dome with seating above and dining below
Full glass-dome windows with panoramic views
Gourmet à la carte meals in the lower-level dining room
Reclining, comfortable pre-assigned seating with ample leg room
Attended by three to four Hosts plus a full culinary team
Complimentary alcoholic and non-alcoholic beverages
Gourmet sweet and savoury snacks included
Large exclusive outdoor viewing platform
Engaging hosts with stories about historic sites, flora, fauna and wildlife
Luxurious hotel accomodations with premium room categories.
2021 Departures
April – 25,29
May - 2,3,6,9,10,13,16,17,20,23,27,30
June - 3,6,10,13,17,20,24,27
July - 1,4,8,11,15,18,22,25,29
August - 1,5,8,12,15,19,22,23,26,29,30
September - 2,5,6,9,12,13,16,19,20,23,26,30
October - 3
Important notes
Please note that pricing is based on a "from price" which varies on each departure and is subject to change without notice. Please contact our friendly team for exact pricing, availability, and upgrade options.
We work with a selection of hotels in each location. All bookings are subject to availability, which means we may need to offer an alternative hotel of equivalent or better quality. Our team will confirm your specific hotels upon confirmation and payment of deposit.
Excluded
Transportation from Vancouver airport
Transportation from Banff
Meals, other than onboard the Rocky Mountaineer
Activities, other than specified
Gratuities for rail, hotel and transfer staff
Fuel surcharges
GST as applicable